Cameron Mathison
By Luke Kerr on February 15, 2008
By Luke Kerr on February 07, 2008
Vanessa Mathison, the wife of All My Children's Cameron Mathison is talking about her her family and her new clothing line KEA + JOBY with
Celebrity Baby Blog
.
By Luke Kerr on January 28, 2008
What in the world is going on at Young and Restless? I don't care one hoot about the rest of the cover of Soap Opera Weekly but Katherine isn't Jill's mother? This makes absolutely no sense to me though it may to older viewers. Personally, I'd rather have a picture of Cane and Jill with the headline "Plus: Jill IS NOT Cane's Mother?!" That would make way more sense to a lot of people I think.
Payback is a bitch this week on the cover of Soap Opera Digest only this time it also comes in the form of Donna and Eric on Bold and Beautiful. Then again hasn't Eric been Stephanie's "bitch" for years? Of course the big "news" is what we've already discussed here on the blog for the past week and that is the return of Sarah Brown as Claudia to General Hospital. On the other hand, I must admit. I'm sort of looking forward to the scene where Robin tells Patrick she's pregnant. That should be good.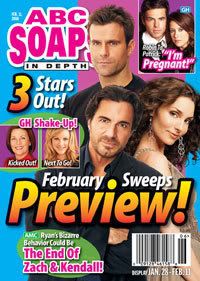 Don't you just love misadvertising? We all know good and well that it isn't Thorsten Kaye, Alicia Minshew, or Cameron Mathison that are leaving All My Children and yet there they are on the cover with the giant headline "Three Stars Out". Obviously the magazine is referring to the bloodbath over at All My Children and the firing of Jeff Branson (Jonathon Lavery), Brent Weber (Sean Montgomery), and Alec Musser (Del Henry) but they don't sell mags now do they? I don't get ABC Soaps In Depth so if I'm wrong someone please reply to this but I seriously doubt that inside the magazine its talking about Thorsten Kaye, Alicia Minshew, or Cameron Mathison.
By Luke Kerr on January 23, 2008


ABC continues to roll out the Rebecca Budig returns PR machine tomorrow by having her guest on The View. In honor of the momentous event posted a clip from a visit she and Cameron Mathison made to The View in 2005.
By AMC Girl on January 22, 2008
Recently there seems to be lots to see on AMC. Lots to see, but not a whole heck of a lot to care about. The "real" Greenlee is back, but at what expense? She seems like she no longer fits in with the characters there. Have I become so complacent with Sabine Singh's portrayal of the character that the "real" just does not seem right? The real Greenlee just seems to be out of place, and from what I can see, has currently no chemistry with the characters she is interacting with. Very out of place with Zach, very uncomfortable. Will Rebecca Budig be able to reclaim the chemistry she once shared with these actors? I hope so. Especially with the money I am sure AMC shelled out to get her back.
AMC seems to be spending a lot of money on actors lately, not only has Rebecca Budig returned to the role she created, but this week we have Debi Morgan returning to her role as Dr. Angie Hubbard. As I am sure you all know by now, Jessie is not that far behind her in returning. This was AMC's only black supercouple, and to be quite honest, they have never been able to capture the magic that Angie & Jessie once had. Another thing is this Jessie is back from the dead storyline I am sure they are going to put out there. Where has he been? Witness protection? Amnesia? Maybe DEAD? Hello People, he appeared as a spirit to usher Gillian into heaven, and again to Tad to help him out in his time of crisis. So, what are they going to tell us? That he was never dead, and he was a living, breathing person when he did those "Spiritly" things? I saw his death scene people, he DIED, DEAD, worm food. He was shot, and died. Makes it pretty final, doesn't it? But then again, Babe never really died either. Who is next for the resurrection? Simone? Dixie? Ethan? Or maybe it will be Gillian herself?
While there seems to be resurrections on AMC, we also need to discuss what AMC is doing to make these returns a reality. They are doing that in the form of cutting actors and roles. Recently we have seen Hannah Nichols (Stacey Haiduk) plummet to her death over Millers falls, the same falls that Leo died at, by the way. Now there are reports that Brent Weber (Sean Montgomery) the over-sexed teen is on his way out, and a rumor, yes, currently it is just a rumor, that Jacob Young (JR Chandler) will be leaving shortly as well. There are also reports out there that Jeff Branson (Jonathan Lavery) is out, as well as Alec Musser (Del Henry). While I can see the reason to write Del out, to be quite honest, it was a mistake to even bring him back, but IWBASS promised him a role on AMC, I do not see the reasoning for removing the very talented, and easy on the eyes Jonathan Lavery. This Character had POTENTIAL! He was never taken care of or written for properly. Shame on you AMC – you wasted a marvelous talent with Jeff Branson.
After watching Monday's episode, It is becoming Krystal Clear to me that maybe it is right to Keep Adam and Krystal apart. The only reason that they would get back together would be so that Tad can reunite with Kate, but then Jenny would not have her parents together, so yet again, sacrificing one child for another, an AMC trademark trait.
What did Adam actually expect to accomplish with this party he threw? A closer bond with his Daughter? NOPE. Getting Krystal back? NOPE. Pissing off the whole town? YUP!
It seems somewhat that we are heading in the direction of a Greenlee/Zach Pairing of some sort. I will admit, I am a Zendall fan, but after they very uncomfortably had Kendall and Aidan do the deed, I feel that Zendall is not long for this world. I do not see Greenlle together with Zach, at least not Rebecca Budig's Greenlee. I could have, however, seen Sabine Singh's Greenlee with Zach. They had chemistry, I do not know how to explain it, they just did. She also had chemistry with Aidan. I have not seen that chemistry with Rebecca, not yet at least.
All in all, with the return of the "real" Greenlee, and also Angie & Jessie, could this soap be finally be getting itself back together, and back on track to dominate daytime? While I am not going to hedge any bets, I am an eternal optimist, and always hope things can get better, but DAMN, this soap is testing even MY patience and resolve!!!
By Kelly on January 20, 2008
This is quite possibly the worst spoiler I have ever heard in recent history. Well the worst one that doesn't include the death of a vet or other beloved character. This one is just crap-tastic. Not to mention a total rip off of a story that was dropped over on a CBS soap.
Just to give the credit where it is due I found this little snippet over on soapcentral.com posted by the prolific Ravenbeauty...
"Ryan suddenly loses all memory of his marriage to Annie and the last 4 years of his life."
Oh. My. GOD! Y&R did this same thing with Nick Newman! And it was sooooo stupid they dropped the storyline. No one ever knows if he spontaneously remembered everything or if he still thinks it's 2005. It was just dropped and the status quo was restored. But now the writers over at AMC think this is a story worth exploring. I don't think so! They want to go back 4 years. Before Annie, before Emma, before Spike and before Greenlee. They are going all the way back to the Rendall years. Yes. That far back. Just to try and recapture the magic of Kendall and Ryan. But for what? That ship has sailed. Zach is her true love now and don't they deserve some happiness? If they wanted to undo the Annie years why not just have Richie kill her, have Ryan get Emma and raise her with Greenlee? I just can't tell you the magnitude of absolute suckitude in this story. When I read that spoiler I rolled my eyes so hard I ended up with a migraine. NO joke.