Cady McClain
By Mark on October 23, 2009
An emotional week in Oakdale. Watch next week's promo of As the World Turns after the jump. READ MORE
By Jillian Bowe on October 12, 2009

Is the game over for Henry, or has it just begun? Meanwhile, check out the guns on Babs, WOW! Vienna better watch it or she'll lose her man for good. Shoutout to beautreal for the clip!
By Jamey Giddens on October 09, 2009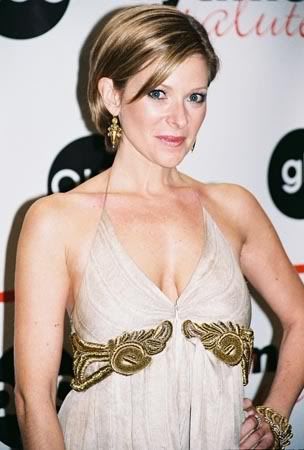 Color me confused
. While everyone has been going on and on about how much "better"
As The World Turns
is these days, for my money, one of the few good things about the show has been Craig and Rosanna's surprising chemistry with
Jon Lindstrom
as Craig, which makes this
news
veddy, veddy frustrating! According to
TV Guide Canada
's
Nelson Branco
, ATWT has yet to renew
Cady McClain
's six-month contract. I guess she should have done
General Hospital
instead of
All My Children
. In other ATWT news from this week's Suds Report,
Judi Evans
has wrapped her guest gig as the hillbilly with the bad hair. Here's hoping they will find a more suitable stylist for the daytime superstar if and when she returns to DAYS as one of the best soap heroines EVER, Adrienne Johnson Kiriakis!
By Mark on October 08, 2009
Tamara Tunie is back as Jessica on As the World Turns for one episode next week. Watch the promo after the jump. READ MORE
By Luke Kerr on October 05, 2009
As the World Turns' Cady McClain visited with We Love Soaps' Damon Jacobs about whether or not she'd return to All My Children after the show used pancakes to kill Dixie off.
We Love Soaps: Now the question we get a lot here at We Love Soaps is if those poisoned banana pancakes [that killed Dixie on ALL MY CHILDREN] were really poisoned, or is there any chance in your mind that perhaps they were tainted but not deadly poisoned?

Cady McClain: Well, I have to tell you those were the most delicious pancakes I've ever had. It's like, "What do you mean these are killing me? They're fabulous!" Whether or not I go back to ALL MY CHILDREN has to do with ABC and what they want to do. I'd be happy to come back, even for a guest appearance to help J.R., or fix his car, or whatever. It's a fun group and I love what they're doing on the show. I love the look of the show.
By Mark on September 25, 2009
Looks like Barbrara's life is heating up on As the World Turns next week. Watch the promo after the jump. READ MORE