Brittany Underwood
By Luke Kerr on March 04, 2009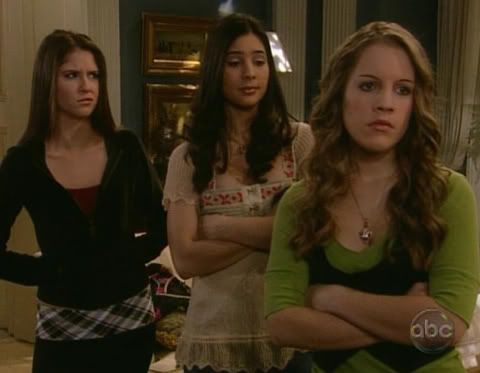 Take your best Caption This shot at this picture from yesterday's
One Life to Live
.
Who is your favorite teen?
By Mark on February 25, 2009
The 2009 Young Artist Awards have been announced and several young soap actors have been nominated.
Eddie Alderson (Matthew, One Life to Live), Mick Hazen (Parker, As the World Turns), Terrell Ransom Jr. (Theo, Days of Our Lives) and Austin Williams (Shane, One Life to Live) have been nominated in the category "Best Performance in a TV Series, Recurring Young Actor".
Kristen Alderson (Starr, One Life to Live), Erin Sanders (Eden, The Young and the Restless) and Brittany Underwood (Langston, One Life to Live) have been nominated in the same category for actresses.
One Life to Live (Eddie Alderson, Kristen Alderson, Camila Banus, Carmen Lo Porto, Austin Williams) is also nominated in the category "Outstanding Young Performers in a TV Series". READ MORE
By Jamey Giddens on November 26, 2008
Okay you knew it was coming. Now that the Idiots In Charge of The-Soap-Opera-Formerly-Known-as-Days-of-Our-Lives have let the phenomenal
Blake Berris
go, I decided to start out doing a Wishful Casting about where Berris should end up, but it turned into more of an analysis of which soaps are managing to set things up for their next generation the right way, and which ones are getting it wrong, dead wrong.
Much of the daytime industry is experiencing a serious drought in terms of talented, young stars who can actually, you know, act. Save for The Young and the Restless, One Life to Live and General Hospital, the under 30 set at most soaps is pretty much comprised of rejects from the Pamela Anderson School of Acting and Pantomime. I'll start with the soaps in most need of help and work my way up. READ MORE
By Luke Kerr on October 06, 2008
The other day I was thinking, quite a shock I know, about the fact that very few of today's soaps have true "teen" (pre college) storylines anymore.
Gone are the days of teen storylines such as General Hospital's Lucky, Elizabeth, Nikolas and Emily, Days of Our Lives' Belle, Shawn, Chloe and Brady and The Young and the Restless' Glo by Jabot Kids. The classic "four teen" formula that dominated much of soaps through the late 90's, and made stars out of Jonathan Jackson, Rebecca Herbst, Tyler Christopher, Kirsten Storms, Jason Cook, Nadia Bjorlin, Kyle Lowder, Farah Fath and countless others before them, seems to have been replaced by the "duo."
As the World Turns has Parker and Liberty. General Hospital doesn't have any true teens. The Young and the Restless has Noah and Eden. The Bold and the Beautiful has Stephanie and Marcus (not true teens). All My Children's last attempt at recreating the forumla bombed and the show is now rebuilding with Colby and Petey. Guiding Light has Daisy and Rafe. Days of Our Lives, which practically defined the formula with Sami, Austin, Carrie and Lucas, has no true teen characters except maybe Melanie. A character not even Blake Berris' Nick Fallon (a post college character) can save.
At the moment only One Life to Live seems to be following the "four teen" formula with Starr (Kristen Alderson), Cole (Brandon Buddy), Langston (Brittany Underwood) and Markko Rivera (Jason Tam). Now granted, at least one of these four actors isn't actually a teen, but the characters are all still in highschool. In honor of these four characters I thought I'd see which couple fans enjoy most.

Which couple is your favorite?
By Luke Kerr on September 17, 2008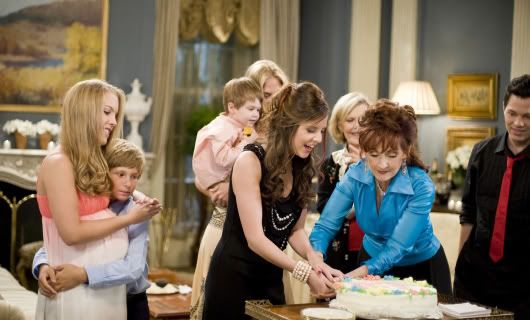 You know, we knew that Clint had a surprise in store for Dorian and Langston (Brittany Underwood) and even though A Martinez's run may only be a short stint I thought I'd see what everyone thinks of Langston becoming a "Cramer Woman?"
Personally, I love that this storyline brings out the softer side in Dorian (Robin Strasser). Too often we just see her as the larger than life, uber bitch, diva she is and we forget that she does have a softer side (anyone who watched the 40th Anniversary episode scenes between Dorian and Mel knows that).
What do you think of this storyline? I'd love to hear your thoughts.
By Jillian Bowe on September 16, 2008
Actor
A Martinez
will be leaving his short lived stint at
One Life to Live
. The buzz around the internet is that Martinez has already taped his last scenes. No word on if the actor will reprise the role of Ray Montez, the long lost uncle of Dorian Cramer's (
Robin Strasser
) adoptive daughter Langston (
Brittany Underwood
).
Fans of Langston Wilde Cramer should not fret on her departing family members, she has a cousin that will head to Llanview. Lola Montez, Ray's daughter will be played by Camila Banus and will make her first screen appearance Oct. 3.