Brian Kerwin
By Jamey Giddens on March 11, 2011
While it isn't nice to be happy about anyone being out of a job in this economy, I can't say I'm too upset to hear that Brian Kerwin is reportedly leaving One Life to Live. Charlie Banks started off as an amazing character, and great love interest for Viki (Erika Slezak), but post Jared dying, Kerwin began playing the character as a ham, with an extra helping of cheese grits. READ MORE
By Daytime Confidential on October 28, 2010
One Life to Live's Kassie DePaiva, hubby James DePaiva (ex-Max Holden, OLTL) (pictured with their son JQ above) and co-stars Brian Kerwin, Gina Tognoni and Melissa Archer showed their support for the "Hear for the Future" Center for Hearing & Communication Centennial Gala on October 18 at the 583 Park Avenue in New York City. The event, which also featured appearances by American Idol finalist Crystal Bowersox and hitmaker Joey McIntyre, helped raise money to support the Center for Hearing and Communication, which provides hearing health services for people of all ages. See photos and watch a poignant video from the gala after the jump! READ MORE
By Luke Kerr on November 16, 2009
New York soap, primetime and Broadway stars turned out for the Stockings with Care celebrity bartending event at the Stitch Bar & Lounge on November 11. The event, which helps raise money to buy holiday gifts for children whose families cannot afford to celebrate their holiday, brought together stars from All My Children, As the World Turns, One Life to Live and former Guiding Light stars.
See photos of Adam Mayfield, Austin Peck, BethAnn Bonner, Brandon Buddy, Bree Williamson, Brett Claywell, Brian Kerwin, Brittany Allen, Daniel Kennedy, Daphnee Duplaix, David Fumero, Grant Bowler, Jason Tam, Jesse L. Martin, Mandy Bruno, Malcolm Jamal Warner, Mark Lawson, Melissa Claire Egan, Melissa Fumero, Meredith Hagner, Michael Urie, Murray Bartlett, Robert Bogue, Stephanie Gatschet, Terrell Tilford, Terri Colombino, Trent Dawson, Vanessa Williams and more after the jump. READ MORE
By Luke Kerr on August 04, 2009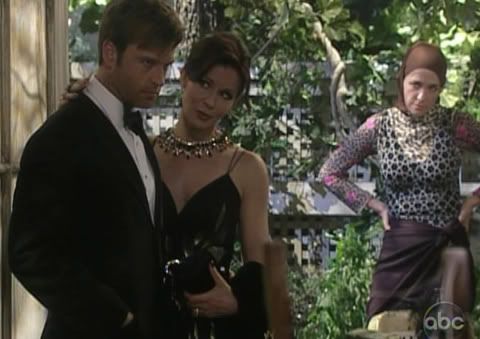 The best argument the soap opera genre can make in favor of its own survival airs at 2pm EST on ABC/ 9pm EST on SOAPnet. Its name is One Life to Live.
OLTL's fictional town of Llanview, PA. is a town rich in history, overflowing with talent, boisterous in personality and uninhibited by an addiction to one or two characters.
Monday's nod to Grey Gardens–acted out by the fantastic foursome of Robin Strasser, Kassie DePaiva, Trevor St. John and Florencia Lozano–and the seamlessness with which it was woven into the double wedding ceremony of Viki to Charlie and Nora to Clint is one of many examples of why OLTL has surpassed The Young and the Restless as the genre's most well-written soap opera. READ MORE
By J Bernard Jones on February 18, 2009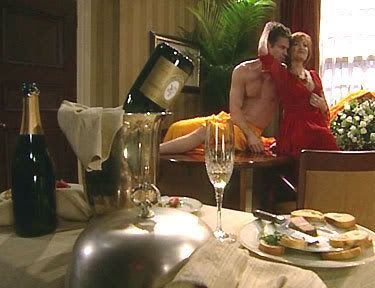 To say that One Life to Live is on fire these days is making a declaration verging on cliche. Each and every episode is a marvel of writing, acting and storyline integration. It is a shame that its ratings don't reflect the awesomeness of its writing and ensemble.
If OLTL has two weak links story-wise, one is the Vanessa/Ray/Cristian black widow/revenge story and the teen drug plot. I agree that the former is very undeveloped at this point, with characters that few seem to find interesting on an already crowded canvas. The latter, the drug storyline, has suffered from a different sort of problem: despite some solid acting, the interactions and dialogue among most of the teen set (not to mention the unrealistic shock of the school principal) is rather unbelievable. At times it sounds as if the teens are in a very bad ABC Afterschool Special and we're waiting for the inevitable overdose, a crisis of conscience and a moral to the story that "drugs are bad."
However, I'm beginning to think the story is not about completely about the teens. I think there are two drug stories going on at the same time and the second one is about the adults. The drug isn't marijuana or cocaine. The drug is alcohol. READ MORE
By Luke Kerr on April 30, 2008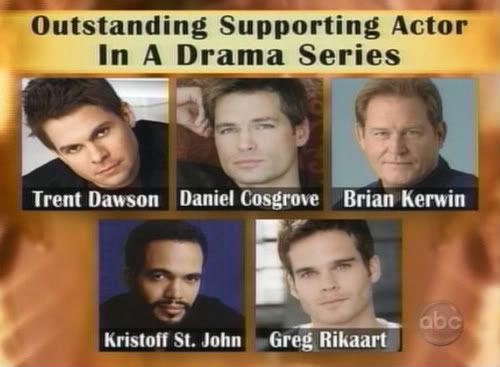 Congrats to Trent Dawson, Daniel Cosgrove, Brian Kerwin, Kristoff St. John and Greg Rikaart. Best of luck. This is going to be a tough category to predict.
This could be a tough category. I can't fault any of the actors nominated in this category because each is a true supporting actor. However, at first glance there seems to be some obvious omissions amongst the nominations. Where is One Life to Live's Tuc Watkins? Is John-Paul Lavoiser suffering from the same thing Trent Dawsom did for years, in that Rex is to much of a comedic character? Why isn't at least one of the three actors from General Hospital nominated?
Looking at the prenominations list below and comparing it to the nominees above is there anyone who you feel is missing from this list or who should be on it instead of someone else?
Outstanding Supporting Actor Pre-Nominees
AMC: Jeffrey Carlson, Jacob Young, and Billy J. Miller
ATWT: Trent Dawson, Grayson McCouch, and Austin Peck
B&B: William deVry, Patrick Duffy, and Dax Griffin
DAYS: Bryan Dattilo, Jay Kenneth Johnson, and Joseph Mascolo
GH: Bradford Anderson, Rick Hearst, and Sebastian Roche
GL: Murray Bartlett, Jordan Clarke, and Daniel Cosgrove
OLTL: Brian Kerwin, John-Paul Lavoisier, and Tuc Watkins
Passions: Christopher Maleki, Phillip Jeanmarie, and Eric Martsolf
Y&R: Greg Rikaart, Ted Shackelford, and Kristoff St. John
Be sure to tune in for our Daytime Emmy Nominations podcast episode with should air on Thursday or Friday.