Brian Frons
By Regan Cellura on August 26, 2008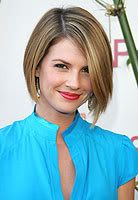 Here's the Scoop! 08.26.08
How does Kate find out about Limo Sex? She's got a good assistant with excellent hearing. I'm guessing it's Clarice that overhears the convo between Sonny and Carly. Maxie wouldn't blow that secret, she'd use it to her advantage somehow.
Besides, Maxie is busy. She's got Spinelli to worry about and RUMORS have Matt telling her his secret. What's Matt's secret? RUMORS say a patient of Dr. Hunter's at his previous hospital died due to fake meds. He's there to uncover the mystery.
Will Skate marry? As I mentioned, Kate's secret that she is Connie SHOULD be out before the big day, the marriage looks to be happening and we MAY learn more about Kate's past thanks to Carly's digging. Anyone remember that I mentioned someone from Kate/Connie's past showing up at the wedding? RUMORS say Olivia comes to town. What else? Remember the bloodshed RUMORED at the Skate wedding? RUMORS say it's still happening and that the death is what has Sonny being pulled back into the mob.
Has Laura come out of her catatonia before Lu's last visit? SPOILERS say we'll learn that Laura has been drifting in and out. READ MORE
By Regan Cellura on July 18, 2008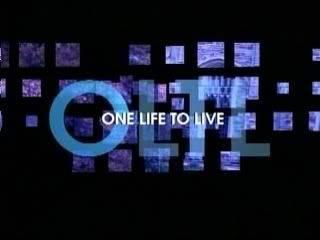 Multiple sources are reporting that Brian Frons, head of ABC Daytime, has said a spin off of
One Life to Live
is in the works and much like
General Hospital Night Shift
, the spin off will air on SoapNet. Frons not only heads up ABC Daytime, but also runs SoapNet and it looks like a
Young & the Restless
primetime spin off is being discussed as well.
Knoxnews.com and our pal Nelson Branco have the details.
ABC Daytime President Brian Frons told reporters at an "OLTL" press conference today that he and SoapNet have been in talks to develop a spin-off of "OLTL" for primetime. Concepts are being tossed around, but nothing firm has been settled. Among the rumored ideas: Taking police detective John McBain (Michael Easton) and following him on a case. READ MORE
By Regan Cellura on July 15, 2008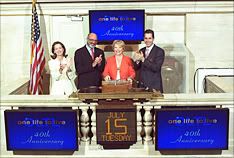 One Life to Live's Erika Slezak and Executive Producer Frank Valentini joined President of ABC Daytime Brian Frons in ringing the bell at the New York Stock Exchange.
It marked the kick-off of the 40th Anniversary Celebration for One Life to Live.