Brian Frons
By Jamey Giddens on November 05, 2008
ABC Studios has pulled the plug on the highly-anticipated
Alyssa Milano
sitcom
Single With Parents
due to "creative differences" among the show's producers, says
The Hollywood Reporter
. Rumors had the
Who's The Boss?
and
Melrose Place
alum atop the list to recreate the role of
General Hospital
's Brenda Barrett just prior to her booking the sitcom deal, on the strength of her career-reviving turn in the Lifetime TV movie
Wisegal
.
Since it doesn't look like Vanessa Marcil is returning anytime soon and GH is currently in a ratings free fall, I say ABC daytime honcho Brian Frons should offer Milano the sun, moon and even an uncontested spot on Dancing With the Stars in order to get her on GH before VH1 can attempt to help her find love. Milano is one of a select few actresses who could fully embody the character of Brenda Barrett with the same spunk and spirit of Marcil's original interpretation. Recast Brenda already! I love Marcil, but the show, er soap must go on!

By Regan Cellura on November 04, 2008
RUMORS are gaining steam that Jason and Sam (
Steve Burton
and
Kelly Monaco
) are going to be reunited. According to the RUMBLINGS, fans of Jason and Elizabeth (
Rebecca Herbst
) can allegedly thank
Brian Frons
for this change in storyline direction as he is grasping at straws to get a ratings boost.
I make no attempts to hide where my loyalties lie, so this news has me more than a little upset. Jason and Elizabeth never had a fair chance and once again it's their fans that are paying the price if these RUMORS come to fruition. Sorry Lucky (Greg Vaughn) and Sam fans, this means your couple is over too.
Write in, Call in ... to ABC Daytime. Don't shoot the messenger!
By J Bernard Jones on October 27, 2008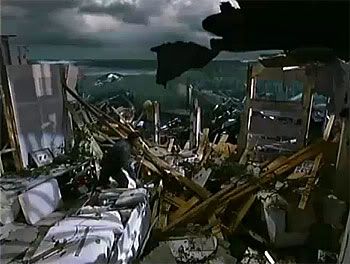 Originally, my intent to write about the issue of All My Children's use of CGI for last week's tornado sequences was to address them within the context of specific episodes as I had done in previous entries about The Great Pine Valley Tornado of 2008. After reading a few comments and other blogs, it occurred to me that there are a number of considerations to think about in regard to special effects in daytime drama, including the use of CGI, as all soaps redefine their production models for the future.
It has been said by many critics and fans something along the lines that if the acting and writing were good, producers could hang a black curtain behind a table and a couple of chairs and fans would watch. This is a noble sentiment, to be sure, but televised soaps never really had such a set up. READ MORE
By Regan Cellura on September 30, 2008
Here's the Scoop! 09.30.08
It's the last day of September, my birthday month coming to a close so let's end it with a little Liason. Kate's been shot, obviously the trip to Italy is off...where will the angst filled couple go from here? As I've mentioned, Jason uses a visual aid, Kate in her hospital bed, to try to get through to Elizabeth. She walks out of the room and he thinks she's finally got the message loud and clear. Boy oh boy are boys dumb! Elizabeth pops up at Jason's office and informs him otherwise. She's here to stay. The paint fight is coming and the injury I mentioned yesterday? Well it looks like Jason hurts his ankle or leg. Will Elizabeth nurse him back to health? More meetings coming up for my favorite pair. They'll meet at the Studio before she pops in at his office.

Anthony in the balcony with a rifle. That was the easiest game of Clue ever! Claudia tells the fam that Karpov is innocent and she'll go to Sonny with the assurance that the Z's had nothing to do with Kate's shooting. Sure... just like you had nothing to do with the bullet in Michael's head. READ MORE
By J Bernard Jones on September 26, 2008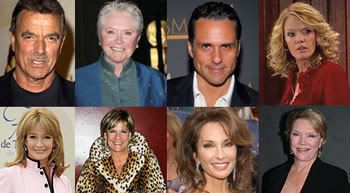 Once upon a time there was an American industry that conducted itself with a level of conservatism and a modicum of class and dignity. Despite the hard and steady work of the professionals who toiled within the industry, many people made jokes about it, called it boring and stuffy, and scoffed that this industry did not have a certain level of prestige. This industry might not have had the broad respect of the public at large but amomg its practitioners and adherents it tended to be more respected than even some of its former and current membership gave credit. For decades this industry chugged along at steady clip, slow to change with the times but managed to keep up with them nonetheless, creating its own titans and smaller player, superstars and valued employees. Most important of all, this industry acted as an "invisible hand," producing enough revenue to fuel other industries, including many of those that openly ridiculed it. The industry was popular almost in spite of itself and was spectacularly profitable. The industry seemed as if it would go on forever.
READ MORE
By Regan Cellura on September 10, 2008
Here's the Scoop! 09.10.08
Sam working for Jason? Anyone remember the drops of info Brian Frons gave? He mentioned Sam and Jason working together and at that time I cautioned not to read too much into it. The LATEST? Sam MAY become Jason's person on the inside of Karpov's organization. A word of caution: some are taking this and running with it, suggesting that a JaSam reunion is coming. Right now, that does not seem to be happening. Could it be? Anything is possible, but right now it seems someone took the information about Sam becoming an informant for Jason and turned it into a FanFic where the couple reunites.
Remember...LuSam is moving in together, exchanging "I Love You's" and Liason has a whole bunch of scenes coming up this month.
The "It's not safe talk" that's SPOILED to happen after Sonny and Kate's wedding...Liason fans know what I am talking about. I hear that while Jason MAY be dishing it out, Elizabeth just MAY not be taking it. READ MORE