Brian Frons
By Jillian Bowe on December 16, 2009
In the wake of As the World Turns' cancellation, ABC Daytime president Brian Frons released a statement with TV Guide Magazine in regards to the mouse house's three soaps saying,
Even though other soaps are being canceled, we're still dedicated to ours. We're very proud of them and have big plans for the future.
By Jillian Bowe on December 06, 2009
ABC Daytime's Big Kahuna
Brian Frons
and
General Hospital
star
Laura Wright
took part in abc.com's "Ask
General Hospital"
clips. The duo dished on the "burning questions" fans had for them and the show. Uh not for nothing but at the 3:09 mark in the second clip, Fronsie and Laura may need to brush up on their GH history...
READ MORE
By Jillian Bowe on June 12, 2009
You have to give bladder man
Brian

Frons
credit for the cross promotions on ABC Daytime. On
The View
,
All My Children
stars,
Susan

Lucci
(Erica)
and
Cameron

Mathison
(Ryan)
strolled on through to discuss the latest
storyline
of Lucci's Erica taking a younger lover Ala
Mrs. Robinson
with her daughter's baby daddy, Ryan. Check the two out at the 5:22 mark.
By Jamey Giddens on May 20, 2009
Michael Maloney has written a nice article for Variety on this year's Daytime Emmy nominations. Even though I think the Enemas for the most part are bogus, it's really nice to see soaps written about in the trades and the theme of the article not being their pending demise for a change.
It's also great to see not-so-Imaginary Bastards, er Bitches, Andrew Miller and Greg Rikaart quoted in regards to IB's groundbreaking Emmy nod and Y&R's shameful Best Drama snub, respectively. Of course I couldn't get through the entire article without reading something that made my eyes bleed and my nose twitch like Samantha on Bewitched after a particularly decadent night at Studio 54. Check out the irony in the below passage about what ABC Daytime's Brian Frons thinks it takes fo an actor to net an Emmy nomination.

By Jillian Bowe on May 03, 2009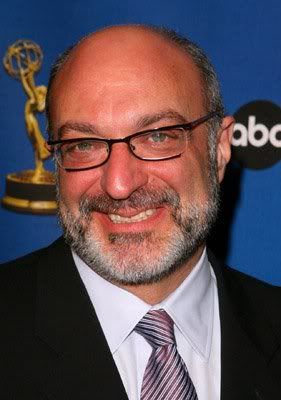 In the latest edition of
Deep Soap
,
Sara Bibel
has penned an open letter of sorts to ABC Daytime's most hated man
Brian Frons
.This comes on the heels of the ratings bust that all of
Frons's soaps
experienced the week of April 20th with the targeted ratings group that Frons loves to pander to, 18-49.
READ MORE
Bibel writes,

Free your headwriters and producers to do their jobs. Tell them that for six months you aren't going to give them any notes at all. You're going to trust that they know what they're doing. I suspect that they've been writing for you, rather than the audience, for a very long time. I remember what a good writer Robert Guza used to be in the late 90s. Some of Ron Carlivati's stories that you vetoed have leaked on-line. They're a lot better than what is on the screen now. Allow them to create plots that you don't like or understand. The audience might have a different opinion.
By Regan Cellura on January 08, 2009
Here's the Scoop! 01.08.09
ABC's official word on the stunt hitting GH:
NO ONE IS SAFE... THE CLOCK IS TICKING... A DISASTROUS CRISIS HITS ABC'S "GENERAL HOSPITAL"
Viewers Will Need to Watch Each Episode as Clues Are Revealed After Time Is Turned Back; Storyline Will Coincide with the Return of Emmy® Winner Natalia Livingston to Port Charles
On the Thursday, January 15 episode of ABC's award-winning "General Hospital," Dr. Patrick Drake (Jason Thompson) will rush into the operating room yelling to colleagues Dr. Monica Quartermaine, Dr. Matt Hunter, Nurse Elizabeth Webber and Nurse Epiphany Johnson, among others, to stop a pending surgery with a mysterious patient. Without giving away much else, the clock will be turned back nine hours and each subsequent episode for the next nine days will begin with scenes that will reveal more clues to what is about to happen in the hospital. On Wednesday, January 28, the reason for Dr. Drake's ultimatum to his staff will be revealed and, from this point through February, medical staff, patients and visitors will be affected as a major disaster will strike the corridors of the hospital and make its way throughout Port Charles. In addition, this medical crisis storyline will coincide with the anticipated return of Emmy® winner Natalia Livingston as Rebecca, an entirely new role, on January 15. Both announcements were made by Brian Frons, president, Daytime, Disney-ABC Television Group. READ MORE