Bradley Cole
By Jamey Giddens on November 18, 2009
On Dec. 5, one day after
Crystal Chappell
and
Jessica Leccia
reunite in the highly-anticipated web soap opera
Venice
, the sapphic supercouple will be on hand for uber event promoter
Mike Gold
's "So Long Springfield" event at the Rio All Suite Hotel and Casino in Las Vegas!
"Our last event was in Atlanta on November 7 and it was flawless," says Gold. "The fans and actors had a great time and we have received overwhelmingly positive feedback." READ MORE
By Mike Jubinville on October 26, 2009
Fans came out in droves to the Hyatt Regency in Pittsburgh this weekend for the So Long Springfield event, saluting 72 years of
The Guiding Light
. Since the event was sold out, it was clear that it would be crowded, but I certainly wasn't prepared for the amount of people who turned out to say goodbye to something that they hold so close to their hearts.
READ MORE
By Mike Jubinville on October 12, 2009
Guiding Light
fans on the West Coast will now have a chance to say "So Long Springfield" when the event makes a stop in Las Vegas. The hot Nevada destination will mark the third city on the tour that plays host to popular GL stars, following Pittsburgh and Atlanta. Appearances by twelve stars are scheduled for Saturday, December 5, at the Rio All-Suite Hotel and Casino for an afternoon and evening session. More details after the jump.
READ MORE
By Mike Jubinville on September 25, 2009

Guiding Light
may be off the air, but some fans will have a chance to give the show and some of it's stars a proper send off. Pittsburgh will kick off a "So Long Springfield" event that will host ten actors from GL. Pittsburgh has long been a core fan base and as a result, it was chosen to be the first stop. There is an afternoon and evening session slated for Saturday, October 24 and an afternoon session set for Sunday, October 25.
If you can't make it to Pittsburgh, then head on down to the next stop, Atlanta. An afternoon and evening event is scheduled for Saturday, November 7. The website has important information, so click HERE to get the scoop before you make your plans. Don't miss out on your chance to say so long to Springfield!
By Melodie on September 19, 2009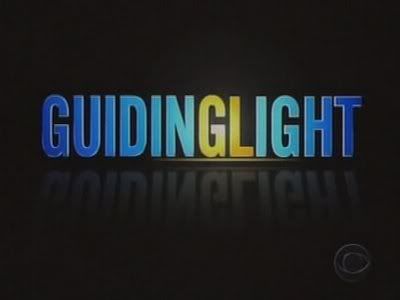 September 18, 2009 is a day that will live forever in broadcast history. As we all know, it is the day the longest running television drama ever said "Goodbye" to the world. I watched the finale of
Guiding Light
with the heaviest of hearts. I couldn't believe this was the last time I would see Josh (
Robert Newman
) and Reva (
Kim Zimmer
) give each other those looks that could fry an egg on the street. I couldn't believe it was the last time I would see Alexandra Spaulding be absolutely fabulous on my screen. Don't forget to add some extra fabulous Fletcher Reade (
Jay Hammer
) on the side.
I can't tell you the pain in my heart when those infamous words "The End" flashed across the screen. It felt like I was losing apart of my soul. You see, Guiding Light was my grandmother's show. She watched all the soap operas and I do mean all of them, but The Guiding Light, as she called it, was her absolute favorite. Memories of watching this show with her when I was little came flooding back to me while watching the finale. Those are some of my best memories of her, watching her "story", The Guiding Light. She passed away about a year ago and watching Guiding Light helped me feel connected to her in a way. That connection is gone now that her show is gone. Losing Guiding Light is so much more than just losing another American soap opera, it's like losing a family member. I don't think it will truly hit me that my grandmother's show is gone until I turn on the television at 2 p.m. on Monday and nothing's guiding my light. READ MORE
By J Bernard Jones on September 17, 2009
The fourth in a highly personal, non-objective series highlighting various aspects of the last episodes of Guiding Light, which will end its 72 year run on September 18th
The penultimate episode of Guiding Light was light on story, but extraordinarily high in emotion and closure — and there was one bit of ridiculousness about which, at this late date, I could ultimately only laugh.
Jill Lorie Hurst & Ellen Wheeler threw in so many twists, turns and delightful surprises that it was hard to keep up! Danny (Paul Anthony Stewart), Michelle (Nancy St. Alban) and Robbie moved back to Springfield! Remy (Lawrence Saint-Victor) found out that he and Christina (Karla Mosely) really weren't married — again, only to be informed by the not-Mrs. Boudreaux that she is pregnant! Mel (Yvonna Wright) & Cryus (Murray Bartlett) burned up the well-worn sheets at the Beacon! Even Daisy (Bonnie Dennison) got accepted to college, which was a delightful shock, given that not only did I have no idea she had applied to a university, but was more shocked that she actually could read!
In some ways these developments were mere appetizers for two of the biggest, most emotionally satisfying payoffs Guiding Light could have ever delivered for its long time, faithful fans! READ MORE