Billy Warlock
By Luke Kerr on January 14, 2013
Welcome back Scotty Baldwin? Could Lucy Coe (Lynn Herring) and Scotty Baldwin (Kin Shriner) be back in Port Charles at the same time? It's almost too much to hope, but it may be in the works. Former General Hospital star Billy Warlock (ex-AJ) shared the news Shriner is returning to Port Charles on Twitter.
By Daytime Confidential on September 08, 2011
It may not be happening on our screens, but in real-life there was a mini Quartermaine family reunion on August 29, as former General Hospital onscreen siblings Steve Burton and Billy Warlock reunited at a performance by Port Chuck, Burton's band with Brandon Barash, Bradford Anderson and Scott Reeves. The group rocked the night away at B.B. Kings in New York City. See more photos from their performance after the jump!
By J Bernard Jones on September 16, 2010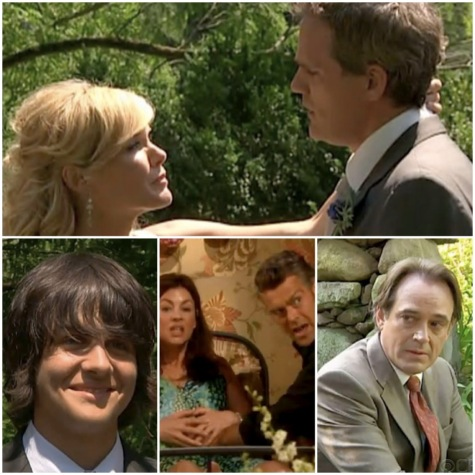 Several days ago, I posted an entry about the fallout from the death of Dr. Reid Oliver (Eric Sheffer Stevens) on As The World Turns. There were three central ideas in that piece. First, despite the very legitimate complaints that any given fan might have, ATWT is providing great human drama here at the end of its run. Second, Reid's tragic passing and donation of his heart to Chris (Daniel Cosgrove) encapsulated that goal mainly by thrusting the Hughes'— the show's core family since its very debut— front and center toward its conclusion. Third, given the soap opera wrapped production months ago, the idea of kicking a dead horse with unrelenting criticism isn't going to make it win the Kentucky Derby.
I have not budged one iota from any of those positions and I am about to incur the wrath of a whole lot more of you by making what I know will be a very controversial statement to many: I believe that in these final days, executive producer Christopher Goutman has made mostly the right decisions.
By J Bernard Jones on September 07, 2010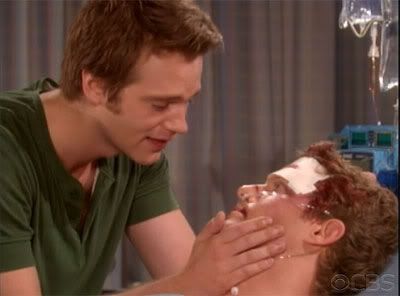 Before I get to today's stunning episode of As the World Turns, in which Dr. Reid Oliver dies and donates his heart to his professional nemesis/colleague Dr. Chris Hughes, I have a few thoughts about not only the serial's final days on the air, but also —in a broader sense—fan perceptions about what a soap's last days should be like, themes that will be carried forward as we look toward ATWT's final hours.
First, with less than two weeks to go before its final fade to black, ATWT is ending its 54 year history in perhaps better dramatic shape than almost any serial since the cancellation of NBC's Texas in 1982, a specific observation I will expand upon in a few days. Of course, there is lots to gripe and nitpick about the woulda-coulda-shoulda's of how the show might have wrapped things up. Many of those ideas are quite good and some are downright ludicrous, but in the final turn of events, all of that stuff is moot. The last scenes were shot, the sets have been struck, and the actors all went along different paths weeks ago. READ MORE
By Mark on August 13, 2010
Next week, Noah (Jake Silbermann) sees Reid (Eric Sheffer Stevens) with another man (Chris, Daniel Cosgrove) and tells Luke (Van Hansis). Blackthorn (Billy Warlock) discovers a microphone bug on Carly (Maura West) and Dusty (Grayson McCouch) is pushed into a van. Watch the As the World Turns promo after the jump.
READ MORE
By Daniel Pearce on August 11, 2010
Soaps in Depth is reporting that veteran actor Billy Warlock (ex-Blackie, ATWT; ex-Ben, Y&R; ex-AJ, GH; ex-Frankie, DAYS) will be reprising the role of Frankie Brady on Days of Our Lives. This initially led to speculation that Warlock would be vacating the role of Ross Rayburn on One Life to Live, however a OLTL spokesperson said the actor is still currently taping for the ABC sudser.