Billy Magnussen
By Mark on December 06, 2008
By Jamey Giddens on November 26, 2008
Okay you knew it was coming. Now that the Idiots In Charge of The-Soap-Opera-Formerly-Known-as-Days-of-Our-Lives have let the phenomenal
Blake Berris
go, I decided to start out doing a Wishful Casting about where Berris should end up, but it turned into more of an analysis of which soaps are managing to set things up for their next generation the right way, and which ones are getting it wrong, dead wrong.
Much of the daytime industry is experiencing a serious drought in terms of talented, young stars who can actually, you know, act. Save for The Young and the Restless, One Life to Live and General Hospital, the under 30 set at most soaps is pretty much comprised of rejects from the Pamela Anderson School of Acting and Pantomime. I'll start with the soaps in most need of help and work my way up. READ MORE
By Mark on November 24, 2008
By Mark on November 21, 2008
Check out this preview of Monday's As the World Turns. Is Emily a little jealous of Casey and Alison?
By Luke Kerr on November 04, 2008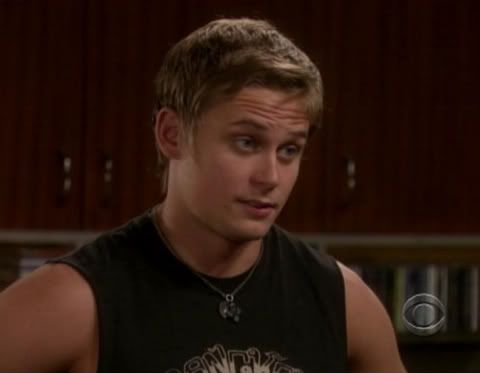 Hopefully some criminal attorneys or voting rights activists read
Daytime Confidential
because I have a question. On today's
As the World Turns
, we learned that Casey Hughes voted in the Presidential election. Here is my question. Is that even legal? Casey (
Billy Magnussen
) was convicted of stealing money and spent time in prison for his crime. If it was legal, at what point is crime so terrible that one loses their voting rights?
Update: As I was writing this post, Tina found some links that shed light on my question. Anyone who may have been wondering about Casey's right to vote, like I did, check out these links: Associated Content and Kake
By Mark on October 29, 2008
The election battle between Luke (Van Hansis) and his former crush Kevin (Karl Girolamo) takes a dark path on Wednesday's episode of As the World Turns. Kevin's campaign team has kidnapped Alison (Marnie Schulenberg), without Kevin's knowledge, after they found out that she was a spy sent by Luke's campaign manager Casey (Billy Magnussen). In the previews at the end of the show we saw that Alison ends up in Old Town in her underwear.
Was it really necessary to humiliate yet another female character? Aren't women 18-49 the target audience? I can't believe women (or anyone) find it entertaining to keep watching all these women getting humiliated.
But apart from this latest twist, I'm really enjoying this storyline. It's so great to see the younger group of Luke, Noah (Jake Silbermann), Casey and Alison interacting with each other in this story. Like they actually live in the same town and know each other!