Billy Dee Williams
By J Bernard Jones on September 14, 2009
Amid all the hoopla about the great 60 Minutes tribute which aired on Sunday evening, Guiding Light and its end was also featured during a segment of CBS' long running urbane and sophisticated Sunday Morning, hosted by Charles Osgood.
While more tongue in cheek than Morely Safer's more serious take, correspondent Richard Schlessinger nontheless provided an excellent profile of GL. The substance of the piece is roughly the same as 60 Minutes' story (a variety of clips and interviews – Robert Newman and Kim Zimmer, for example), but there is more liberal use of the show's theme music through the years, a broader examination of its history and thoughts on the survival of daytime soaps as a whole.
There are also clips of Bert Bauer (Charita Bauer), Roger's (Michael Zaslow) rape of Holly (Maureen Garrett), and glimpse at one fo the first African American contract actors in all of daytime, Billy Dee Williams. There is also a brief chat with 89 year old fan Audrey Thaler, a fan from radio through the very end. There is also a baffling — and somewhat insulting — interview with Sheraton Kalouria, former head of NBC daytime, who, obsessed with the 12-17 demographic market when he oversaw the creation of Passions, has done his part to help hasten the end of daytime faster than any new production model ever could. READ MORE
By J Bernard Jones on June 18, 2009
My absence from Daytime Confidential lately has not been due to the usual business of family and work taking up a lot of my time, but rather a certain lack energy to post about practically any of the daytime serials that clog up my DVR from day to day. This is neither a positive nor a negative thing because there are frequent periods throughout the year when shows kind of coast along and do their their thing, usually between sweeps.
At these times, there is little for the viewer — if that viewer is me — to get all worked up about this plot twist, that character's action, some couple or another or even a whole show's direction. Normally, this state of affairs hits one or two shows at a time. Every once in a while like the last couple of weeks, the stars align and all the serials get caught in the same momentum of drift. All that is required of us is to watch and see where it all goes.
In that spirit, my brain plays a little game of soap opera hopscotch, taking in odds and ends big and small. There is no great elaboration on anything here, just a quick rundown of things I like and not like so much. Your mileage may vary... READ MORE
By Daytime Confidential on April 22, 2009
On today's ABC episode of Daytime Confidential Luke, Jamey, Regan and Tina discuss the latest in All My Children, General Hospital and One Life to Live storylines and news, including:
Jamie Luner makes her Pine Valley debut. Chuck Pratt blames his writing woes on Eden Riegel. Pratt Falls, the series, debuts in reaction to Pratt's comments. Bobbie Eakes has a connection to cult hit Sordid Lives.
Helena Cassadine returned to torment the citizens of Port Charles. As a fan of all things Cassadine - except Sam McCall - Luke is ecstatic, but are Jamey, Tina and Regan? Billy Dee Williams returns to the "hospital" in General Hospital, but why? General Hospital is set to debut in HD and the filming is looking better, with the exception of a few people who look like they hit a bad tanning booth. Tristan Rogers believes that General Hospital: Night Shift was the pathway to the future. Why is it that stars like Rogers and the majority of fans understand what is going on, but the executives don't?
Talia becomes the latest victim of One Life to Lives' serial killer, wouldn't it be nice if it were Stacy? Viki provides advice to Clint. Should Viki be Llanview's "talk to" or should she be driving story? Jared and Natalie are protecting Chloe's identity. How long can this last before it comes out? Could Destiny's brother be the rumored love interest for Rachel Gannon?
All this and much more on today's twitterpated ABC episode.
Help support and improve the Daytime Confidential podcast: Take a few minutes to fill out the two Daytime Confidential listener surveys: Listener Survey A l
Be sure to leave your comments on all the latest goings on in the world of soaps by calling the Daytime Confidential comment line by calling 917-677-9757.
Listen to Daytime Confidential by clicking on the Daytime Confidential Player at the bottom of this post or Download us for FREE via iTunes. Vote for us on Podcast Alley. Add us as a Friend on MySpace and Facebook.

READ MORE
By Regan Cellura on April 15, 2009
Welcome Back Billy Dee!
SOAPnet.com
is reporting
Billy Dee Williams
will reprise his
General Hospital: Night Shift
role, Touissant Dubois, on ends. Will Epiphany (
Sonya Eddy
) and Touissant rekindle their romance?
By J Bernard Jones on January 19, 2009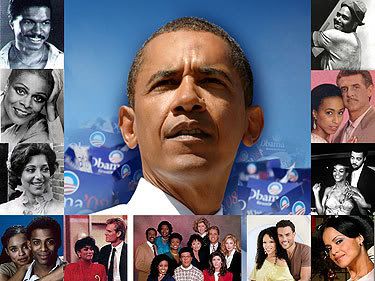 Every soap opera has one element in common: conflict.
Conflict, internal or external, is the engine that drives all great dramas, all great rivalries, all great love stories, indeed all great passions from affairs of the heart to affairs of state. The great dramatic conflict that has threaded the entire fabric of the history of the United States has been the relationship between this great country and it's citizens of African descent.
This is not to belittle the struggles and triumphs of any other groups who have felt the sting of discrimination or oppression throughout the course of American history. Obviously, people of various ethnic and religious backgrounds have their own tales to tell. Women have unique testimonies to share. Japanese Americans were unfairly and unjustly treated by the American government during World War II, having since been granted reparations. No one can dispute with any shred of credibility the shameful horrors visited upon Native Americans, casino revenues notwithstanding.
If you think this is the part where I go into a lengthy explanation of how and why African Americans are unique as an aggrieved class, think again. Intellects far superior to mine and history itself makes a far more compelling argument than I can. Besides, Daytime Confidential is not the appropriate forum for such a discussion to take place either. As an African American man on the cusp of middle age who has loved soaps for the bulk of my life however, I feel there are a few salient considerations to be made of the importance between soaps and the inauguration of the first African American president in this nation's history. In order to look forward, I must first look back. READ MORE
By Regan Cellura on October 31, 2008

Fans of the
General Hospital
spin-off,
Night Shift
, saw Touissant (
Billy Dee Williams
) holding a picture of a little boy in the Season Two finale who was supposed to be Touissant's son. The picture used was of a 6 year old boy who had been kidnapped and murdered in 2007. SOAPnet has issued an apology for this mistake.
"We offer our deepest condolences to the Barrios family for their loss, and our sincerest apologies for any pain caused by our mistake," said a statement from the networks. SOAPnet will be running PSAs to raise awareness about missing and exploited children and will permanently edit out the photo from the episode.
For More: Soap Opera Digest I We Love Soaps