Beth Ehlers
By Luke Kerr on June 30, 2008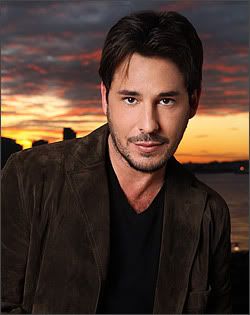 The New York Daily News has an interesting piece on former Guiding Light star and current All My Children star Ricky Paull Goldin on what it was like to host the SOAPNET Emmy red carpet pre show.
In the interview Goldin mentions that ""There were a lot of my old producers there, so I did have to deal with certain energy fields...It's like when you break up and then you run into your old girlfriend. But it was fine."
Meanwhile back in Pine Valley Goldin's character Jake Martin has decided to move in with his ex girlfriend Greenlee Smythe, which should create a very interesting environment once Beth Ehlers' Taylor McBride arrives in town.
In the mean time, what do you think of Greenlee and Jake's chemistry? Would you like to see the former lovers reunite or should The Powers That Be wait to see if they can catch lightening in a bottle with Beth Elhers and Ricky Paull Goldin before they try anything else?

By Melodie on June 20, 2008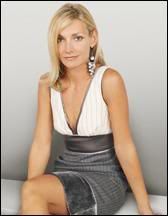 SoapNet.com recently conducted an interview with ex- Guidng Light star Beth Ehlers. In the interview, Beth speaks about deciding to leave Guiding Light, her new character on All My Children, and working with Ricky Paull Goldin again. She has some interesting things to say about her reasons for leaving GL and why she stayed on the east coast. Here is a little snippet of what she had to say about that, but be sure to check out the entire interview.
Beth: "My kids are at an age [6 and 9] where I want to be home more ... . I just don't have the luxury of shooting in Peapack [NJ, where "GL" shoots most of its location footage a few times a week]. ABC is just 10 blocks away from my apartment!"
By Jamey Giddens on May 27, 2008
FOX 411's Roger Friedman isn't too happy with Proctor and Gamble and producers of Guiding Light regarding Beth Ehler's exit from the role of Harley Davidson Cooper and thinks her departure signals the end of broadcasting's longest running serial.
"…Back in 1991 I wrote about actress Beth Ehlers in Entertainment Weekly as a young star to watch from the CBS soap "Guiding Light." Seventeen years later, she's leaving the show for a new role on ABC's "All My Children." It's clear she's been forced out by the producers from Procter & Gamble, who are determined to drive the 71-year-old soap into the ground. Ousting Ehlers — who fits the perfect demo of young mother in her 30s — shows that P&G will be shuttering "GL" soon. What a disrespectful ending for everyone involved …"
While I will never agree that one actor can make or break a soap, GL has lost or backburnered a slew of vets and/or popular actors in recent years and with this largely unpopular new production style and shoddy writing, you can't help but wonder if Friedman just may be right.
By Melodie on May 21, 2008
Earlier this week, we reported a possible scenario for Beth Ehlers' exit from Guiding Light. This scenario has turned out to be true according to an article appearing in Soap Opera Digest this week. The article titled "Rafe Shoots Jeffrey" explains Rafe's reasons for shoooting Jeffrey and exactly how Harley becomes involved. Harley not only takes Rafe out of town, but out of the country. Rafe doesn't tell a soul where he is going, leaving Natalia in hysterics. Harley tells Buzz and Buzz only where she is going, but swears him to secrecy. How Harley and Rafe end up back in Springfield is still on the fuzzy side. The article ends with a representative from Guiding Light stating that there will be a "great story" behind Harley's exit and her last airdate is June 23. Be sure to stay tuned to Daytime Confidential for more updates on this story.
By Melodie on May 19, 2008
Daytime Confidential has just received some great scoop on Beth Ehlers'(Harley) possible exit story from Guiding Light. Here is how everything is rumored to go down. Harley smuggles Rafe out of town after she learns some disturbing news about the troubled teenager. Allegedly, Rafe shoots Jeffrey O'Neal and Harley gets him out of town to protect him. The two are on the lam for an unspecified period of time. How Rafe ends up back in Springfield and Harley doesn't, is still up in the air. Oh and all you Jeffrey fans have nothing to worry about, he survives the bullet. Message boards are sure to be a Buzz about this spoiler, as one in particular with a well known insider is already ahead of the game. Keep your eyes peeled to Daytime Confidential for the latest updates on this developing story.
By Jamey Giddens on May 15, 2008
Soap Opera Weekly is officially confirming-via-this week's cover story- that Beth Ehlers has indeed jumped ship from Guiding Light and will be joining her former GL onscreen boo Ricky Paull Goldin (ex- Gus, now Jake) in a love triangle with Jake's brother Tad (Michael E. Knight) at All My Children.
As the soap magazine went to press, sources indicated Ehlers would re-create the role of Liza Colby Chandler, Adam's ex-wife and the mother of the recently SORAS'ed Colby, just in time for Liza to face off with high school rivals Jesse and Angie (Darnell Williams and Debbie Morgan) and the soon-to-be returning object of Liza's girlhood affections Greg Nelson (Laurence Lau).
Since the magazine went to bed however, rumors have since rebounded that it will be Hayley Vaughan Santos that Ehlers will be playing. Daytime Confidential sources shared the soap allegedly tried to get Marcy Walker back as Liza, but Walker declined the offer to continue work with her church. Then there are rumors afoot that original Hayley, Kelly Ripa wasn't too pleased about the prospect of her signature soap role being recast.
Personally I think Ehlers would be mismatched as Liza, but would make a near perfect Nu-Hay-Lo. I love, love, LOVE K. Rip to DEATH, but she'll be back in Pine Valley about the same time Meg Ryan or Julianne Moore pays a visit to Oakdale. Ehlers' GL co-star Crystal Chappell-with a blonde dye job-would be a much better fit as snarky-yet-heartfelt Liza. This is worse than trying to figure out who is ahead between Hillary and Barack! Will Ehlers resurrect Uncle Porkchop's favorite niece or Jesse and Jenny's worst nightmare? Thanks Gush 900 for the SOW head's up!