Beth Ehlers
By J Bernard Jones on December 05, 2008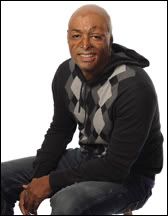 According to TV listings, JR Martinez (Brot) and Beth Ehlers (Taylor) from All My Children are scheduled to appear on The View today (airing right now as of this writing). Presumably they are going to discuss their storyline and Martinez's role as a real-life vet injured in combat tackling in his daytime debut.
Apologies for the late notice, but I literally found out just minutes ago.

By J Bernard Jones on November 12, 2008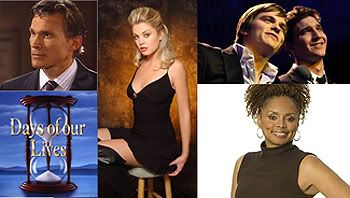 At the risk of indulging an age-old cliché or perhaps inventing a new one, real life is the soap opera that interrupts our daytime dramas.
I've been away for the last couple of weeks caring for my partner who was seriously ill for a little while (all is better now); dealing with the challenges of running a business and maintaining my livelihood in a faltering economy; consoling friends over unexpected loss in their lives and reveling in the result of a Presidential election which has left me elated and joyous in an event that I, as a Black man, never thought I would see in my lifetime. This time has been filled with hospital vigils and prayers (all answered in the affirmative), nail biting suspense, and a dash of personal intrigue. In short, the last two weeks have been a period of belief and disbelief. READ MORE
By Luke Kerr on November 10, 2008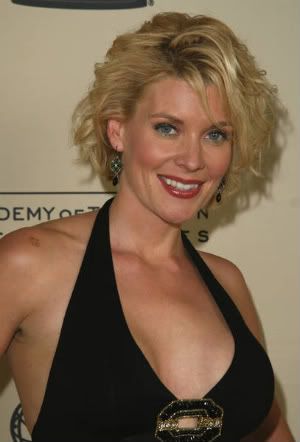 Soap Opera Digest
is reporting that
McKenzie Westmore
is joining the cast of
All My Children
as a psychiatrist for Annie and will also interact with Aidan and Ryan.
By Jamey Giddens on November 04, 2008
As previously reported,
All My Children
has cast real-life Iraqi War veteran
JR Martinez
in the role of Brot Monroe, the fellow soldier Lt. Taylor Thompson (
Beth Ehlers
), fell in love with while both were serving their country in the backstory for the fictional soap.
According to a press release from ABC Daytime, Brot's combat-related injuries, which caused him to allow Taylor to believe he was dead so not to burden her, were determined by Martinez's real life injuries.
In February of 2003, Mr. Martinez was deployed to Iraq and in April, 2003, while serving as a driver of a Humvee, the tire hit a landmine and he suffered severe burns to more than 40 percent of his body."
In addition to his new role on All My Children, Martinez, who spent 34 months in the hospital and underwent 32 surgeries, also serves as national spokesperson for the Coalition to Salute America's Heroes. No matter our respective political leanings tonight, I just want to take this time out to say thank you to Mr. Martinez and all the men and women who risk their lives to protect my opportunity to run my big mouth. And here's to hoping we elect a leader tonight who will utilize the tenets of diplomacy to the utmost before putting these brave men and women in harm's way.
By Daytime Confidential on October 31, 2008
On today's ABC episode of Daytime Confidential Luke, Tina and Jamey discuss Jason Cook without a beard and David Lago joining General Hospital.
Bianca and Reese and why Bianca's motives don't ring true to the character. Beth Ehlers and Ricky Paull Goldin can't escape filming in stairwells and Michael E. Knight rumors.
Blowing up safes for dummies, mustache twirling Tess and the Marty/Todd rapemance on One Life to Live. All this and much, much more including the disconnect between online and offline soap viewers.
Have a question or comment for the Daytime Confidential podcast? Leave us a voicemail by calling (917) 677-9757.
Listen to Daytime Confidential by clicking on the Daytime Confidential Player at the bottom of this post or Download us for FREE via iTunes. Vote for us on Podcast Alley. Add us as a Friend on MySpace and Facebook.

By Darren Lomas on October 31, 2008

All My Children's
tornado and
The Bold and the Beautiful's
Rick-Ridge feud have had crippling results in Pine Valley and L.A. for Taylor Thompson (
Beth Ehlers
) and Rick Forrester (
Kyle Lowder
) respectively. Both have swelling of the spine. How much will you bet that they are up to their usual soapy shenanigans in a matter of months (if not weeks)? It reminds me of the time Paige Matheson was paralysed on
Knots Landing
, only to spend what seemed like a week crying, then a week in physical therapy. After that, she was back working at the Sumner Corporation and playing naked croquet with Greg. I have a feeling that's what's going to happen on B&B and AMC, just without the naked croquet.