Beth Ehlers
By Jamey Giddens on May 01, 2009
Ruh roh.
Jean Pass-The-Salami
(Jillian is Love!) better sit her behind down somewhere and try to write something resembling a decent storyline for
Van Hansis
.
The Suds Report
is saying the actor is busy trying to book new gigs!
Should Nuke fans be worried about losing Luke Snyder? Van Hansis (Luke) recently told The Suds Report he's been busy auditioning for roles in independent films and nighttime shows. "I was even up for roles on Gossip Girl and [new NBC series] Kings," reveals the Daytime Emmy-nominated superstar. "But I'm not planning on leaving World Turns just yet. It's good to keep your options open. I have outs in my contract." Very smart, Van, considering World Turns may only be spinning for one more year."
By Jamey Giddens on February 14, 2009
This diehard Pharley fan is thisclose to forgiving Beth for coming between my fave
Guiding Light
couple. I never saw the "magic" of Phillip and Beth (
Grant Aleksander
and
Beth Chamberlin
) during my initial viewing experience with the couple (1997-2004), since I started watching the show in '93, long after their 80's era glory years.
I adored Pharley like I now adore General Hospital's Liason (Boy, talk about being a glutton for punishment!), so I always viewed Beth as an unecessary and unecessarily fertile thorne in Harley's side. A curse on James' head for being born and wrecking Pharley! READ MORE
By J Bernard Jones on January 30, 2009
Funny how the universe sometimes lines up and minds think alike, isn't it? Guiding Light is in the thoughts of a lot of people these days. Bloggers, soap journalists and industry watchers — not to mention the writers, cast and crew of GL — are all on pins and needles about this 72 year old institution. The writing has been on the wall among commentators on the Internet and in the soap press for some time regarding GL's maybe/probably/likely cancellation, which would essentially signal the final march along daytime's trail of tears as the end of the genre.
The signs are obvious and ominous: GL has been hovering at a 1.5 rating for the last few months, a situation exacerbated by a genre-crushing free fall in advertising revenues, which have in turn led to massive budget cuts by the networks for all the shows. If GL doesn't get its act together by the Ides of April, as our own Jamey Giddens so aptly put it, the oldest series on broadcast television will bite the dust. However, there is hope. As has been reported here, Guiding Light needs the minimum of a steady 1.8 rating to avoid getting the ax.
Back to minds thinking alike: Just as I was finalizing this list, Mr. Giddens posted his "Top 10 Last Ditch Stunts To Save Guiding Light," followed by Spauldingfield's awesome GL promo posted by Luke Kerr. Because of their excellent efforts I almost decided to not post these recommendations, but the situtation at Guiding Light is so important to those of us who love the show that I felt it was more important to contribute to the call to keep GL on the air and risk repetition than not do so. Therefore, consider these considerations an addition to their efforts. GL needs viewers not tomorrow, but today and here are ten reasons to tune in right now! READ MORE
By J Bernard Jones on December 11, 2008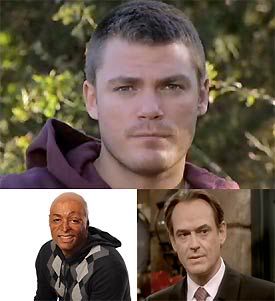 Despite gloom and doom about the state of daytime in almost all of its aspects, fans have been treated to some good soap opera lately.
The Young and the Restless
is the Must See Soap right now.
One Life to Live
has regained it's glory and
Guiding Light
is steadily improving. Some of daytime's best actors are giving some of the performances of their lives. With that in mind, there are three performers new to their respective shows deserving of special mention who I think are doing a bang up job.
JR MARTINEZ (Brot Monroe, All My Children)
Introduced amid a publicity blitz, JR Martinez came aboard AMC with a fascinating, real life backstory: an Iraq War veteran seriously injured and disfigured by explosives, eventually becoming a noted inspirational speaker for and on behalf of veterans coping with their life altering injuries. His addition to AMC's canvas was purposeful and deliberate. The show wanted a real life injured vet to play Brot, former love of newcomer Taylor (Beth Ehlers).
AMC has received much justly deserved praise for casting Martinez, but make no mistake, this was as much a bit of stunt casting as it was groundbreaking decision. READ MORE
By Jamey Giddens on December 06, 2008
I know my fellow Liason lovers are probably dressed in sack cloth today, watching You Tube clips of our spectacular, amazing, soaptastic supercouple who are being viciously torn asunder due to ABC Daytime focus group foolishness, but until
Brian Frons
sees something that gets him excited againt at
One Rapemance to Live
or
All Ryan Lavery's Thongs
(Maybe Fronsie-Pie plans to bring
Drake Hogestyn
and
Deidre Hall
over as
Beth Ehler's
parents and order them to arrive during a CGI-Tsunami?) and our couple is given a fair shot, I figured I would post this to give us hope.
READ MORE
By Luke Kerr on December 05, 2008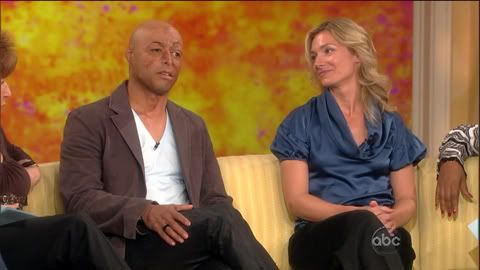 As J. Bernard gave a
heads up
to earlier today,
JR Martinez
and
Beth Ehlers
dropped by
The View
to talk about their
All My Children
storyline and Martinez's recovery from injuries he suffered serving in Iraq. Check out more pictures after the jump.
READ MORE