Barbara Walters
By Luke Kerr on July 14, 2009
Who would have guessed that
Barbara Walters
would watch
Bruno
–the new film by Sacha Baron Cohen–and then review it on
The View
? Needless to say this is a clip you might want to watch.
RELATED: Bruno Review
By Jillian Bowe on June 12, 2009
You have to give bladder man
Brian

Frons
credit for the cross promotions on ABC Daytime. On
The View
,
All My Children
stars,
Susan

Lucci
(Erica)
and
Cameron

Mathison
(Ryan)
strolled on through to discuss the latest
storyline
of Lucci's Erica taking a younger lover Ala
Mrs. Robinson
with her daughter's baby daddy, Ryan. Check the two out at the 5:22 mark.
By Luke Kerr on May 20, 2009


Fox News star Glenn Beck dropped by The View and Whoopi Goldberg and Barbara Walters took him to task for lying about an encounter he had with them on Amtrak. The incident in question took place as all three were headed to the White House Correspondents Dinner in Washington D.C.
By Jillian Bowe on April 29, 2009
Has the apocalypse begun? It must be really chilly down in Hades since former co-hosts of
The View,
Rosie O'Donnell
and
Star Jones,
were spotted out having dinner. The former rivals were dining at the 2009 Passing It On Benefit After Party at Tony DiNapoli's in New York City Monday night. On April 16, the ladies were also part of a charity auction to benefit the Skating with the Stars Gala, for which Jones is co-chair. The winner of that auction got a chance to share a lunch date with Jones and O'Donnell and pose
any
questions they want. Wouldn't you like to be a fly on the wall when that goes down?
READ MORE
By Jillian Bowe on April 22, 2009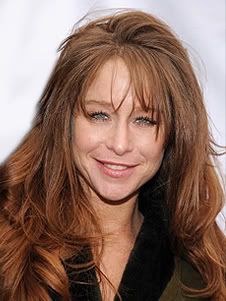 Set your DVR's boys and girls! Jamie "Turbo" Luner is slated to make her first appearance on The View this coming Friday. Well I have to give ABC and All My Children props for their latest PR ploy. We all know Chuck "UpChuck" Pratt says that Ms. Luner is no, "ass kisser," so I have to wonder how things are going to play out when Luner heads to the couch and tackles those spitfires on the ABC chat fest darling.
By Jillian Bowe on April 20, 2009
So this is what it looks like when former
The View
co-host
Star Jones
has a rumble in the jungle with ex-boss
Barbara Walters
and former moderator/enemy
Rosie O'Donnell
. I'm all down for rocking the curly/wavy look (I myself have curly/wavy hair) but someone really needs to tell Star to throw some pommade in that puppy! Take your best shot.