Austin Peck
By Jamey Giddens on April 26, 2008
It's a Days of Our Lives sibling-reunion...on crack on As The World Turns as the character Julie Pinson (ex-Billie, Days) will be playing, Janet "Juicy" Ciccone- turns out to be an ex-flame of Brad Synder, played by the suddenly hysterical Austin Peck. Did I mention, Brad and Juicy supposedly have a teenage daughter named Liberty who pops up in Oakdale next week before the post wedding glow has even left our spunky best gal Katie's face?
I know I griped about Pinson not joining the show as a recast for Molly Conlin, but right now I am seriously okay with whatever TPTB choose to do with this character and storyline, since Brad and Katie's storyline is one of the best romantic comedies on television right now. Sigh, isn't it nice to actually trust the writers and producers of a soap to entertain you without having to bitch, boycott or jump into a water fountain and baptize yourself the Slut of the Internet? Don't act like I'm the only one whose done it!
By Jamey Giddens on April 21, 2008
Anyone looking for a really good romantic comedy to tide them over until Sex and the City: The Movie premieres on May 30 need look no further than As The World Turns. The Proctor and Gamble soap was firing on all cylinders this past week as Katie Peretti (Terri Colombino) prepared to walk down the aisle for a fifth time. This time the lucky guy was Brad Snyder (Austin Peck), brother to Katie's most recent ex-hubby Jack (Michael Park), who served as best man for the ceremony. The return to town of yet another former groom Mike Kasnoff (Jon Prescott) only complicated matters more for Katie who had to try and convince Brad, Margo, Lisa and most importantly herself that Brad really is "the one".
Lisa my dear, even with a shaky camera you look mah-ve-lous!

How great was it to see the legendary Eileen Fulton (Lisa Grimaldi), daytime's first vixen, doing what she does best, scheme her little Southern fried heart out? And doesn't Eileen look great? Not even that silly, annoying hand held camera crap could ruin the hilarious scenes with Lisa luring Mike to Fashions under the guise of a termite inspection, while all the while orchestrating his run in with Katie. Brad of course was having none of that when he arrived just in time to keep his lady love from wavering, or so he thought. Later a wedding gift from Mike, one of those gaudy, Dollar Store angels you buy for that aunt who comes home for Christmas at the last minute, caused Katie to become all confused and confumbled (word awaiting copyright), which of course led her straight to Snyder Farm to confront her ex.
How do you talk to an angel?

After falling in Emma's pond and telling Mike she was no longer his angel, our plucky heroine was finally ready to marry Brad, on live TV no less. Not even a spat with mother hen/big sis Margo (Ellen Dolan) could keep a determined Katie from taking Brad to be her lawfully wedded goof. Unfortunately the hiccups, make that nerve-ups, could. Luckily Margo had an attack of sisterly conscience and arrived in time to yell "cellulite" ending Katie's dilemma. She was finally ready to go, then she fainted!
After it was all said and done, Katie finally managed to marry her guy, complete with a hilarious sermon from fill-in Minister Henry (also a Katie ex) that basically summed up the ups and downs of making a marriage or a TV series a hit. While all involved added to their Emmy reels last week, it was Terri Colombino who deserved the most kudos. This actress is without a doubt the Reese Witherspoon of daytime and its great to see TPTB at ATWT realize that.
By Regan Cellura on April 09, 2008
Happy Birthday Austin Peck! (Brad, ATWT; ex-Austin, Days) He turns 37 today!
By Jamey Giddens on March 24, 2008
What soap fan doesn't sit at home and play fantasy exec/writer? Lord knows I do, it's what gets me through plots about unaborted children, jerky camera movement and the lack of diamonds or cleavage in Genoa City. Tonight I feel like playing fantasy casting director and letting you know just exactly who, in my humble opinion, should play which roles on what soaps.
Ted King to Days as Lawrence Alamain
With all the talk about the notorious Alamain clan of Days of Our Lives coming up both on the show and here at Daytime Confidential, a thought popped into my mind about how awesome it would be for former GH baddie Ted King (ex-Alcazar) to reunite with his former leading lady Tamara Braun (ex-Carly, GH/Ava, Days) in Salem!
King would be perfect as dastardly Alamain patriarch Lawrence. I loved Michael Sabatino, who originated the role, but he's been away from the soap for so many years and as the returns in recent years of Christie Clark, Austin Peck, Billy Warlock and many others have proven, having fan faves reprise their roles doesn't always lead to rating success for Days.
King and Braun were a hit with GH fans as Lorenzo and Carly. Those fans could decide to tune in to Days to see them reunited and raising hell. And while we're at it, why not throw in Ignacio Serrichio (ex-Diego, GH) as a recast for Lawrence's son Nicholas? READ MORE
By Luke Kerr on February 26, 2008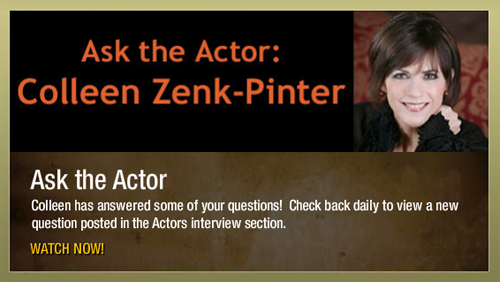 As the World Turns' launch of
www.astheworldturns.net
seems to be pulling in the show's fans. Daytime Confidential listener and reader MarkDutchViewer sent in a question for Colleen Zenk Pinter (Barbara Ryan) and it ended up being one of the ones she chose. His question is #3 so be sure to pay special attention to it. Also up next is Austin Peck. You can send your questions for him to pgwebmaster@televest.com.
Congrats to MarkDutchViewer!
By Luke Kerr on February 12, 2008
In a recent post on his official blog
Trevor St. John
denied online rumors that he is/was leaving One Life to Live in April. In his statement he said he didn't know where these rumors come from.
Daytime Confidential podcast regular Tina told me that all these rumors started last fall when a spoiler leaked out that a "leading man" would be leaving One Life to Live in April. As she put it, online fans then on a variety of boards went through a process of elimination to try and identify who it was that might be leaving and came up with Trevor St. John or Michael Easton. Both of who are considered leading men by most people's standards.
Her and my discussion of Trevor St. John's denial led to the question. What defines a "lead" actor or "lead" actress? Is it air time? Is it their screentime guarantee? Is it how the category an actor or actress submits themselves in come Emmy nomination time?
As fans its often easy for us to consider one of our favorite actors or actresses to be a "lead" even though they may not really be. So with this in mind and to ensure that I don't inadvertently start any other One Life to Live rumors lets take a look at General Hospital to try and figure this out.
(If you watch an CBS or NBC soap think of the following in the context of your favorite show)
Before I start, this is for discussion purposes only. This is not about me picking on anyone or bashing anyone or promoting anyone.
"Lead" Actors:
I think it is safe to say that most General Hospital fans can agree (whether they like the characters or not) that Anthony Geary, Maurice Bernard, and Steve Burton are "lead" actors. But are they the only lead actors? If one looks at it and tries to put all personal biases aside, are there other lead actors on General Hospital?
For example: Would you consider Tyler Christopher to be a "lead" actor? An argument could definitely be made. He's carried most of the non mob related "leading man" type storylines on the show for several years now. Would this or does this make him a leading man?
Another Example: What about Greg Vaughn? He's had the drug addiction storyline and he's been apart of the giant Jason/Liz/Lucky/Sam quadrangle? If you try to set your personal biases either pro or con about him aside based on what you've seen of him on screen and what he's been apart of do you consider him to be a "lead" or a "supporting" actor?
Final Example: What about Ric Hearst? Hearst is an Emmy winning actor who gets quite a bit of airtime. He has been paired with Nancy Lee Grahn, Rebecca Herbst, Kelly Monaco, and Robin Christopher. In many respects his character has been the counter balance to Sonny on the "scale" that is General Hospital. Does this make him a lead actor?
So taking these three talented actors into account. If you try to set your personal biases aside do you think that any or all of these three actors are or should be considered "lead" actors?
"Lead" Actress:
Then we come to the "lead" actress of General Hospital. Without question, based soley on character heritage and screentime Laura Wright as Carly is a "lead" actress. On this I think we can all agree. After her things get a bit more complicated.
For Example: Nancy Lee Grahn is an amazingly talented actress who has been nominated for a Lead Actress Emmy on several occasions. A few years back was a part of or was the star of a variety of "front burner" storylines and has a fair amount of air time. Both of which could qualify her as a "lead" actress. However, more recently she's had hardly any air time? All personal biases aside is Nancy Lee Grahn a "lead" actress?
Another example: If one considered screen time to be the sole factor in "lead" actress status Julie Marie Berman would be considered a "lead" actress. However, she is the main actress of the teen storylines. Does this, or would this disqualify her from being a "lead" actress? By Emmy standards she would be nominated in the Younger Actress category. She doesn't or didn't qualify for Supporting Actress. Is Julie Marie Berman a "lead" actress?
Final Example: Kelly Monaco and Kimberly McCullough. Both have had lots of air time. Both are in popular pairings. Both actress' characters have played foil to the one "lead" actress character Carly over the years. Would either of these two, or should either of these two be considered "leads"?
So taking these four talented actresses into account. If you try to set your personal biases aside do you think that any or all of these three actors are or should be considered "lead" actors?
I guess what I am asking is if once we look past the obvious leads such as Susan Lucci, Eric Braden, Maurice Bernard, Anthony Geary, Erika Slezak, Alicia Minshew, Thorsten Kaye, etc, etc, etc, who do you consider to be "lead" actors and actresses and by what standard do you measure them to consider them as such?


For example: Is James Scott a "lead" actor? Is Allison Sweeney a "lead" actress? Do Austin Peck and Terri Colombino qualify as "leads"?
I would love to hear your thoughts.