Anthony Herrera
By J Bernard Jones on October 08, 2008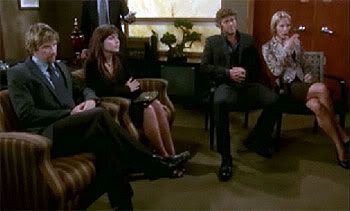 Today's episode of As the World Turns was a sterling example of what a good, rock solid soap can be from top to bottom when the stories told are driven by character and relationships, regardless of the plot mechanics involved. READ MORE
By J Bernard Jones on September 16, 2008
The Story So Far: James Stenbeck is back, baby! In more ways than one...
When it comes to soap opera super villains, there are none quite like James Stenbeck. I don't make that statement as a reflection of personal bias (which is certainly part of it) or blogger-style hyperbole (which I am in the process of trying to emulate). I'm being pretty literal here.
A product of the over-the-top 80's, soap super villains were modeled after James Bond's major foes: eccentric, impossibly wealthy, and megalomaniacal. Their stratospheric IQ's (collectively, they must average about 335, maybe 391!) keep them at least three steps ahead of all international law enforcement officials with the exception of those cops on their extensive payrolls. When they are not trying to manipulate or murder everyone else, they are likely also trying to control or kill their own children. You know, the super villain style of "tough love." Motivations may vary from super villain to super villainess and a few may have a soft spot or two but the soap super villain is larger than life, always with a master plan to control the world, carry out a centuries old vendetta and/or at the very least steal their own grandchildren and is seemingly indestructible. READ MORE
By Mike Jubinville on August 07, 2008
Someone one please put me out of my misery! It was only a few short weeks ago that I was praising the high heavens for the writing on
As the World Turns.
Since that time I have been subjected to poison jewelry and Meg seeing the ghost of Sofie. It's a wonder that poor girl can find her way to Meg with that bright, white, garish light shining in her eyes. Alison, Chris, Emily, Casey and Meg have been irratic, irrational, and down right irritating!
I see some storyline progression in this pool of plot drivel, but can someone stop the madness and get back to the soap that had Margo gunning for Emily, Lily gunning for Carly and Susan gunning for Chris? Imagine my confusing feelings for a moment when, in the midst of this hot mess, I see Meg point a gun at Paul. Wow, talk about a freeze frame moment. I could go for this, Paul being shot dead...for real this time. Then again, James is coming back to torment him, so which would be better? A real dilemma for sure. READ MORE
By Mike Jubinville on August 04, 2008
In honor of
Anthony Herrera's
return
to
As the World Turns
as James Stenbeck, here is a somewhat recent clip of one of his many encounters with ex-wife Barbara Ryan. If you are unaware of their long history, Barbara and James have been tangled in each other's orbits for decades. They are twice married and twice divorced, but that doesn't keep James from tormenting his favorite target. Barbara is strong, but she knows that James is a dangerous man. The chemistry between these two is undeniable, which makes them one of my favorite all time couples. There is nothing like watching two professionals making their work look like no work at all.
In this clip, Barbara visits James in prison in 2003 to get answers in the kidnapping of Lily and Rose. The music and lighting set the scene as Barbara faces the man she fears most in order to help find the two girls.
This is one of several James and Barbara clips available on YouTube. Just pop it in the search and view storylines that go back to 1987.

By Luke Kerr on July 30, 2008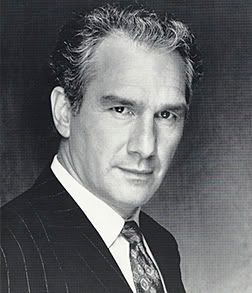 We Love Soaps
is reporting that
Anthony Hererra
is returning to
As the World Turns
as the dastardly
James Stenbeck
. He will first appear on August 27.
Personally, I cannot wait. For me James Stenbeck is right up there with Constance Towers' Helena Cassadine and Joe Mascolo's Stefano DiMera. I never watched any of the Roger Thorpe era so for me these three my favorite daytime villains.
I've posted a classic James Stenbeck and Lucinda Walsh clip below for everyone to enjoy. It really doesn't get much better than watching these two actors together.