Anthony Geary
By Luke Kerr on April 30, 2008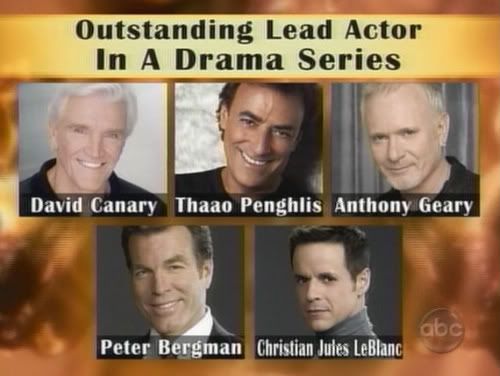 Congrats to David Canary, Thaao Penghlis, Anthony Geary, Peter Bergman and Chistian Jules LeBlanc. May the best actor out of this talented category win.
I'm not sure if there's to much to say about these nominees other than how great it is for Days of Our Lives to have a lead actor nomination for Thaao Penghlis. I am a bit surprised that As the World Turns' Michael Park didn't receive a nomination this year. He's had some great work. Many had said that this was As the World Turns' Jon Hensley's best year in years so it wouldn't have surprised me if he got a nomination. Unfortunately for him he didn't.
What is there to say about General Hospital's Tyler Christopher. He had the best work of his career last year and after having spent years in the Supporting Actor category it is understandable that he would want to try and break into the Lead Actor category with his best work. Unfortunately for Christopher breaking into the Lead Actor category isn't easy. The last actor to successfully make the transition from Supporting Actor to Lead Actor was the Young & Restless' Christian LeBlanc who won his first Lead Actor award in 2005 and then again last year. LeBlanc is nominated this year.
After the death of Asa on One Life to Live I fully expected Robert S. Woods to get a nomination. His scenes with that cowboy hat in the barn were heart wrenching and should have made him a shoe in for a nomination.
Looking at the prenominations list below and comparing it to the nominees above is there anyone who you feel is missing from this list or who should be on it instead of someone else?
Outstanding Lead Actor Pre-Nominees
AMC: David Canary, Thorsten Kaye, and Michael E. Knight
ATWT: Scott Bryce , Jon Hensley , and Michael Park
B&B: John McCook, Ronn Moss, and Jack Wagner
DAYS; Stephen Nichols, James Scott , Thaao Penghlis, and Peter Reckell
GH: Steve Burton, Tyler Christopher,and Anthony Geary
GL: Ricky Paull Goldin, Robert Newman, and Ron Raines
OLTL: Michael Easton, Robert S. Woods, and Jerry verDorn
Y&R: Peter Bergman, Eric Braeden, and Christian LeBlanc
By Jamey Giddens on April 01, 2008
In celebration of the soap's 45th anniversary legendary General Hospital leading man Tony Geary recently sat down with Entertainment Weekly's Abby West to reflect on the glory days of Luke and Laura, the changing face of daytime, how it feels to not be front and center and what it's like to work with leading ladies Genie Francis (ex-Laura) and Jane Elliot (Tracy). Geary also explains his much-talked-about vacation schedule and why he in fact gets to take so much time off from the show. Read it all here.
By Jamey Giddens on March 24, 2008
What soap fan doesn't sit at home and play fantasy exec/writer? Lord knows I do, it's what gets me through plots about unaborted children, jerky camera movement and the lack of diamonds or cleavage in Genoa City. Tonight I feel like playing fantasy casting director and letting you know just exactly who, in my humble opinion, should play which roles on what soaps.
Ted King to Days as Lawrence Alamain
With all the talk about the notorious Alamain clan of Days of Our Lives coming up both on the show and here at Daytime Confidential, a thought popped into my mind about how awesome it would be for former GH baddie Ted King (ex-Alcazar) to reunite with his former leading lady Tamara Braun (ex-Carly, GH/Ava, Days) in Salem!
King would be perfect as dastardly Alamain patriarch Lawrence. I loved Michael Sabatino, who originated the role, but he's been away from the soap for so many years and as the returns in recent years of Christie Clark, Austin Peck, Billy Warlock and many others have proven, having fan faves reprise their roles doesn't always lead to rating success for Days.
King and Braun were a hit with GH fans as Lorenzo and Carly. Those fans could decide to tune in to Days to see them reunited and raising hell. And while we're at it, why not throw in Ignacio Serrichio (ex-Diego, GH) as a recast for Lawrence's son Nicholas? READ MORE
By Jamey Giddens on March 16, 2008
Fifteen years ago this month daytime lost a treasure in Douglas Marland. Marland is regarded among the absolute best of the genre's writer-if not the best.
In the 1970's Marland began penning scripts under the legendary Another World scribe Harding "Pete" Lemay, whose brazen stories kept AW at Number One in Nielsen households for most of the 70's.
Then in 1977 ABC made the decision to pair Marland in the role of headwriter with one Gloria Monty serving as executive producer. The pair had the Herculean task of resurrecting ABC's ratings stagnant General Hospital in six months, or the show would be cancelled.
As Monty got busy changing the look and feel of GH (and basically all of daytime as her work would be copied by just about all the other soaps on air at the time), Marland began electrifying the scripts. He zeroed in on fresh-faced young marrieds Laura and Scotty Baldwin (Genie Francis and Kin Shriner) and created Jackie Zeman's signature role, scheming nurse Bobbie Spencer, to come between the couple. Bobbie planned to use her bad boy brother Luke Spencer (Tony Geary) to drive a wedge between Scotty and Laura and the rest we al know ended in soap opera history, no, make that pop culture history.


And while being instrumental in the early success of Luke and Laura's romance definitely was one of Marland's claims to fame, it wasn't by far his only success at GH. The storytelling genius also gave us the wealthy, cantankerous Quartermaine clan.
Dashing Dr. Alan Quartermaine (Stuart Damon) was introduced to woo and/or tame Dr. Gail Baldwin's adopted daughter Dr. Monica Bard Webber (Leslie Charleson). Since the character's introduction, Monica had been caught in a tempestuous love triangle between brothers Rick and Jeff Webber and at the time of Alan's introduction she still carried a torch for Rick, but the Quartermaine billions proved enticing enough to Monica. Other early Q's introduced during Marland's regime were Alan's parents-billionaire Edward (David Lewis) , socialite Lila (Anna Lee) and his scheming sister Tracy (Jane Elliot).
Not wanting to relocate from New York to LA where GH was filmed, Marland opted to take the headwriter's job at Guiding Light in 1979. There he created what would become one of the show's most wildly popular heroines, Nola Reardon (Lisa Brown). In 1982 Marland created a groundbreaking, but short-lived soap for cable TV station Showtime called A New Day In Eden . Touted the first "nude soap". A New Day in Eden starred Dark Shadows actress Lara Parker and GH's Jane Elliot and boasted Susan Flannery (Bold and Beautiful's Stephanie) as a director. After the show was cancelled, Marland teamed up with fellow soap legend Agnes Nixon to co-create Loving for ABC.
1985 saw Marland return to As the World Turns, the same show he had acted on briefly at the beginning of his career. This time it was as the show's headwriter where he remained until his death in 1993. During Marland's successful stint at ATWT he created the Snyder family, re-established the Hughes as the show's core family and created Holden and Lily's love story. Douglas Marland died on March 6, 1993. Click here to read Marland's classic essay on soap opera writing, entitled "How Not To Wreck A Soap".
By Luke Kerr on February 12, 2008
In a recent post on his official blog
Trevor St. John
denied online rumors that he is/was leaving One Life to Live in April. In his statement he said he didn't know where these rumors come from.
Daytime Confidential podcast regular Tina told me that all these rumors started last fall when a spoiler leaked out that a "leading man" would be leaving One Life to Live in April. As she put it, online fans then on a variety of boards went through a process of elimination to try and identify who it was that might be leaving and came up with Trevor St. John or Michael Easton. Both of who are considered leading men by most people's standards.
Her and my discussion of Trevor St. John's denial led to the question. What defines a "lead" actor or "lead" actress? Is it air time? Is it their screentime guarantee? Is it how the category an actor or actress submits themselves in come Emmy nomination time?
As fans its often easy for us to consider one of our favorite actors or actresses to be a "lead" even though they may not really be. So with this in mind and to ensure that I don't inadvertently start any other One Life to Live rumors lets take a look at General Hospital to try and figure this out.
(If you watch an CBS or NBC soap think of the following in the context of your favorite show)
Before I start, this is for discussion purposes only. This is not about me picking on anyone or bashing anyone or promoting anyone.
"Lead" Actors:
I think it is safe to say that most General Hospital fans can agree (whether they like the characters or not) that Anthony Geary, Maurice Bernard, and Steve Burton are "lead" actors. But are they the only lead actors? If one looks at it and tries to put all personal biases aside, are there other lead actors on General Hospital?
For example: Would you consider Tyler Christopher to be a "lead" actor? An argument could definitely be made. He's carried most of the non mob related "leading man" type storylines on the show for several years now. Would this or does this make him a leading man?
Another Example: What about Greg Vaughn? He's had the drug addiction storyline and he's been apart of the giant Jason/Liz/Lucky/Sam quadrangle? If you try to set your personal biases either pro or con about him aside based on what you've seen of him on screen and what he's been apart of do you consider him to be a "lead" or a "supporting" actor?
Final Example: What about Ric Hearst? Hearst is an Emmy winning actor who gets quite a bit of airtime. He has been paired with Nancy Lee Grahn, Rebecca Herbst, Kelly Monaco, and Robin Christopher. In many respects his character has been the counter balance to Sonny on the "scale" that is General Hospital. Does this make him a lead actor?
So taking these three talented actors into account. If you try to set your personal biases aside do you think that any or all of these three actors are or should be considered "lead" actors?
"Lead" Actress:
Then we come to the "lead" actress of General Hospital. Without question, based soley on character heritage and screentime Laura Wright as Carly is a "lead" actress. On this I think we can all agree. After her things get a bit more complicated.
For Example: Nancy Lee Grahn is an amazingly talented actress who has been nominated for a Lead Actress Emmy on several occasions. A few years back was a part of or was the star of a variety of "front burner" storylines and has a fair amount of air time. Both of which could qualify her as a "lead" actress. However, more recently she's had hardly any air time? All personal biases aside is Nancy Lee Grahn a "lead" actress?
Another example: If one considered screen time to be the sole factor in "lead" actress status Julie Marie Berman would be considered a "lead" actress. However, she is the main actress of the teen storylines. Does this, or would this disqualify her from being a "lead" actress? By Emmy standards she would be nominated in the Younger Actress category. She doesn't or didn't qualify for Supporting Actress. Is Julie Marie Berman a "lead" actress?
Final Example: Kelly Monaco and Kimberly McCullough. Both have had lots of air time. Both are in popular pairings. Both actress' characters have played foil to the one "lead" actress character Carly over the years. Would either of these two, or should either of these two be considered "leads"?
So taking these four talented actresses into account. If you try to set your personal biases aside do you think that any or all of these three actors are or should be considered "lead" actors?
I guess what I am asking is if once we look past the obvious leads such as Susan Lucci, Eric Braden, Maurice Bernard, Anthony Geary, Erika Slezak, Alicia Minshew, Thorsten Kaye, etc, etc, etc, who do you consider to be "lead" actors and actresses and by what standard do you measure them to consider them as such?


For example: Is James Scott a "lead" actor? Is Allison Sweeney a "lead" actress? Do Austin Peck and Terri Colombino qualify as "leads"?
I would love to hear your thoughts.
By Luke Kerr on January 27, 2008
In an episode of Daytime Confidential to air this week Foxy, Jay and I were discussing General Hospital in comparison to All My Children and One Life to Live when it comes to using their veterans. The discussion got me to thinking.
General Hospital is, without question, the #1 ABC soap in terms of ratings. It has the nicest sets. It has the biggest sweeps stunts in daytime. It seems to be nominated for Emmys more than the One Life to Live or All My Children. However, even with this going for it, proportionately speaking it has the fewest veteran actors in front burner storylines. Why is this and does this seem odd to anyone else?
Take for example All My Children and One Life to Live.

All My Children's ratings have been in the toilet by comparison. Fans are crucifying it because the writing has been horrible and many of the characters are being written out of character. But even with all this going against it, it has brought back the veteran/heritage characters portrayed by Debbie Morgan (Angie) and Darnell Williams (Jesse) and still features Susan Lucci (Erica Kane), David Canary (Adam Chandler), Michael E. Knight (Tad Martin), and Walt Willey (Jackson Montgomery) prominently in its storylines.
Over on One Life to Live, which is by far the best written soap in daytime but whose ratings have yet to reflect its quality, it is jammed packed with veteran/heritage actors/characters. Erika Slezak (Victoria), Robin Strausser (Dorian), Robert S. Woods (Bo), Hillary B. Smith (Nora), Patricia Mauceri (Carlotta), Catherine Hickland (Lindsey), Kassie DePaiva (Blair), Patricia Elliot (Renee), Trevor St. John (Todd), and Timothy Stickney (RG).
General Hospital on the other hand.
Unlike All My Children or One Life to Live, General Hospital suffers from a bad case of anti veteran actor/heritage characteritis. Sure it has John Ingle (Edward), Leslie Charleson (Monica) Jane Elliot (Tracey), Anthony Geary (Luke), Jackie Zeman (Bobbie), John J. York (Mac), Kin Shriner (Scotty) and now Kristina Wagner (Felicia) but does General Hospital use them? Let's take a look.
Anthony Geary of course gets pretty much as much airtime as he wants but unfortunately for us there seems to be a direct correlation between when Anthony Geary goes on vacation and when Jane Elliot's screen time evaporates.
Then we have John Ingle and Leslie Charleson who have been relegated to deaths, funerals, and hostage situations. Sure we've been told for years that Leslie will get a major storyline and it appears that the drinking storyline may be the storyline we've been promised but will TPTB go through with it and not drop it? Only time will tell.
Over at the Scorpio household John J. York must be getting dust bunnies in his ears as little he is used. How is it that with all the crime in Port Charles that the Chief of Police is rarely seen? I'll tell you. It's more glamorous to have dark and brooding "heroes" take care of the bad, bad, bad men of Port Charles than to actually have an effective police force. Now we have Kristina Wagner back as Felicia to investigate Georgie's death but will we actually get a good investigation or will we just see her once or twice a week and then she'll disappear faster than Helena in the Wyndamere tunnels?
Talk about potential. Kin Shriner returns to the role of the ever-popular Scotty and wham bam bang he has a son he never knew of. Should be a good right? Apparently, wrong. Instead of building up the Luke vs. Scotty rivalry over their children, Shriner has languished in the land of back burner actors while his character's son has gone from being the man of choice for Lulu to the underdog in a romantic triangle.
Lastly we have Jackie Zeman. Poor Jackie Zeman. The actual General Hospital, you know the one that the show is named after, is finally getting almost equal airtime as the mob related storylines and Bobbie is no where to be found. We had a glimmer of hope after Zeman was dropped to recurring and a week later Luke was in the hospital and we saw Bobbie more in two weeks than we had the entire previous year. I don't know about the rest of you but I had hoped that Zeman would have been lucky enough to be one of those recurring actresses who the moment they were dropped to recurring we saw them almost every day. No such luck.
Adding insult to injury, one can count on two hands the number of times Bobbie has had scenes with her daughter Carly (and "star" of the show) since Laura Wright has taken over the role. We won't mention the fact that we have yet to have a scene between Bobbie and Sebastian Roche's Jerry. So what that he held her daughter hostage. So what that he was once a man that Lucas looked up to. So what that Jerry and Bobbie were once engaged. Seriously, shouldn't we have had some sort of face off between these two over everything that has happened since Jerry's return almost a year ago? One would think so. Or at least I do.
Which leads me to my biggest problem.
How is it that all All My Children and One Life to Live can have so many veteran actors/heritage characters front and center when apparently General Hospital, with all it has going for it, can't "afford" to throw its veteran actors/heritage characters a bone in the form of meaty storylines? How is it that Genie Francis can't get a contract that would bring her back to the show and the fans that adore her?
Could it be the fact that General Hospital (the show) seems to be spending a fortune on a long line of characters that we as fans have no connection to a core or heritage family?
Why do we keep getting new doctors and nurses (no offense to the actors) up the whazoo when Monica isn't fighting for chief of staff or Bobbie isn't giving Epiphany a run for her money as head nurse?
Why is John J. York's Mac Scorpio portrayed as a bumbling idiot with little airtime when his police force either A) rarely works as in the case of Lucky and the now departed Coop or B) a long line of basically nameless detectives who we either don't care about or are used instead of Mac? On top of all this doesn't it seem a bit odd that Spinelli does more investigating than the cops? Mac would get more airtime if he quite the force and started a detective agency with Spinelli than he's getting now.
I don't want anyone to interpret my thoughts as bashing the talented and not so talented (depending on how the various fan bases view them) actors and actresses who were lucky enough to land a contract and get airtime. That isn't what this is about.
What this is about.
What this is about is that in a time when both All My Children and One Life to Live are using there veterans in larger numbers. We now have, at minimum, nineteen characters on contract with General Hospital that arrived within the last three years that are not connected to a core or heritage family. Of those nineteen characters at least ten of them (possibly more) appeared on our screens this past Friday.
With such a large number of new characters circulating on a show on a daily basis, is it to much to ask that say three or four of these ten (or more) characters don't appear on any given day in order to give a veteran or two an opportunity to have some screen time and an actual storyline? There has to be a way to balance all the new character while also featuring veteran actors/heritage characters isn't there?
I certainly hope so.