Anthony Geary
By Regan Cellura on September 15, 2008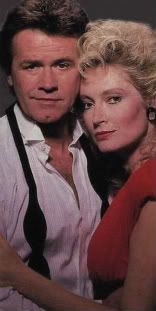 UPDATE:
It looks like Tiffany and Sean will pop in just in time for
Night Shift
's Second Season Finale. Remember it was said to be so good they had to break it up in
two parts
! Look for Luke Spencer (
Anthony Geary
) to be reunited with his friends on the finale as well!
ORIGINAL STORY: Don't be surprised if you see General Hospital supercouple Sean and Tiffany Donely (John Reilly and Sharon Wyatt) returning to Port Charles via Night Shift. Strong RUMORS have them coming back to check in on their old pal Robert Scorpio (Tristan Rogers) who is battling colon cancer.
For longtime General Hospital fans this is huge-yet-bittersweet news. One would hope a reunion of this magnitude would play out on the mother-ship and not on the spin-off. Especially when you factor in a significant number of fans who do not get SOAPnet.
Here's hoping Sean and Tiffany get abducted by the mother-ship and return home.
RUMORS of their return have the Donely's returning with their son in tow.
By Regan Cellura on September 05, 2008
General Hospital
head writer,
Bob Guza Jr
.
, sat down with
Soap Opera Weekly
for a chat. In the
first part
of the two part interview, Guza dishes on
Genie Francis
' return and confirms reports that she will be back in October. He also addresses the other BIG question... will
Tony Geary
and Genie get some screentime together? Francis' last return wasn't handled as well as the fans would have hoped but Guza says those same mistakes will not be made again. Should we listen? Take a look and weigh in!
Weekly: It's suspicious that Laura doesn't want Lulu telling anyone else that she is awake.

Guza: That's very true. Lulu is like, "Oh, my God, this is good — let me get the boys," and Laura is like, "No, no, you can't tell them yet. I don't want to get their hopes up in case this doesn't take." We are thinking, "Yeah, that makes sense." Also, what happens is, a doctor shows up from Switzerland, where Laura was part of the time. If a doctor is there, how can it not be real? By the end of the fall/early winter, you will know the answer. You will also know about Laura's future.

Weekly: It would be too convenient if she just faded away again.

Guza: We are not going to resolve this in the same way that we did before. Not at all.
By Regan Cellura on August 27, 2008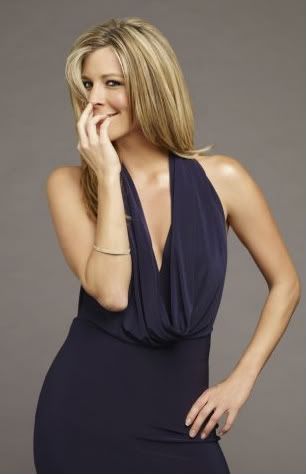 Here's the Scoop! 08.27.08
Will Carly let Sonny see Morgan? RUMORS say that the former spouses have a talk when Sonny returns from the island. He'll tell Carly that being on the island brought back lots of memories of their happy times there as a family. EARLY RUMORS said Carly would be upset that Sonny took Kate to the island, a place they spent so much time together with the boys. That MAY still hold true, however, the LATEST is that Carly will tell Sonny that if the violence continues to stay at a low, she'll let him see his son. Calm before the storm? Remember, Kate finds out about the limo sex around this same time. Could it even be part of this same conversation when Clarice overhears? RUMORS say that Jax believes Kate is lying in yet another attempt to undermine his wife and it appears that Sonny tells the truth.

I mentioned Jax moving back in around all of this. Is he buying Carly a new house? Can they take the curtains with them? I love those curtains! Or if the set designer at General Hospital happens to be reading this blog, can I have them? They'd match my living room perfectly. READ MORE
By Regan Cellura on August 26, 2008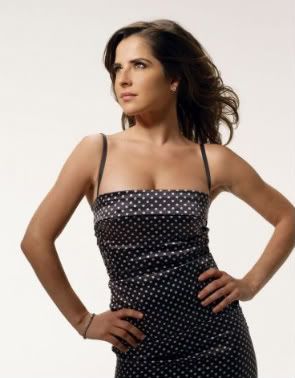 Is
General Hospital
gearing up for yet another rape storyline? Every time I post the possibility of a rape occurring, our
Daytime Confidential
readers cry out in outrage. Is this an overused storyline, too controversial or are our readers tired of the victimization of women on
General Hospital
?
Brace yourselves Sam fans (Kelly Monaco) cause she's the RUMORED victim. Tied into the counterfeit drug storyline, Sam McCall has gotten in bed with the Russian Mob. Karpov takes a special interest in Sam, but he's not that interested. Romantically speaking, Karpov only has eyes for Carly. It's another employee of Karpov's that finds out that Sam is really working for the good guys and he threatens to expose her unless she sleeps with him. Sam tries to put Karpov's guy off by flirting her way out of it but he apparently doesn't like to flirt for very long and the RUMORS say he rapes her.
The storyline that made me fall in love with Lucky (then played by Jonathan Jackson) and Elizabeth (Rebecca Herbst) was Elizabeth's rape. Much like then, Lucky is RUMORED to help Sam through this. Will this be a grown up re-do of that famous storyline? READ MORE
By Luke Kerr on July 18, 2008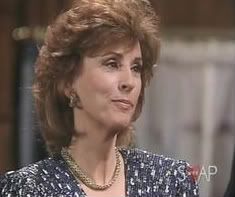 Daytime Confidential receives a lot of emails from readers and listeners asking questions about their favorite soaps. Because of the volume we aren't able to respond to each email individually but occasionally we are able to respond to them here on the blog.
Today's question comes from Daytime Confidential reader Sandy about the anticipated return of Genie Francis to General Hospital. Here at Daytime Confidential Regan writes some great General Hospital Spoilers so I asked her to respond to Sandy's question.
Sandy: Does anyone know if Denise Alexander is returning to GH when Genie Francis does?

Regan: To the best of our knowledge, no, Denise Alexander is not returning. When the news of Genie's return was first reported, we started digging for details of her return.
At first it looked like Genie would only interact with Lulu, Laura's daughter to help tell the story of Logan's Murder, Lulu's slip from sanity and of course the comparison from mother to daughter. Now there may be more to the story! READ MORE
By Melodie on June 25, 2008
Our friend Nelson Branco just put up another article about his Emmy experience. The article features many quotes from a wide array of daytime's hottest stars. The starts discuss everything from their respective story lines to outside film projects. Head over to TV Guide Canada for all the backstage Emmy gossip.