Anthony Geary
By Regan Cellura on January 29, 2009
After months of SPECULATION,
Anthony Geary
(Lucas Lorenzo Spencer,
General Hospital
) has signed on to stay in Port Chuck. YAY!
By Regan Cellura on January 20, 2009
In yesterday's comments and
today's SCOOP
I mentioned an Australian breaking into the Haunted Star and getting caught by Luke (
Anthony Geary
).
TV Guide
has the
exclusive casting news
that
Nathan Parsons
has been cast as Ethan.
Playing the recurring role of Ethan, Parsons' first scenes take place on the Haunted Star, opposite multiple Daytime Emmy winner Anthony Geary (Luke). Later down the 'pike, just when Ethan thinks he has gotten away with some major grifting, he is blindsided by Luke at an out-of-town watering hole.
Click on the link for a pic!
By Regan Cellura on December 09, 2008
Here's the Scoop! 12.09.08
Totally forgot to talk about Tracy and Luke yesterday. While I would be all for a Tracy/Luke/Laura triangle I am not so sure I am liking the latest storyline for Jane and Tony. I always love their banter but this is Luke Spencer, I feel like he should be doing more than chasing his wife to the Dominican to stop a speedy divorce. Although this has given me the opportunity to once again call out the GH writers. Remember when you sent Carly to the Domincan to get a speedy divorce from Sonny? We learned then that the Domincan is no longer your source for a quick end to your marriage. Now, I MAY be a little premature as the LATEST SPOILERS say that while Tracy tells Luke she's already been granted the divorce, it's a bluff and Luke SHOULD be getting the opportunity to call her on it. READ MORE
By Luke Kerr on December 03, 2008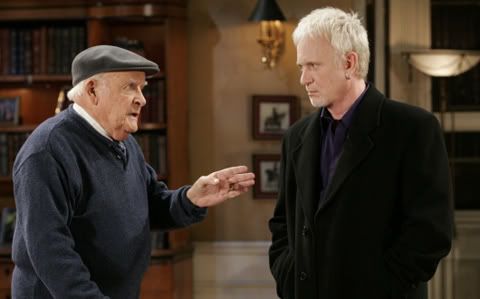 Take your best Caption This shot at what Edward Quartermaine (
John Ingle
) might be saying to Luke (
Anthony Geary
)
By Jamey Giddens on November 25, 2008
Thom Racina
, the man who wrote the ratings juggernaut wedding of a couple of soap opera characters named Luke and Laura (Tony Geary and Genie Francis) on General Hospital, before moving on to Days of Our Lives, where he and fellow co-head writers Sheri Anderson and Leah Laiman continued the supercouple craze, penning lush, romantic storylines for Patch and Kayla (Stephen Nichols and Mary Beth Evans), Bo and Hope (Peter Reckell and Kristian Alfonso), Shane and Kim (Charles Shaughnessy and Patsy Pease) and John and Marlena (Drake Hogestyn and Deidre Hall), speaks exclusively to Daytime Confidential.com about the shocking ouster of Hogestyn and Hall.

Read why Racina believes Ken Corday's move to fire Days of Our Lives' most popular couple, reportedly to trim costs, was the "wrong way to fix what's wrong" with the NBC sudser. Find out what Racina feels Days can learn from his most recent employer, The Young and the Restless, in terms of rebuilding itself by focusing on core characters, as opposed to focusing on younger viewers. When you're done, go back and listen to our podcast interview with The Father of the Modern Soap Opera Supercouple (DC# 191). It's a true can't miss Thanksgiving treat for a soap fan.
READ MORE
By Luke Kerr on November 22, 2008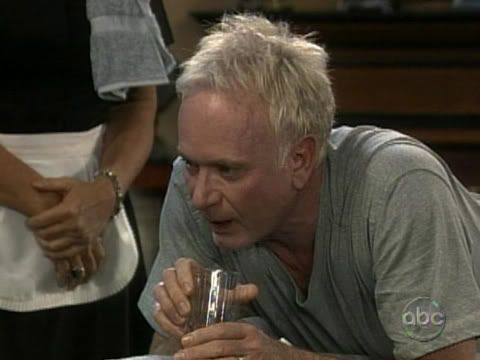 Luke Spencer (
Anthony Geary
) worked himself back into the Quartermaine mansion at least long enough to get a massage by Big Alice. Take your best shot at this Caption This.