Anne Heche
By Luke Kerr on June 12, 2013
It seems God finds using the identity of Betty White useful when interacting with mere mortals. The Huffington Post got their hands on an exclusive preview of White's appearance on Anne Heche's NBC comedy, Save Me. The episode airs on June 13. Watch the clip after the jump!
By Luke Kerr on May 23, 2013
Former Another World and Men in Trees star Anne Heche debuts her new comedy Save Me on NBC tonight with back-to-back episodes. Heche portrays Beth Harper, a woman who claims she can talk with God, after a near death experience. Check out previews for Save Me after the jump!
By Daytime Confidential on May 07, 2013
The 20th Annual Race to Erase MS Gala brought together a number of current and former daytime stars. General Hospital favorite and Dancing With the Stars competitor Ingo Rademacher (pictured with wife Ehiku above) walked the orange carpet in support of the cause.
Former The Young and the Restless star Clementine Ford was joined by her fiancé Cyrus Wilcox and mother Cybill Shepherd. Criminal Minds' Shemar Moore (ex-Malcolm, Y&R), former Days of Our Lives vixen Lisa Rinna, Save Me star Anne Heche (ex-Vicky and Marley Hudson, AW) and The Talk's Sharon Osbourne and Sara Gilbert were also in attendance. See more photos after the jump! READ MORE
By Luke Kerr on April 17, 2013

Four words sum up the love Daytime Confidential's Jamey Giddens has for soaps — "Santa Barbara" and "Anne Heche" (ex-Vicky and Marley Hudson, Another World). NBC has finally set the premiere date for Heche's comedy, Save Me, which means Jamey must be in heaven! (Editor's Note: He isn't. He'd rather she be on The Good Wife, Scandal or Revenge.)
READ MORE
By Luke Kerr on May 14, 2012
Save Me, starring Another World alum Anne Heche (Jamey Giddens' favorite Vicky Hudson and Marley Love!), was among the new shows NBC ordered for 2012-2013. In the supernatural comedy, Heche portrays Beth, who believes she is a prophet.
After a near-death experience (choking on a hero sandwich), Beth is revived only to realize she now has a direct line to God. Of course, her husband Tom is skeptical and dismissive - and his mistress is all but hostile that her lover's wife is now a prophet! But when inexplicable things begin to happen, everyone's beliefs are tested. Beth starts to say and do things that shock her family and entrance her friends, but she isn't going to be your typical "fire and brimstone" prophet. Let's just say if God had a desperate housewife as His mouthpiece, Beth would be it! She is the absolute last person on Earth who would be chosen. Then again, they say He works in mysterious ways. And this one is a real mystery!
Watch Save Me's trailer and other clips after the jump. Visit Pop Confidential to watch all NBC's new show trailers. Check out NBC's Fall 2012-2013 Schedule! READ MORE
By Jamey Giddens on May 27, 2009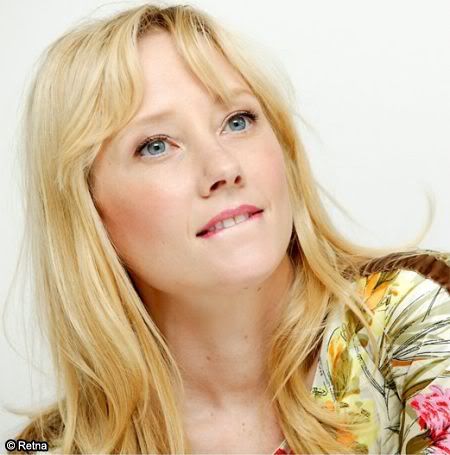 HBO's highly-anticipated dramedy
Hung
is set to debut June 28. Starring
Thomas Jane
(
The Punisher
) and
Another World
alum
Anne Heche
,
Hung
is the story of a down-on-his-luck high school teacher/coach, who decides to use his best asset to supplement his income by becoming a male escort. Heche portrays Jane's ex-wife in the series. Check out the trailer below.
READ MORE