America Ferrera
By Daytime Confidential on September 17, 2012
Current and former soap stars Victoria Rowell (pictured above), Eric Winter, Kamar de Los Reyes, Roselyn Sanchez and Winsor Harmon attended the 2012 NCLR ALMA Awards on September 16. Glee's Naya Rivera, Teen Wolf's Tyler Posey, Revenge's Madeleine Stowe, The Voice's Christina Aguilera, Suits' Gina Torres and Eva Longoria were among the primetime, film and music stars who walked the red carpet. See more photos after the jump! READ MORE
By Luke Kerr on April 14, 2010
Tonight we say goodbye to ABC's soaptastic Ugly Betty. During its four seasons the over-the-top dramady made America Ferrera a star and won her an Emmy, a Golden Globe and a SAG Award, breathed new life into the careers of Vanessa Williams, Judith Light and Tony Plana and introduced us to Michael Uri, Mark Indelicato and Becki Newton. It also treated fans to a lot of laughs, shocking plot twists and more than a few catfights, all centered in the sensationalized world of MODE magazine. As Ugly Betty takes its final bow it's important to remember its most important theme, it's what's inside each of us that matters most.
Photo Credit: ABC
By Jillian Bowe on April 12, 2010
Ugly Betty
may be finishing it's four-year run, but
America Ferrera
isn't out of the telenovela business just yet. According to
Access Hollywood
and
The Hollywood Reporter,
Ferrera has partnered with MTV,
Ben Silverman
's
Electus shingle and Procter and Gamble Productions to develop a bilingual, interactive soap opera titled
Pedro & Maria
.
Ferrera will serve as one of the project's executive producers, along with Jarred Weisfeld and Ian Kleinert of Objective Entertainment. Quiara Alegria Hudes, who penned the Broadway smash In The Heights, will write the script and also serve as one of the show runners.
"The Latino population is an under-represented and under-served segment of the audience, and I am excited to help bring this relevant show to MTV," said David Janollari, executive vp, scripted development at MTV.
P&G is set to "lend creative support" to the project, according to THR, as well as create original commercials and branded entertainment projects for its health and beauty brands in conjunction with the project. READ MORE
By Regan Cellura on January 12, 2009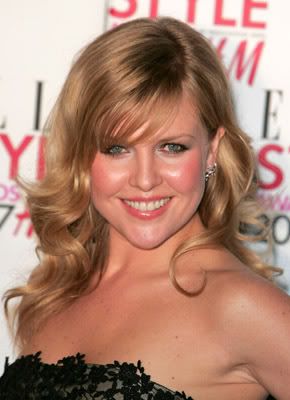 Kristin at E! Online
has exclusive scoop on Betty's BFF asking to leave
Ugly Betty
. What's going on at the alphabet network that has actors asking to be let go? Have they missed the unemployment rates? According to E!,
Ashely Jensen
who plays Christina, Betty's (
America Ferrara
) best gal pal, has asked to be released.
Kristin goes on to drop another Betty Bombshell. She's also learned that another character is being killed off. Who is it? Not sure as Kristin's only clue is that the character who is dying just came aboard this season.
By Luke Kerr on November 14, 2008