Alicia Minshew
By Jamey Giddens on August 17, 2009
Though unconfirmed at presstime,
TV Guide Canada
's
Nelson Branco
is
hearing
the actors who portray one of
All My Children'
s most popular couples are planning to leave the series— along with two beloved patriarchs— when AMC moves to LA.
PLANNING TO LEAVE AMC: Thorsten Kaye (Zach), Alicia Minshew (Kendall), Ray MacDonald (Joe) and David Canary (Adam/Stuart)
For more of TV Guide Canada's soap scoop and reviews, check out The Soapgeist.
By Luke Kerr on August 04, 2009
All My Children's Kendall (Alicia Minshew) confessed to Stuart's (David Canary) murder, but someone else takes a bullet as she disappears.
By Jillian Bowe on July 20, 2009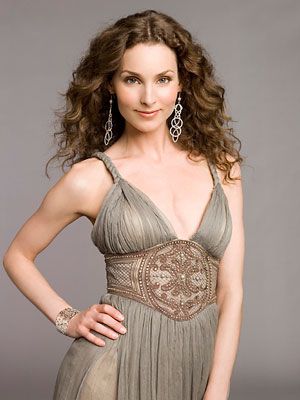 Congratulations are in order for one of the hardest working women on
ABC daytime
.
Soap Opera Digest
is reporting
All My Children
star
Alicia Minshew
(Kendall) and her hubby are expecting a baby girl. The bundle of joy will make her debut in November, and there are no plans to incorporate Minshew's pregnancy onscreen, according to the magazine.
By Luke Kerr on June 30, 2009
By J Bernard Jones on June 24, 2009
NAME THAT PLOT: An ambitious, publicly principled but morally crippled politician with aspirations for higher office has a hidden but longstanding extramarital affair while in office. His wife, moneyed or ambitious in her own right, not only knows of her husband's indiscretion but also puts up with it as long as it does not bring embarrassment to her or damage her own priorities. Is it...
A) All My Children's DA (Kieran Campion) and wife Madison (Stephanie Gatschet)
B) General Hospital's Mayor Floyd (John Bolger) and wife Andrea (Martha Bryne)
C) South Carolina Governor Mark Sanford and wife Jenny
D) All of the Above
Here's a hint: the correct answer is not A, B, or C....(continued) READ MORE
By J Bernard Jones on June 18, 2009
My absence from Daytime Confidential lately has not been due to the usual business of family and work taking up a lot of my time, but rather a certain lack energy to post about practically any of the daytime serials that clog up my DVR from day to day. This is neither a positive nor a negative thing because there are frequent periods throughout the year when shows kind of coast along and do their their thing, usually between sweeps.
At these times, there is little for the viewer — if that viewer is me — to get all worked up about this plot twist, that character's action, some couple or another or even a whole show's direction. Normally, this state of affairs hits one or two shows at a time. Every once in a while like the last couple of weeks, the stars align and all the serials get caught in the same momentum of drift. All that is required of us is to watch and see where it all goes.
In that spirit, my brain plays a little game of soap opera hopscotch, taking in odds and ends big and small. There is no great elaboration on anything here, just a quick rundown of things I like and not like so much. Your mileage may vary... READ MORE