Alicia Minshew
By Luke Kerr on February 17, 2010
Alicia Minshew and Thorsten Kaye are returning to All My Children, according to ABC Soaps in Depth on Twitter. Apparently both will return in April and it is a "precursor to Kendall's return post-maternity leave."
Kendall & Zach return to Pine Valley for "a limited time". She appears April 9th, him on the 13th.

By Jillian Bowe on November 04, 2009
Congratulations are in order for
All My Children's
Alicia Minshew
and husband
Richie Herschenfeld
, who became parents of a baby girl today. According to online reports, the actress gave birth to her daughter,
Willow Lenora
, earlier this morning.
By Jamey Giddens on October 02, 2009
You must love me
...
TV Guide Canada
's
Nelson Branco
is
hearing
ABC just doesn't want to accept the fact that both
Thorsten Kaye
and
Alicia Minshew
aren't staying with
Pine Valley, 90210
.
Never trust a major network. In its press release trumpeting which stars will be making the historic move to L.A. at the end of this year, Alicia Minshew's name was on the statement as being on "maternity leave." However, Suds has learned that ABC didn't want to announce that she and Thorsten Kaye, who, as we previously reported, would not make the move, have quit the show together. A source close to Minshew states, "ABC isn't taking no for answer! They suggested to Lish to have the baby first, then decide, like she can't think straight. But Alicia wants out even though she plans on briefly returning to wrap up her storyline. Her husband just bought his third restaurant in New York City, and she doesn't want to spend her baby's first year on a plane." And star on one of the worst shows in the history of television.
By Jamey Giddens on August 17, 2009
Though unconfirmed at presstime,
TV Guide Canada
's
Nelson Branco
is
hearing
the actors who portray one of
All My Children'
s most popular couples are planning to leave the series— along with two beloved patriarchs— when AMC moves to LA.
PLANNING TO LEAVE AMC: Thorsten Kaye (Zach), Alicia Minshew (Kendall), Ray MacDonald (Joe) and David Canary (Adam/Stuart)
For more of TV Guide Canada's soap scoop and reviews, check out The Soapgeist.
By Luke Kerr on August 04, 2009
All My Children's Kendall (Alicia Minshew) confessed to Stuart's (David Canary) murder, but someone else takes a bullet as she disappears.
By Jillian Bowe on July 20, 2009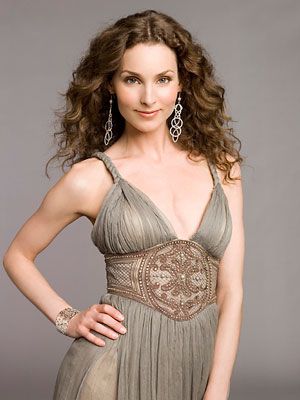 Congratulations are in order for one of the hardest working women on
ABC daytime
.
Soap Opera Digest
is reporting
All My Children
star
Alicia Minshew
(Kendall) and her hubby are expecting a baby girl. The bundle of joy will make her debut in November, and there are no plans to incorporate Minshew's pregnancy onscreen, according to the magazine.