Alec Baldwin
By Melodie on September 19, 2013
The 65th Annual Primetime Emmys will air Sunday night on CBS, and the final list of presenters for the awards show have been announced. Check out the full list of names after the jump. READ MORE
By Jamey Giddens on January 28, 2013
For a medium that Hollywood loves to poke fun at, daytime soap operas certainly manage to produce a lot of award-winning actors! Sunday night's Screen Actors Guild (SAG) Awards were dominated by the wins of former daytime stars.
Tommy Lee Jones, who spent most of the 1970's playing Dr. Mark Toland on ABC Daytime's One Life to Live, took home the Actor for his work in Lincoln. Jones played diehard abolitionist Thaddeus Stevens in the film.
Breaking Bad star Bryan Cranston won the Actor for Outstanding Male Actor in a Drama Series. Cranston was an original cast member on Agnes Nixon and the late Douglas Marland's 30-minute, daily college soap Loving back in 1983, portraying Doug Donovan.
RELATED: Bryan Cranston Recalls Being Fired From Loving on Chelsea Lately READ MORE
By Jamey Giddens on April 11, 2012
The Today Show
may be celebrating
fending off
former anchor
Katie Couric
in the Nielsens, during Couric's recent stint on ABC's
Good Morning America
, but now the morning show has a new foe — fellow NBC'er
Alec Baldwin
! In a series of
tweets
, the
30 Rock
star accused
Today
of "stalking" him in wake of his latest scandal, involving
Genevieve Sabourin
, a woman Baldwin has also accused of stalking him!
This past Monday, Sabourin, a Canadian actress, was arrested on suspicion of stalking. This was after Sabourin had reportedly shown up at Baldwin's apartment in New York City. Prior to that, the woman had allegedly appeared at Baldwin's holiday retreat in the Hamptons.
Baldwin, who recently became engaged to yoga instructor Hilaria Thomas, admitted to knowing Sabourin, having met her on a movie set some 10 years earlier and having reportedly dined with her. Today's camera crew was reportedly outside Baldwin's apartment to cover the growing story. Check out Baldwin's tweets—including one where he says he's leaving NBC—after the jump!
By Luke Kerr on July 17, 2008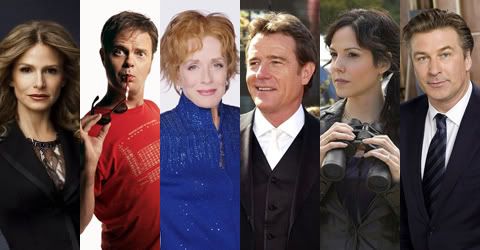 Six soap alum have received Primetime Emmy nomations in the major acting categories at this year's 60th Annual Emmy Awards. From left to right.
Kyra Sedgwick, the star of TNT's The Closer and who once appeared on Another World was nominated in the Outstanding Lead Actress category.
Rainn Wilson, star of NBC's The Office and who once appeared on One Life to Live as Casey Keegan was nominated in the Outstanding Supporting Actor in a Comedy Series category.
Holland Taylor, who stars on CBS's Two and a Half Men as Charlie Sheen's mother once starred on All My Children as Jill Ollinger. Taylor received a nomination in the Outstanding Supporting Actress in Comedy Series category.
Bryan Cranston, the star of HBO's In Treatment once appeared on One Life to Live as Dean Stella. Cranston received an Outstanding Lead Actor in a Drama Series nomination.
Mary-Lousie Parker, the star of Showtime's Weeds and who once appeared on Ryan's Hope received an Oustanding Lead Actress in a Comedy Series nomination.
Alec Baldwin, the star of NBC's 30 Rock and once appeared on The Doctors received an Oustanding Actor in a Comedy Series nomination.
Congrats to them all!