Movie Reviews
By Craig Peters on January 11, 2009
Gripping, stunning, exhilarating, magnificent. There are no words powerful enough to describe
Clint Eastwood
's performance in this film. This is either the scariest man alive or Eastwood at 150 years old has finally become one of the world's finest actors.
Gran Torino
grabbed me by the balls and held me from beginning to end. This is not a movie I recommend…it's a must see. Clint Eastwood's "performance" is one best of the I've ever seen.
The story…a simple one: Walt Kowalski (Eastwood) a grizzled old war veteran hates everyone and everything. Only Daisy an old mutt, his Gran Torino bought new in 1972, his house where he's lived for decades and his barber, a "Wop" foul-mouth he visits every three weeks, register as welcome. A crowbar and a load of dynamite could not get him out of the house, get his car or dog from him or change him from being the most verbally racist character in film. If this man doesn't offend you, you must be the whitest Englishman alive. It's the only group he doesn't insult including his own: "Polack." Walt is Archie Bunker with brass knuckles and a howitzer. READ MORE
By Craig Peters on December 26, 2008
Staggeringly sad, startlingly thought provoking
The Curious Case of Benjamin Button
left me feeling like I had just walked out of a Chekhov play: drained, somber and yet completely absorbed. Excellent performances by
Cate Blanchett
and
Brad Pitt
and a great story by F. Scott Fitzgerald manage to combine to bring about a unique movie experience. The film is about life, love and loss for an amazing man, a man that lives life backwards. Unfortunately that may not be a good enough draw to get the audience the film deserves.
READ MORE
By Craig Peters on December 21, 2008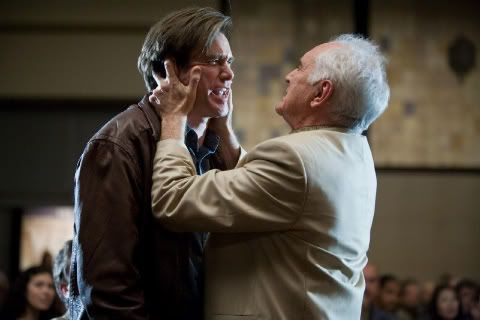 Jim Carrey
is
back! Carrey stars as Carl Allen, in this new take on romantic comedy, as a man so discouraged in life that his only response to anything new is refusing. Then one day a crazy friend Nick (
John Michael Higgins
,
A Mighty Wind
) shows up and convinces him to attend a
Yes Man
conference.
Terrence Stamp
(
Alien Nation
) stars as the leader of a cult-like "yes" group where the members are forced to say "yes" lest the universe unload negativity on them. After a good trial period Allen's obsession with "no" turns to "yes" with remarkable consequences Allen gets a raise, a girl and his friends actually start to like him once more.
With predictably unpredictable occurrences: sex with an elderly woman, signing up to organize a wedding shower and bungee jumping, Carrey has plenty of opportunity to exhibit his comic chops. And of course in the film, there are plenty of opportunities for the great physical comedy for which Carrey is known: taping his face beyond recognition, falling flat on his face and riding a Ducati motorcycle with his butt hanging out. READ MORE