Movie Reviews
By Jamey Giddens on December 23, 2012
More and more details about Prospect Park's plans to reboot
All My Children
and
One Life to Live
are coming out.
Soap Opera Uncensored'
s
Nelson Branco
has published an in depth report with such bombshell details as :
Location, location, location: PP is planning to produce the shows in Stamford, CT. Studio space and sets are currently being designed.

In a deal between PP and Disney, the licensing fee for AMC was valued at a half-million more than ONE LIFE! Here are the deets:

AMC licensing fees: $4.5M per year through 2014 / $5M 2015-17 / additional $0.5M per year 2018-21.

OLTL licensing fees: $4M per year through 2014 / $4.5M 2015-17 / additional $0.5M per year 2018-21.

Plans are for the shows to be 30 minutes each, four days a week with a recap-type show on Fridays.
READ MORE
By Craig Peters on January 11, 2009
Gripping, stunning, exhilarating, magnificent. There are no words powerful enough to describe
Clint Eastwood
's performance in this film. This is either the scariest man alive or Eastwood at 150 years old has finally become one of the world's finest actors.
Gran Torino
grabbed me by the balls and held me from beginning to end. This is not a movie I recommend…it's a must see. Clint Eastwood's "performance" is one best of the I've ever seen.
The story…a simple one: Walt Kowalski (Eastwood) a grizzled old war veteran hates everyone and everything. Only Daisy an old mutt, his Gran Torino bought new in 1972, his house where he's lived for decades and his barber, a "Wop" foul-mouth he visits every three weeks, register as welcome. A crowbar and a load of dynamite could not get him out of the house, get his car or dog from him or change him from being the most verbally racist character in film. If this man doesn't offend you, you must be the whitest Englishman alive. It's the only group he doesn't insult including his own: "Polack." Walt is Archie Bunker with brass knuckles and a howitzer. READ MORE
By Craig Peters on December 26, 2008
Staggeringly sad, startlingly thought provoking
The Curious Case of Benjamin Button
left me feeling like I had just walked out of a Chekhov play: drained, somber and yet completely absorbed. Excellent performances by
Cate Blanchett
and
Brad Pitt
and a great story by F. Scott Fitzgerald manage to combine to bring about a unique movie experience. The film is about life, love and loss for an amazing man, a man that lives life backwards. Unfortunately that may not be a good enough draw to get the audience the film deserves.
READ MORE
By Craig Peters on December 21, 2008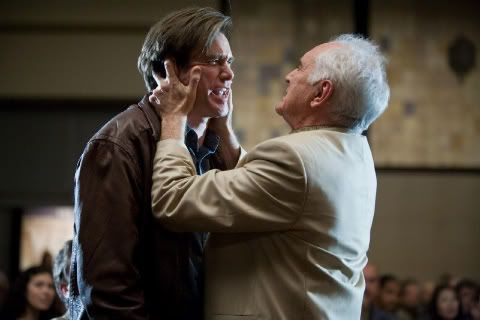 Jim Carrey
is
back! Carrey stars as Carl Allen, in this new take on romantic comedy, as a man so discouraged in life that his only response to anything new is refusing. Then one day a crazy friend Nick (
John Michael Higgins
,
A Mighty Wind
) shows up and convinces him to attend a
Yes Man
conference.
Terrence Stamp
(
Alien Nation
) stars as the leader of a cult-like "yes" group where the members are forced to say "yes" lest the universe unload negativity on them. After a good trial period Allen's obsession with "no" turns to "yes" with remarkable consequences Allen gets a raise, a girl and his friends actually start to like him once more.
With predictably unpredictable occurrences: sex with an elderly woman, signing up to organize a wedding shower and bungee jumping, Carrey has plenty of opportunity to exhibit his comic chops. And of course in the film, there are plenty of opportunities for the great physical comedy for which Carrey is known: taping his face beyond recognition, falling flat on his face and riding a Ducati motorcycle with his butt hanging out. READ MORE
By Craig Peters on December 10, 2008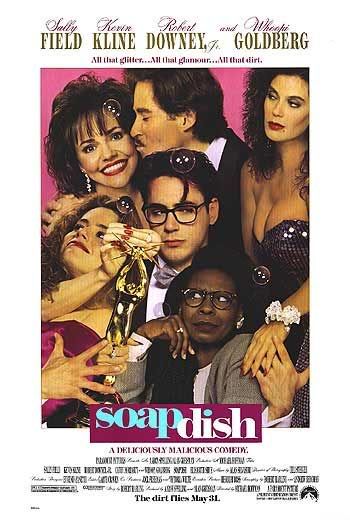 Intrigue, Treachery, Backstabbing and an evil genius plotting to conquer the world, the world of The Sun Also Sets: a world not of our reality...of extremes so emotional, so dastardly that it makes one cringe even to think of it…the world of Soap Opera.
A world where premature children gestate for 15 or more months, toddlers age years overnight and complete characters (and sometimes personalities) are switched and no one ever notices. Is this some evil alien plan? Is this an anomaly in the space time continuum? NO, it is the evil Daytime Drama, a force so devious, so foul that it rivals demonic possession in its hold on the human mind, nay, the soul of its minions.
Soapdish stars Sally Field and Kevin Kline leading an all star cast in a deliciously hilarious look at what happens when real life intrudes on the set of a flagging soap The Sun Also Sets. READ MORE
By Craig Peters on December 08, 2008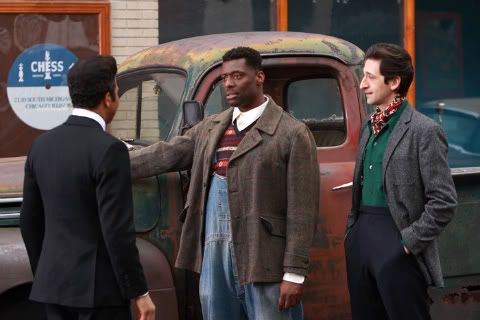 Adrien Brody
and
Jeffery Wright
star in one of the best movies about the true birth of Rock and Roll ever made–
Cadillac Records
. There have been many films made about the troubled conception, gestation and eventual delivery of the great money pool that is R&R, but
Cadillac Records
takes a different tack. Not the fluffy bunny that is
A Hard Day's Night,
nor the desperately-seeking depravity of
Almost Famous
,
Records
is real people, not good or bad, just people, trying to do the best they can for those they love.
There are no evil, rotten record moguls or completely-insane addicts in the film, no horribly-abusive husbands or grasping egotists, only very damaged and confused folks thrust into a world of money and fame far beyond there ability or experience. The importance of this film lies in its lack of melodrama and its portrayal of real angst. None of the overwhelming pain of a
Dream Girls
or
Ray,
but a type of pain we all feel. It is in the music, the incredible, incomparable music that the screaming torture of the soul is expressed in the film. Paraphrasing Brody, as
Leonard Chess
, the owner of Chess (Cadillac) Records, Muddy Waters (
Jefferey Wright
) does not live his pain he releases it in the music.
READ MORE