Days of Our Lives Daily Recaps
By Susan Lanigan on May 11, 2009
Hi everyone! Sorry I haven't posted a recap in a week but my laptop decided to give me some technical difficulties so I had to knock some sense into it and get it fixed. Anyway, all is well now, so I'm back in business. Here's what happened on today's show...
EJ/Victor/Stefano:
At the warehouse, EJ discovers Stefano unconscious under a white sheet. Victor walks in behind him and tells EJ that Stefano is alive. EJ goes after Victor but his goons stop EJ and rough him up and I continue to cringe as the writers continue to make my EJ look weak and pathetic. Sigh.
Later, a nurse comes in to give Stefano an insulin injection. Victor informs EJ that he is only giving Stefano enough insulin to stay alive and that right now Stefano is a diabetic coma. He tells EJ that unless he hands over all of DiMera Enterprises and all of the DiMera assets to Victor within the next 72 hours than Stefano will die. Victor also warns that if EJ tries to double cross him or trick him in any way - Stefano will die.
Afterwards, Victor's goons knock EJ out and dump him on the pier. When EJ regains consciousness, he promises Stefano that this isn't over yet.
Nicole/Dr. Baker: READ MORE
By Susan Lanigan on April 30, 2009
I feel the need to explain today's title a bit. You see, it works on many levels. At the end of the episode we see signs of EJ getting his brain back. Then of course, there's the fact that half the characters on this show seem to be brain dead right now. It was a better title then 'Oh, god! Why is Melanie on?' Oh, and if I only had a brain I would have stopped watching this show eons ago –lol! Anyway, on with today's show…
EJ & Nicole:
The romance just keeps coming with the newlyweds, as EJ start's dreaming Nicole is Sami while they're getting hot and heavy. Nicole tries to get EJ's attention and he snaps out of it. She asks what's wrong and EJ gets defensive and starts going on and on about how it's none of her business and he doesn't want to be on of those couples who are attached at the hip and tell each other everything. Who needs a honeymoon when you can have romantic talks like this?
EJ's phone rings and it's the hitman they hired to kill Philip. Nicole leaves the room so EJ can talk. I get distracted by shirtless EJ as the hitman asks where Stefano is and EJ tells him he has to with him now. EJ tells him to stay out of town and not do anything because the police are looking for him now. READ MORE
By Susan Lanigan on April 29, 2009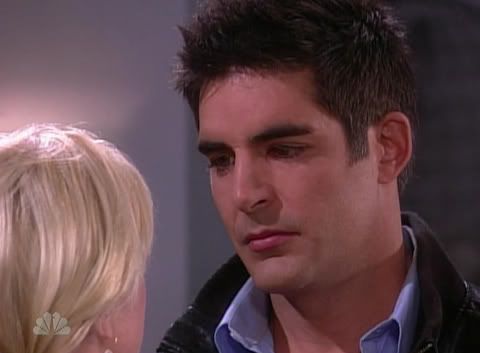 Hi everyone! I don't know what it is with this show but I swear every single character is living in denial about their lives. Whatever, at least Will and Mia are cute -lol! Here's what happened today...

Chloe and Brady:
At the hospital, Chloe tries to get in to see Philip but the guard at the door won't let her in. When she tries to explain she's his sister-in-law, the guard gets really snippy with her and tries to physically remove her. Luckily, Brady walks over and tells him to stop. Then, he calls and gets Chloe on the approved visitors list.
Philip's sleeping, so Chloe and Brady take the time to catch up. Chloe asks what happened to his face, but Brady brushes it off. They talk about what happened to Philip and Chloe tells Brady that he's starting to sound like Victor. He tells her not to worry he might want justice for what happened but he's not about to do something stupid to the DiMeras. Chloe reminds him that Nicole's a DiMera now and Brady claims that doesn't matter because he doesn't love her anymore. Really? He should try to market that emotion 'Off-Switch' of his – he could make a fortune! READ MORE
By Susan Lanigan on April 28, 2009
Hi everyone! Here's what happened today in wacky world of Salem...
Stefano/EJ/Lexie: Lexie tells Stefano that results show that he wasn't poisoned, but that he has Type II Diabetes. Seriously? Diabetes? Stefano DiMera, the man who has come back from the dead a hundred times is going to be brought down by diabetes? Dena really has a sick sense of humour! Anyway, Stefano laughs it off and Lexie flips out on him and starts listing all the serious complications that can happen to someone with Diabetes. When Stefano still doesn't seem to grasp how serious it is, Lexie leaves in a huff. Stefano tells EJ to go after her and apologize for him. Then, when EJ leaves Stefano makes a break for it. READ MORE
By Susan Lanigan on April 27, 2009
The Pub:
Outside of the Pub, Brady and EJ argue. Brady tells EJ that he's not afraid of EJ or Stefano. EJ replies that Brady should be and Brady counters by calling EJ a coward for hiring thugs to deal with him and not facing him like a man. So, naturally I pause for a moment to imagine how hot a fight between these two would be.
Meanwhile, inside the pub, Nicole and Victor continue their argument. Victor threatens Nicole by telling her that he's happy she made a stupid mistake and that she's going to pay for it dearly. Nicole counters by telling him that Stefano has welcomed her to the family and that DiMera's take care of their own and their enemies. And I remember the good old days when Nicole could take care of herself and her enemies – what happened to those days? They were fun! READ MORE
By Susan Lanigan on April 24, 2009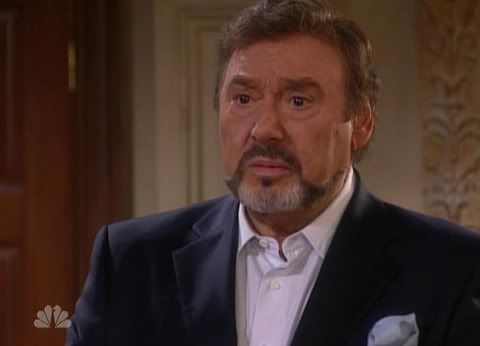 Rafe/Sami/Roman:
At the Java Café, Rafe is on his laptop and has a flash back of Sami asking him not to leave Salem. He looks at his plane ticket and says, "Bye Sami." as he packs up and gets ready to leave.
Meanwhile at the penthouse, Sami looks at the St. Ann's medal and flashes back to telling Rafe she has to tell EJ about Grace and that it is her decision not his. When the flash back ends she asks herself what she was thinking. Beats me. I never know what Sami's thinking when she does something!
Sami meets Roman at the pub. They play with Grace and Roman tells her he's sorry for not being happy for her about Grace before. She tells Roman she's glad he's around since Grace is going to need a father figure now that Rafe has left. Roman tells Sami that Rafe hasn't left yet and that he doesn't leave til later today. Sami tells Roman she needs his help, so Roman calls someone and finds out that Rafe is going oversees to join an anti-terrorism task force. He gives Sami the flight number and agrees to watch Grace while she runs to try to catch Rafe. READ MORE