Days of Our Lives Daily Recaps
By Perkie on April 05, 2012
Elizabeth apologizes to Ewen for cancelling their date, because of babysitting issues. He asks that they can have lunch. They head over to the Metro Court. Liz is determined to find out something about him and mentions his accent. Ewen jokes about being the only Australian in town. Liz says unless Jax comes back. Ewen appears aware of Jax, Jerry and Lady Jane. When Liz asks if Ewen knows them, he assures her that he's only heard of them. READ MORE
By Perkie on November 01, 2011
Maxie's thrilled her date has arrived, until she takes off his mask and finds Spinelli instead of Matt. She claims to appreciate the trouble he's gone to, but she needs to be honest. She wanted to spend the evening with Matt. Spinelli ponders fate and how it's been a part of their relationship. If he hadn't planned the picnic for her, she would have been onboard the yacht when Lisa attacked.
By Susan Lanigan on September 14, 2009
Roman and Arianna: Roman meets up with Arianna in the motel room and hopes that she's changed her mind about quitting the case. She tells him that she hasn't but feels guilty since going undercover was her idea in the first place. He reminds her that sometimes you just can't walk away from an undercover case.
Roman asks Arianna what happened to make her want walk away. Arianna talks around the real reason for a while until she finally gives in and admits that she fell in love. Roman doesn't think it's a good enough reason but Arianna explains that the guy she fell for is smart and could figure everything out and blow her cover. Roman asks who she's fallen in love with she admits that it's Brady. Roman suggests that instead of quitting, they speed up the investigation. Arianna refuses because she doesn't want Brady to ever learn about her past.
Roman sighs and sits her down and tells her that if Brady learns about her past and can't get past it, than he's not worth it anyway. Arianna doesn't care, she says she can't risk it. Roman warns her that if she doesn't stay on the case, he'll go and tell Brady himself. Arianna says she hates him and Roman replies she should join the club. He leaves saying that he's doing this for her own good. READ MORE
By Susan Lanigan on August 06, 2009
EJ/Nicole/Stefano/Sami/Rafe
: At the DiMera mansion, EJ wakes up and finds that Nicole is already up. He remembers changing Grace's headstone and comments that he still can't believe Sami was heartless and sadistic enough not to tell him about Grace. Then, he turns and looks at a photo of Nicole and Sydney and says that things are so much easier with Nicole.
Nicole runs into Stefano as she is getting ready to leave. Stefano asks her where she's going. Nicole tells him that she's going to runs some errands. He tells her that he's on his way out too and asks if she would like a lift. Nicole asks where he's off to and he explains he's going to make sure is plan to get rid of Rafe has succeeded. Nicole frowns and Stefano wants to know why she isn't happier about this since it's what she wanted too.
Nicole asks if Rafe has left town yet and Stefano says he should be any time now. She wonders what he has on Rafe and Stefano explains what happened to Emily and how Meredith is going to tell Sami that Rafe killed his fiancée.
Meanwhile, at Sami's townhouse, Sami's busy getting Rafe and Allie's lunches ready. She mixes up their lunches and laughs. Rafe and Sami enjoy the normalness of the moment and hug. READ MORE
By Susan Lanigan on August 05, 2009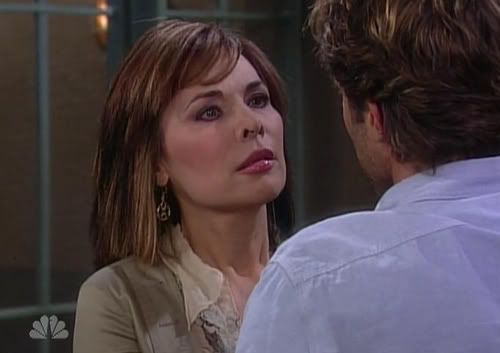 Kate and Daniel: Kate visits Daniel in jail to confront him. While she's there, she gets rattled by a daydream where she loses control and kisses him. When she snaps out of it, an annoyed Daniel demands to know what she wants. She tells him that it is his fault that Chloe is in a coma. He denies it and says he knows she poisoned Chloe and tries to get her to admit that she still has feelings for him and that's the real reason she poisoned Chloe.
Kate admits nothing but accuses him of sleeping with Chloe the whole time he was sitting at Kate's sick bed telling her he loved her. Daniel tells her that she knows that isn't true. He begs her to admit the truth. Kate says the only thing she'll admit is that he won't be kissing anyone with those lips any time soon.
She starts to leave and calls for the guard and Daniel rips off his shirt to prove he's not wearing a wire and demands that she frisk him. Kate ignores him and continues screaming for the guard. READ MORE
By Susan Lanigan on July 28, 2009
Sami/Meredith/Rafe/Roman:

On the docks, Sami runs into Meredith and asks her if they can talk. Meredith isn't so sure, but Sami insists that they have loss in common and suggests it might help to talk. Meredith thinks that Sami wants to talk to her because after Emily's death she found it easier to talk to strangers than people she was close to.
Meredith eventually sits down on the bench with Sami and opens up a bit about Emily. Meredith tells her how close she and Emily were and how even now she sometimes finds herself eager to tell Emily something before she remembers that she's dead. Meredith says that they were so close until right before Emily died and that it all changed because of Rafe Hernandez.
Meredith admits that they all liked Rafe at first and that he was like someone out of a movie. Sami asks if he was the hero type and Meredith says he was. She adds that they all thought he would die for Emily, but instead she was the one who died. Then, Meredith gets too upset to talk about it any further and rushes off. READ MORE