Paul Stenbeck
By J Bernard Jones on October 20, 2008
Has any recently returned character on soaps been shoehorned into more stories off the bat than Dusty Donovan?
The brilliant Emily and Casey pairing clearly was sacrificed at the altar of an Emily/Dusty redux.
Paul and Meg are once again threatened by Dusty, this time mainly as a result of Paul's insane jealousy, not to mention Dusty always managing to stick his nose in their business.
Lily and Holden were supposedly on the road to reconciliation for the 149th time until Dusty popped back up.
Now Dusty has purchased controlling shares of Worldwide from Lucinda in a logic defying character twist for her (as a result of a couple of words from Brian that she live her own life, which has no real relationship to Lucinda as a businesswoman) that rings completely false. READ MORE
By J Bernard Jones on September 24, 2008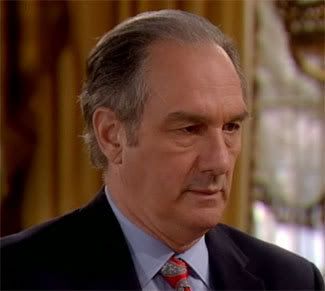 First of all, it looks like my theory about why James Stenbeck wants Paul and Meg's baby continues to unfold. James even uttered the very phrase I've been saying is the key to this story: "This baby will be the true Stenbeck heir." But we all know the only true Stenbeck heir is Dusty Donovan. Stay tuned.
The big news today is...Paul's visions are back. Whoopee? READ MORE
By J Bernard Jones on September 16, 2008
The Story So Far: James Stenbeck is back, baby! In more ways than one...
When it comes to soap opera super villains, there are none quite like James Stenbeck. I don't make that statement as a reflection of personal bias (which is certainly part of it) or blogger-style hyperbole (which I am in the process of trying to emulate). I'm being pretty literal here.
A product of the over-the-top 80's, soap super villains were modeled after James Bond's major foes: eccentric, impossibly wealthy, and megalomaniacal. Their stratospheric IQ's (collectively, they must average about 335, maybe 391!) keep them at least three steps ahead of all international law enforcement officials with the exception of those cops on their extensive payrolls. When they are not trying to manipulate or murder everyone else, they are likely also trying to control or kill their own children. You know, the super villain style of "tough love." Motivations may vary from super villain to super villainess and a few may have a soft spot or two but the soap super villain is larger than life, always with a master plan to control the world, carry out a centuries old vendetta and/or at the very least steal their own grandchildren and is seemingly indestructible. READ MORE