Paul Ryan
By J Bernard Jones on October 10, 2008
This is what has been happening on As the World Turns:
A dangerously jealous and reckless Paul hired an unwitting young woman and her small son to impersonate Lucy and Johnny, both of whom Dusty is looking for after inheriting James Stenbeck's fortune. Emily, now reunited with Dusty (who recently returned from the dead), did major detective work and unearthed Paul's involvement, which in turn prompted Dusty to track down the young woman in New York and return to Oakdale to confront Paul. READ MORE
By J Bernard Jones on October 08, 2008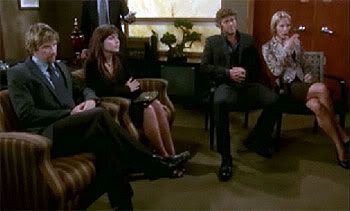 Today's episode of As the World Turns was a sterling example of what a good, rock solid soap can be from top to bottom when the stories told are driven by character and relationships, regardless of the plot mechanics involved. READ MORE
By J Bernard Jones on September 30, 2008
I've been really busy the last few days and have had to play catch up with As the World Turns, but now that the DVR has practically melted down I'm still enjoying what I'm seeing overall...
THE STAR WARS SAGA CONTINUES:
Darth Vader/Darth Sidous (James Stenbeck) continued to woo weak-willed, emotionally confused and immature Anakin Skywalker (Paul Ryan) to the dark side by twisting psychological daggers in Anakin's/Paul's back. As I've said before, this isn't a new development, but rather a direct nod to ATWT's history of James' attempts to turn Paul to "the dark side." READ MORE
By J Bernard Jones on September 26, 2008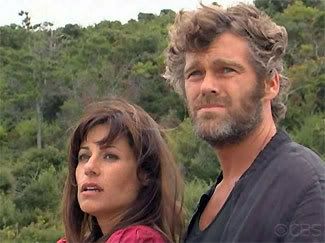 It is absolutely wonderful to see Grayson McCouch back as Dusty Donovan! Oddly enough, he looks much younger than when he left World Turns. And maybe my eyes are playing tricks on me but with that mop top of curly hair Grayson looks like a slightly older version of his character Morgan Winthrop on the late Another World.
However as much as I've been enjoying the return of James Stenbeck, there is a problematic element with how Dusty's return has folded into the larger narrative. READ MORE
By J Bernard Jones on September 22, 2008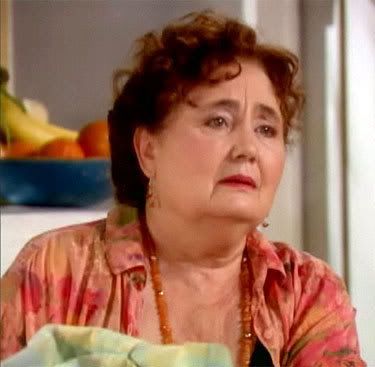 In a world where the stock market is crashing, Morgan Stanley and Goldman Sachs decide they would be better off as banks, the price of a barrel of oil jumps $16 in one day, and a Federal bailout plan threatens to balloon between $700 billion and a trillion dollars or more, everyone needs a little Emma Snyder in their lives.
I thought today was a strong episode of As the World Turns. The Chris/Alison/Aaron triangle continued to make less and less sense given that we (the online "we") know that Dylan Bruce is leaving as Chris Hughes while the "Who's The Baby Daddy?" story line is apparently ramping up. Lily and Holden got closer after bringing Ethan home from the hospital. Derek made an outrageous request of Bonnie to be his lawyer, which she wisely refused (although we know Paul is going to rope her into it to help find Meg). Colleen Zenk Pinter was phenomenal with the little bit that Barbara was given to do. Dallas increased his line count to about eight while Ethan officially became The Cutest Kid on Daytime.
But the pure pleasure for today was Kathleen Widdoes as Emma. She certainly wasn't the star of today's show. She's not hip. She doesn't fit the desired 18-34 demographic. She's not a size 0 and she's not a hair model, but that's the point. READ MORE