Marlena Evans
By J Bernard Jones on November 17, 2008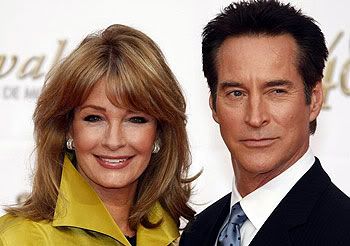 The news that Deidre Hall and Drake Hogestyn have been fired from Days of Our Lives pulled me out of my self-imposed moratorium on posting for the next few days, drowning as I am in work. However as I watched this news filter out over the internets and the intertubes, the completely understandable and justifiable reactions by fans of shock, anger, disbelief and inevitable doomsaying about the future of Days were leavened by my sense that something was amiss in my own reaction. At first I couldn't put my finger on it until it hit me out of the blue.
My reaction was, "Whatever." READ MORE
By Jillian Bowe on August 18, 2008
For years, whenever Stefano DiMera would refer to Marlena as his "Queen of the Night" I'd snicker because I thought someone at
Days of Our Lives
or the peacock network were closet Whitney Houston fans. Every time Stefano uttered the phrase I would wait for Whitney to jump out and start singing her smash hit - along with Deidre Hall as a backup dancer.
Even though it's late in the game, I want to give a shout out to Days for the return of Stefano DiMera. The iconic supervillian proves time and time again he knows how to make a grand entrance and that revenge is best served cold...

By Jamey Giddens on July 21, 2008
Online rumors that Deidre Hall is set to recreate the role of Samantha Evans on
Days of Our Lives
have proven true, inside sources reveal.
Additionally soap scribe-turned-blogger Sara A. Bibel quotes Hall confirming the story, despite denials to Daytime Confidential.com from Corday Studios.
The alleged Hall quote reads as follows:
"Stefano comes back and he's pissed! He comes right after her. He's going to do to her what she did to him. But in the midst of it, in her drugged state she sees her sister, Samantha. I'm going to play both parts. [Previously the role was played by Hall's real life sister, Andrea.] I shoot it on Wednesday. We pulled some old tapes and I'm working with a coach." Hall enjoys Marlena's interactions with the new John. "Drake is so funny as the character. I watch him in rehearsal and I can't stop laughing."
Since this is not, I repeat NOT the first time Deidre has played Samantha in a dreamlike and/or ghost sequence (re: the Stella Lombard kidnapping storyline) I can't imagine what all the secrecy is about, especially if Hall herself hasn't been told to keep the news hush hush and the original source is an NBC blog!
By Jamey Giddens on July 21, 2008
Online rumors that have Deidre Hall recreating the role of Marlena's twin sister Samantha on
Days of Our Lives
are "not true", said Corday Studios PR reps.
A poster by the name "All Star-Girl" posted on the NBC.com Fall Primetime Preview blog that Deidre Hall allegedly revealed to her that she would soon be playing the dual role of Marlena and her late twin Samantha, famously slain during the Salem Strangler storyline.
The death of Samantha Evans made pop culture history as it was first believed that the beloved character of Marlena had succumbed to the serial killer. It was later revealed to have been Marlena's identical twin, the psychologically unstable Samantha (maybe that's where her namesake niece gets it from?), who died.
While network reports at the time said the soap always planned the switcheroo (right...like they always planned to bring all 10 of the Salem Stalker victims back to life!), soap lore has always maintained that enraged fans bombarding the studio with calls is what caused the show to change their minds and make Samantha the victim.
The following is what was posted on the blog:
"Deidre is here to dish about Marlena - READ MORE