Liza Colby
By Jamey Giddens on July 31, 2008
There aren't enough words in the search engine at Dictionary.com to describe how excited I am about A Martinez (ex-Cruz Castillo), one half of my all-time favorite soap supercouple (sorry Bo and Hope, you guys are a close, close second! Bring on Roberta to sing "Tonight I Celebrate My Love" and we'll talk!) coming to
One Life to Live
as Ray Montez.
I know a lot of fans are worried One Life is getting a little too cast heavy but there's always room for one more, especially a Soap God sent down from Mount Soap-O-lympus like Martinez. Now if the dynamic duo that is Frank and Ron can some how lure Marcy Walker (ex-Eden Capwell Castillo, SB; ex-Liza Colby, All My Children) to Llanview, even for just a brief Sweeps storyline, I can die a happy man. Well, only if I can come back to life on a pier in three to five years and have Drake Hogestyn spy me out of the corner of his cocked eye and gasp "J?"
I can't tell you how much fan fic I have written about A and Marcy reuniting. No really, I can't, there are court documents prohibiting it. READ MORE
By Danielle on July 19, 2008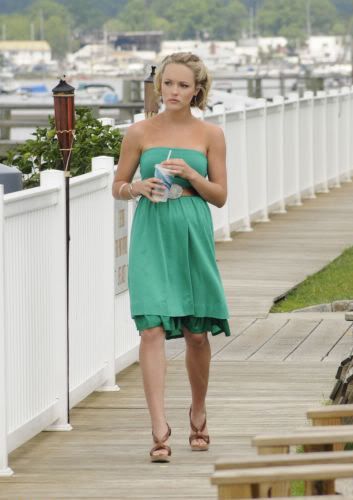 As we are all aware, Colby Chandler and her buddies are involved some how in the death of Richie Novak. It appears to this viewer, he was already dead thanks to Richie's loving sister, Annie Lavery. Hopefully, this debacle of a story will all end soon once the awesome Chief Jesse Hubbard makes the arrest!
But back to Colby, the product of Adam Chandler and Liza Colby, an alcoholic? Big brother JR pointed out to her that she might just have a problem with the bottle. Colby of course denies it as JR ran down the list of those in the family who have this issue. Unfortunately, we saw her hitting the vodka bottle before noon!
I personally will find it a big disappointment if she does turn into an alcoholic. I am hoping that this was one time thing and that Colby can turn into a schemer like her mother, Liza and grandmother, Marian.
Can't you just see it now? Colby uses Pete ala Liza style, to get him to 'forget' that he saw blood on her car. Yes we all know that Adam is blackmailing Pete but I like my version better. Liza always took matters into her own hands and sure she sometimes had help from her mommy but I would really like to see Colby take a page from her mother's book. READ MORE