John Black
By Jamey Giddens on November 18, 2008

Ken Corday
's head scratcher of the soap millenium decision to gut his two biggest stars, while seemingly courting ever actor from
Passions
, even the chimp, has the mainstream press taking notice. Notorious gossip blogger
Perez Hilton
posted
about the firings of
Deidre Hall
and
Drake Hogestyn
and the
New York Post
also weighed in. It seems unlike the late
James Reilly
, the only time the team of Corday and
Dena Higley
know how to generate mainstream press is when they make colassal blunders. This thing is gonna get ugly.
By J Bernard Jones on November 17, 2008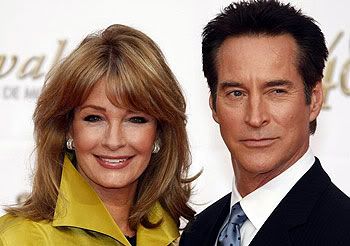 The news that Deidre Hall and Drake Hogestyn have been fired from Days of Our Lives pulled me out of my self-imposed moratorium on posting for the next few days, drowning as I am in work. However as I watched this news filter out over the internets and the intertubes, the completely understandable and justifiable reactions by fans of shock, anger, disbelief and inevitable doomsaying about the future of Days were leavened by my sense that something was amiss in my own reaction. At first I couldn't put my finger on it until it hit me out of the blue.
My reaction was, "Whatever." READ MORE
By Jamey Giddens on November 15, 2008

Just When You Thought It Was Safe to Praise Daytime
.
Okay, we bring you this with trepidation because we all know how whenever news stories are broken by online sites, the soaps love to run to the print mags to yell "not true" only for it to be later confirmed that the online sites were right all along, i.e. the
on set turmoil
with
Dena Higley
on
Days
,
Ed Scott
's
firing
,
Josh Griffith
being out
at Y&R,
Andrea Evans
leaving
OLTL, etc., however
online sources
are saying that
Days of Our Lives
front man
Drake Hogestyn
has once again been let go.
READ MORE
By Brooke on October 05, 2008
Sorry this is late, I've only just managed to catch up on Wednesday's, Thursday's and Friday's episodes (Friday's thoughts to come later).
Wednesday's Episode - 10.01.08
Caroline: It's not looking good for Caroline - only her prints on the murder weapon and the DA is going to press charges. The fibers found at the scene are of a cotton blend, so that's no help clearing her at this stage. I bet they end up belonging to Max - even though he's innocent of the murder as well (in my opinion).
Victor: I like that Victor wants to help Caroline and it does seem as though they are moving towards a Caroline/Victor re-pairing. I guess enough time has passed since Grandpa Shawn died? READ MORE