Janet Ciccone
By Mark on October 30, 2008
Check out this preview from Friday's episode of As the World Turns. Sage really is her mother's daughter.
By J Bernard Jones on October 16, 2008
Now that it increasingly looks like the direction of our country, which is in the midst of the biggest financial crisis since the Great Depression, is going to be decided by
Joe the Plumber
, there are other debate topics that could consume us until Election Day and beyond.
FREE TRADE: Last post, I expressed a desire that Jack get off the Carly/Janet merry-go-round once and for all. The fact that he was literally trying to get with Carly in several episodes, only to turn to Janet within those same episodes, nearly drove me crazy. So imagine my delight when in a series of very well-written scenes Janet discovered at least part of the nature of Jack's oscillation. To put it bluntly, Jack was on the verge of boinking Carly while Janet was downstairs in their house. Janet confronted Jack and said those words I always long to hear a female soap character say: "I don't want you to want me so that you don't want her!" and "I don't want to be your consolation prize. I deserve better than that, don't you think?" Brava! READ MORE
By J Bernard Jones on October 15, 2008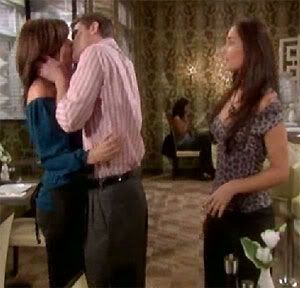 Gentle readers, I apologize for not having posted about Oakdale, but business called me away on business and I haven't been able to get back to the business of Oakdale's business until now:
Carly/Jack/Janet: The chemistry between Maura West & Michael Park jumps off the screen, but I'm just feeling that this seemingly endless seesaw Jack and Carly have been riding has got to stop once and for all. READ MORE
By J Bernard Jones on October 01, 2008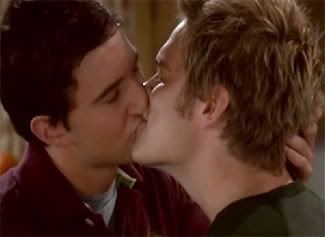 In today's episode:
Luke & Noah: They're back on screen and together. Yay! They get to kiss and smooch and make ugly happy faces! Yay! They still have less screen time than 4 year old day player Ethan. Boo! (Not much to say since they didn't have much to do.).
Carly/Jack/Janet: Jack asks Carly if they can try again. For the 8,271st time. Yay! Carly kicks him to the curb! Yay! Carly tells Janet to come take care of him because Janet is good for Jack! Yay?
Lily/Holden/Carly: Just when I thought this triangle was being abandoned, it looks as if it's going to be reconfigured to include Dusty now that Mike has decided to kick rocks. READ MORE
By Mark on October 01, 2008
Check out this preview clip of Friday's episode of As the World Turns where Will Dailey performs during the benefit to save the Snyder Farm.
By J Bernard Jones on September 23, 2008
Today was one of the first episodes of As the World Turns that I've been disappointed with in quite some time. As a whole, the performances were solid (was that a hint of growth from Chaunteé Schuler?) and the writing was decent, but there were a number of small and large plot elements that got on the very last of my nerves:
• So, Jack has the gall to ask Carly, who he's never hesitated to browbeat in fits of moral indignation, to talk to Janet — who he recently didn't hesitate to browbeat in a fit of moral indignation — about Jack's absence while the former keeps Jack's mission a secret from the latter. I almost recited the inevitable Janet's "You could trust Carly but not me!" argument with Jack coming a mile away, but I was only partly wrong. Janet stormed into the police station and demanded respect and common courtesy. Excellent! The only thing Janet and Carly should be keeping secret is how a cup of sugar wound up in Jack's gas tank.
• Didn't Janet's conversation with Carly about Jack sound a lot like Cassie's million laments about "the connection" between Josh and Reva on Guiding Light before Josh dumped her? READ MORE