Dorian Lord
By Jamey Giddens on September 26, 2008
How many times have you had to ask that question following a family reunion where Aunt Fanny had a little too much Crown and Coke? Oh don't pretend like it hasn't happened to you!
Even as schizophrenic as One Life to Live is these days—Clint going all J.R. Ewing and going after Dorian's foster kid; Todd and Marty's rape-mance—you can always count on the Cramer girls to have each others back. Blair and Dorian proved today as once again that they will go to any lengths to protect their loved ones when Dorian got herself tossed in jail for going upside the judge's head about Langston and Blair promptly offered one of Llanview's finest some of her "goodies" to get Auntie Dearest sprung. Now that's what I call family values!

By J Bernard Jones on September 22, 2008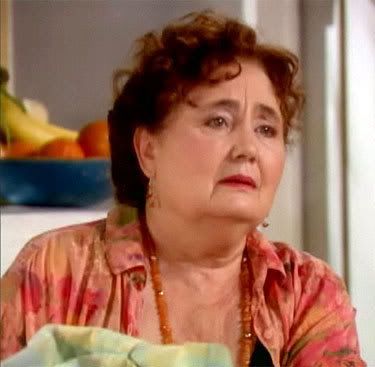 In a world where the stock market is crashing, Morgan Stanley and Goldman Sachs decide they would be better off as banks, the price of a barrel of oil jumps $16 in one day, and a Federal bailout plan threatens to balloon between $700 billion and a trillion dollars or more, everyone needs a little Emma Snyder in their lives.
I thought today was a strong episode of As the World Turns. The Chris/Alison/Aaron triangle continued to make less and less sense given that we (the online "we") know that Dylan Bruce is leaving as Chris Hughes while the "Who's The Baby Daddy?" story line is apparently ramping up. Lily and Holden got closer after bringing Ethan home from the hospital. Derek made an outrageous request of Bonnie to be his lawyer, which she wisely refused (although we know Paul is going to rope her into it to help find Meg). Colleen Zenk Pinter was phenomenal with the little bit that Barbara was given to do. Dallas increased his line count to about eight while Ethan officially became The Cutest Kid on Daytime.
But the pure pleasure for today was Kathleen Widdoes as Emma. She certainly wasn't the star of today's show. She's not hip. She doesn't fit the desired 18-34 demographic. She's not a size 0 and she's not a hair model, but that's the point. READ MORE
By J Bernard Jones on September 19, 2008
I predict I'll once again be in the minority on this one. But what the hell...
Like many others, I have been rather hesitant about embracing A Martinez's new, short term role of Ray Montez, uncle of Langston and new foe of Dorian Lord. There are those viewers who are unfamiliar and/or unaware of Martinez's work although he has been a busy fixture in prime time and daytime since the late 60's (does that man age well or what???!). I think the very first time I saw Martinez was on an episode of The White Shadow and later on The Incredible Hulk; yes, when they originally aired. In fact, Martinez was one of the busiest Latino actors in all of television during the last hurrah of the three network era, guest starring on what seemed to be every prime time show with a time slot and a broadcast signal. READ MORE
By Jamey Giddens on July 19, 2008
Okay it's time for the most awaited sequel since
Batman: The Dark Knight
. Okay, not quite.
Naked Gun 2 and a 1/2
? No?
News that Brian Frons is planning a possible spinoff of the amazingly-rejuvenated One Life to Live for SOAPnet inspired me to continue my Dream Soap Spinoffs series. So in honor of this awesomely-soapy development, today I will focus on OLTL.
One Life to Live: A Starr is Born
Reeling from her breakup from Cole and the bittersweet pain she feels after giving her baby to the McBains, Starr channels her pain into music. Langston convinces her perform her songs on a You Tube-esque video sharing site. Starr is reluctant at first, but before long she is actually having fun and feeling like her old self and her show is a fast hit on the web!
It isn't long before a hot shot New York record producer Jared Slade (played by Sean Kanan, Matthew Crane or Tom Eplin, take your pick!) turns up at La Boulaie wanting to sign Starr to a recording contract (Look for major sparks between Jared and Blair). If you think one stage parent was bad, try three ! Todd, Blair and Dorian all weigh in on Starr's potential musical future, but ultimately the choice is Starr's. READ MORE
By Belinda on June 13, 2008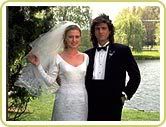 I've been thrilled with what I'm reading about One Life to Live's HUGE 40th Anniversary celebration (Blast From The Past) so you can imagine how excited I was when my co-host (ABC Edition, Daytime Confidential Podcast), fellow DC staffer Tina sent me the latest tasty treat.
Granted I will be devastated not to be able to see Jessica Tuck reprise her role as Viki Lord-Riley-Buchanon-Carpenter-Davidson's deceased daughter Megan. ( I loved the time when they were showing her as the star of a soap opera that Bo was producing! Hopefully I'm recalling it correctly) This quote from TV Guide (you will want to read the whole thing, trust me) says; "This is not just a big disappointment for us Tuck-anistas, it's a big headache for the show because her appearance was no mere cameo. OLTL head writer Ron Carlivati had wanted Megan to serve as a celestial guide for her mama Viki (Erika Slezak), who will visit the Great Beyond after dying in a car crash — a major two-day plot twist (airing July 21-22) that riffs on one of the soap's most famous stories from the 1980s. (pictured with Joe Lando courtesy of abc.go.com)
The scenes shoot this coming Monday. The clock is ticking. What to do? Carlivati, who is quite the brain-stormer, quickly picked a different dead Megan to be Viki's guide — that would be Megan's namesake (and Viki's granddaughter), baby Megan, who died by miscarriage in 1999 when her mom, Jessica, was the victim of a hit-and-run."

but... I love the innovative thinking which brings us the decision to cast ex-Jessica actress/singer Erin Torpey as baby Megan, Jessica's miscarried daughter (fathered by Will Rappaport, Lindsay's son) with a serious case of the SORAS. The actress "Erin Torpey joined One Life to Live at the age of eight, playing Jessica Buchanan, who has grown into a smart young woman dealing with both love and loss. Miss Torpey's portrayal of Jessica earned her Soap Opera Awards -- for Outstanding Teen Performer in 1997 and Favorite Teen Star in 2000. She also received a 2000 Emmy nomination for Outstanding Younger Actress." (bio & pic courtesy of ABC.COM)
Could this anniversary party be "the" celebration that fans felt robbed of this past April 1 when General Hospital's momentous occasion was sluffed off with a poor montage that didn't cover the half of it? It certainly looks like it is stacking up that way to me!

One starts to wonder if we might be able to expect that the courtesy and respect of history being employed by Carlivati and associates on One Life To Live might bode well for TPTB with All My Children and General Hopsital to follow suit? All My Children ceratinly appears to be making some positive changes behind the scenes that are coming across well to the fans. (Check out Katrina's Eye On Soaps spot on "As Easy as ABC") I hope so. I so fervantly hope so!
Meanwhile its old home week as One Life pays it forward, giving the fans what we want in truckloads and reaping the benefits of droves of new viewers as evidenced by last weeks performance in The Neilson Ratings, anyway. Enjoy! I know I am!