Derek Coburn
By J Bernard Jones on October 20, 2008
Has any recently returned character on soaps been shoehorned into more stories off the bat than Dusty Donovan?
The brilliant Emily and Casey pairing clearly was sacrificed at the altar of an Emily/Dusty redux.
Paul and Meg are once again threatened by Dusty, this time mainly as a result of Paul's insane jealousy, not to mention Dusty always managing to stick his nose in their business.
Lily and Holden were supposedly on the road to reconciliation for the 149th time until Dusty popped back up.
Now Dusty has purchased controlling shares of Worldwide from Lucinda in a logic defying character twist for her (as a result of a couple of words from Brian that she live her own life, which has no real relationship to Lucinda as a businesswoman) that rings completely false. READ MORE
By J Bernard Jones on September 26, 2008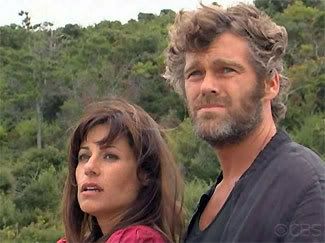 It is absolutely wonderful to see Grayson McCouch back as Dusty Donovan! Oddly enough, he looks much younger than when he left World Turns. And maybe my eyes are playing tricks on me but with that mop top of curly hair Grayson looks like a slightly older version of his character Morgan Winthrop on the late Another World.
However as much as I've been enjoying the return of James Stenbeck, there is a problematic element with how Dusty's return has folded into the larger narrative. READ MORE
By J Bernard Jones on September 24, 2008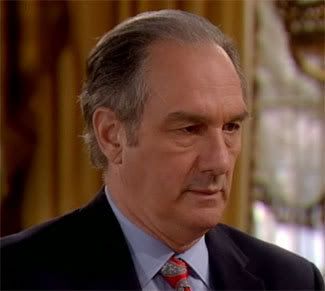 First of all, it looks like my theory about why James Stenbeck wants Paul and Meg's baby continues to unfold. James even uttered the very phrase I've been saying is the key to this story: "This baby will be the true Stenbeck heir." But we all know the only true Stenbeck heir is Dusty Donovan. Stay tuned.
The big news today is...Paul's visions are back. Whoopee? READ MORE
By J Bernard Jones on September 23, 2008
Today was one of the first episodes of As the World Turns that I've been disappointed with in quite some time. As a whole, the performances were solid (was that a hint of growth from Chaunteé Schuler?) and the writing was decent, but there were a number of small and large plot elements that got on the very last of my nerves:
• So, Jack has the gall to ask Carly, who he's never hesitated to browbeat in fits of moral indignation, to talk to Janet — who he recently didn't hesitate to browbeat in a fit of moral indignation — about Jack's absence while the former keeps Jack's mission a secret from the latter. I almost recited the inevitable Janet's "You could trust Carly but not me!" argument with Jack coming a mile away, but I was only partly wrong. Janet stormed into the police station and demanded respect and common courtesy. Excellent! The only thing Janet and Carly should be keeping secret is how a cup of sugar wound up in Jack's gas tank.
• Didn't Janet's conversation with Carly about Jack sound a lot like Cassie's million laments about "the connection" between Josh and Reva on Guiding Light before Josh dumped her? READ MORE
By J Bernard Jones on September 22, 2008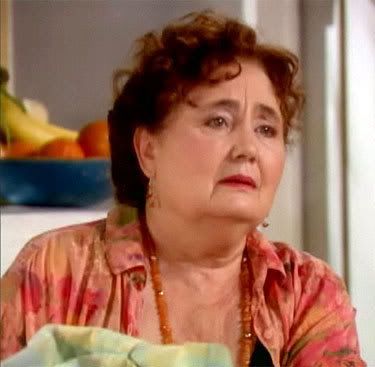 In a world where the stock market is crashing, Morgan Stanley and Goldman Sachs decide they would be better off as banks, the price of a barrel of oil jumps $16 in one day, and a Federal bailout plan threatens to balloon between $700 billion and a trillion dollars or more, everyone needs a little Emma Snyder in their lives.
I thought today was a strong episode of As the World Turns. The Chris/Alison/Aaron triangle continued to make less and less sense given that we (the online "we") know that Dylan Bruce is leaving as Chris Hughes while the "Who's The Baby Daddy?" story line is apparently ramping up. Lily and Holden got closer after bringing Ethan home from the hospital. Derek made an outrageous request of Bonnie to be his lawyer, which she wisely refused (although we know Paul is going to rope her into it to help find Meg). Colleen Zenk Pinter was phenomenal with the little bit that Barbara was given to do. Dallas increased his line count to about eight while Ethan officially became The Cutest Kid on Daytime.
But the pure pleasure for today was Kathleen Widdoes as Emma. She certainly wasn't the star of today's show. She's not hip. She doesn't fit the desired 18-34 demographic. She's not a size 0 and she's not a hair model, but that's the point. READ MORE