Caroline Brady
By Brooke on October 05, 2008
Sorry this is late, I've only just managed to catch up on Wednesday's, Thursday's and Friday's episodes (Friday's thoughts to come later).
Wednesday's Episode - 10.01.08
Caroline: It's not looking good for Caroline - only her prints on the murder weapon and the DA is going to press charges. The fibers found at the scene are of a cotton blend, so that's no help clearing her at this stage. I bet they end up belonging to Max - even though he's innocent of the murder as well (in my opinion).
Victor: I like that Victor wants to help Caroline and it does seem as though they are moving towards a Caroline/Victor re-pairing. I guess enough time has passed since Grandpa Shawn died? READ MORE
By Brooke on October 01, 2008
Tuesday's episode 09.30.08
Awww... When there are real-live babies onscreen, they really steal the show. How cute is Johnny? How cute was EJ playing with Johnny? I could barely pay attention to what Lucas and Sami were talking about in the scene pictured here - I tried to rewind and re-watch, but I'm still none the wiser.
I did pay close attention to EJami though. Welcome back to my screen! I've missed you guys - and you seem more like the EJami I remember too. I'm really glad that Sami is being pro-active and doing something about gaining her independance back. It saddened me to see Sami's self confidence so low though; how she braced herself for the inevitable comments about her hireability, and how she struggled to find something good about herself to write on her resume. Somehow, I don't think four years of piano training and the ability to forge anyone's signature (even in the dark) are the type of admirable qualities an employer looks for. But I loved EJ for his attempts to make Sami feel good about herself - and they shared a moment before Lucas interrupted... darn it! READ MORE
By J Bernard Jones on September 22, 2008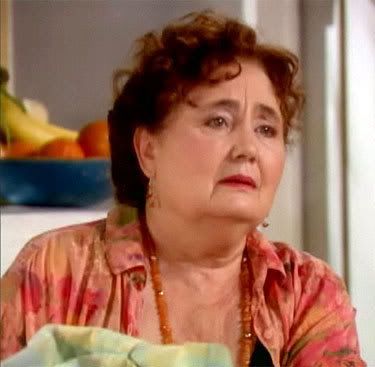 In a world where the stock market is crashing, Morgan Stanley and Goldman Sachs decide they would be better off as banks, the price of a barrel of oil jumps $16 in one day, and a Federal bailout plan threatens to balloon between $700 billion and a trillion dollars or more, everyone needs a little Emma Snyder in their lives.
I thought today was a strong episode of As the World Turns. The Chris/Alison/Aaron triangle continued to make less and less sense given that we (the online "we") know that Dylan Bruce is leaving as Chris Hughes while the "Who's The Baby Daddy?" story line is apparently ramping up. Lily and Holden got closer after bringing Ethan home from the hospital. Derek made an outrageous request of Bonnie to be his lawyer, which she wisely refused (although we know Paul is going to rope her into it to help find Meg). Colleen Zenk Pinter was phenomenal with the little bit that Barbara was given to do. Dallas increased his line count to about eight while Ethan officially became The Cutest Kid on Daytime.
But the pure pleasure for today was Kathleen Widdoes as Emma. She certainly wasn't the star of today's show. She's not hip. She doesn't fit the desired 18-34 demographic. She's not a size 0 and she's not a hair model, but that's the point. READ MORE