As the World Turns Daily Recaps
By Mike Jubinville on May 06, 2009
Vienna chased Henry after he stole Robobaby and found him in their hotel room. Henry confessed that he wanted to be a father in all aspects, while Vienna listened to him in shock. Katie and Brad received confirmation from Bob that Dr. Schmegletz does not exist on the Memorial staff. They had questions and wanted answers.
READ MORE
By Nicki on April 22, 2009
Just so everybody is in the know...I'm going out of tomorrow for my birthday so I won't be doing recaps for a few days but never fear I will return and resume on Tuesday.
Luke/Lily/Holden/Damian/Margo/Noah/Zac/Zoe: Luke was still convinced that Damian kidnapped Noah but Lily continued to defend him. Luke said he had to do something other then wait and left so Lily went with him. Damian denied doing anything to Noah and Holden continued to accuse him. Holden brought up that Damian kidnapped Luke once and Damian said he couldn't defend that but he didn't do this. He asked Holden what he could do to convince him and offered to take a lie detector test. They then left to go have him take one. READ MORE
By Nicki on April 21, 2009
Parker/Craig/Carly/Jack
The doctor asked Craig how much the unconscious Parker had had to drink. Craig said he didn't know but there were two bottles of vodka, one empty and one half empty. The nurse asked him if his son had a drinking problem and he corrected that he was only a family friend but he didn't think Parker had a problem. She then told him they needed to speak to his parents and Craig stepped out to call Carly.
Carly was at the bar drinking and stepped away from her phone to go to the juke box. When she returned she asked the bartender to refill her glass and went to the ladies room as Craig called again. He left a voice mail that she needed to call him right away because it was an emergency. Then Craig called Jack and told him that Parker was in the hospital. READ MORE
By Nicki on April 15, 2009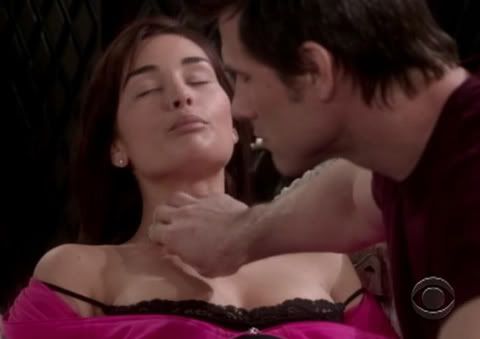 Today's show was a mix of homemade vaper rub and unwilling bondage for our viewing pleasure....so let's get started
Brad/Katie/Henry/Vienna:
Katie showed up at the diner and talked to Henry about how all she used to want was her career but now all she wants is to be a mom. She asked where Vienna was and Henry said she was home because of a cold. Katie started to freak out and Henry tried to calm her down. Katie finally calmed down and made sure that Henry knew that he was a big part of this pregnancy and how this made the four of them family. Katie then suggested they make a house call with the soup of the day.
Vienna showed up at Brad's all stuffed up and coughing. The cameraman showed up to start filming but Brad sent him away because Vienna didn't want to be filmed when she was sick and not looking her best. When Brad asked if there was anything he could do to make her feel better she said, "yes, you can rub my chest." Vienna cooked up some pasty gross stuff and unzipped her shirt so Brad could rub some on her chest. Brad was uncomfortable and hesitant but finally gave in and started to put it on for her. And just as he was starting to relax about the whole thing Katie and Henry came in and got the wrong idea. READ MORE
By Nicki on April 14, 2009
Today on
As the World Turns
we have major drama in the form of lies, conspiracies, drug busts, and community service.
Allison/Casey/Jade/Margo/Bob/Nancy: Allison, Bob, and Nancy were at the hospital discussing her officially becoming a nurse. Then they discussed starting a program to transport the elderly to and from the hospital. Allison told them she thought Casey would be the perfect person to run the program. She called Casey and met up with him to talk about it.
Casey ran into Jade and told her he was concerned about her but she just kept giving him attitude. Right when he was about to leave she asked him if he knew where she could "score some pot." Casey tried to talk Jade out of it but she was insistent, so frustrated, Casey left. READ MORE
By Nicki on April 13, 2009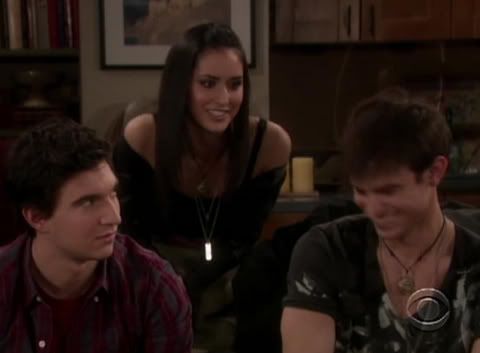 Bits of annoying banter started off this week for
As the World Turns....
let's just hope it doesn't dominate the week.
First off lets start with the couple who are definitely not going to make it long term, Parker Munson and Liberty Ciccone. Liberty is far beyond Parker in maturity and you can already tell she wants out. However for now she seems to be letting him get his way as she agreed to turn down the internship of a lifetime. Meanwhile Parker is acting more like a 5 year old then a teen with his pouting and temper tantrums. And I don't care who you are you never speak to your mother the way he spoke to his mom Carly Tenney today, even if he did have a point on the drinking issue. READ MORE