Requiem for a Daytime Drama, Part One
By J Bernard Jones on September 15, 2009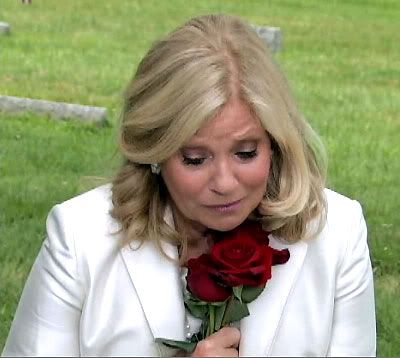 The first in a highly personal, non-objective series highlighting various aspects of the last episodes of Guiding Light, which will end its 72 year run on September 18th.
These final weeks of Guiding Light have been pure torture to watch. I don't mean "the new production model" (a phrase I never hope to hear again in my lifetime) or Bonnie Dennison's (Daisy) futile attempts to remember her lines. No, what has been extraordinarily difficult for me as a viewer — who vividly remembers when Roger (Michael Zaslow) kidnapped Holly (Maureen Garrett) in the Caribbean and Ed (then Mart Hulswit) threw him off a cliff — is watching the series' stories come to their inevitable conclusions.
Resolutions have been flying at us fast & furiously, in ways big and small. Frank (Frank Dicopolous) and Blake (Elizabeth Kiefer) are inching toward a love connection. Rafe (EJ Bonilla) has joined the military and accepted his mother's "lifestyle." Doris (Orlagh Cassidy) finally came out to a stunned but accepting Ashley (Caitlin Van Zandt) and introduced her girlfriend to Springfield and viewers. Dinah (Gina Tognoni) and Mallet (Robert Bogue) have hooked back up in Europe, while Marina (Mandy Bruno) and Shayne (Jeff Branson) have moved closer to raise baby Henry. Cyrus (Murray Bartlett) has been revealed as Jenna's (Fiona Hutchinson) son. Jonathan (Tom Pelphrey) has returned to Springfield for good, to reunite Sarah with Lizzie (Marcy Rylan), who is happily married to Bill (Daniel Cosgrove). Remy (Lawrence Saint-Victor) and Christina (Karla Mosely) look as if they, too, are about to cement their love in matrimony once again. Olivia (Crystal Chapell) and Natalia (Jessica Leccia) have finally come out publicly as a couple. After years of creating misery for everyone in his path, Alan (Ron Raines, who has been brilliant of late) has finally found a bit of redemption through saving Phillip's (Grant Aleksander) life.
No matter how they got there, these happily-ever-afters have brought tears to my jaded eyes more than a few times the last several weeks and none more so than Monday's episode featuring most of the cast gathered to celebrate what would become the double wedding of Billy (Jordan Clarke) to the luminous Vanessa (Maeve Kincaid) and Buzz (Justin Deas) to Lillian (Tina Sloan).
Ah, Lillian Raines. After 26 years, Cedar's long-suffering, breast cancer and domestic abuse surviving, tortured, guilt-ridden, on-the-verge of spinsterhood head nurse finally recieved her own overdue happily ever after, but not before visiting the grave of her best friend, Maureen Bauer. In a briliantly written brief scene, Lillian — through tears of happiness, regret, pain, sadness and joy — poured her heart out. Most importantly, Lillian forgave herself for her role in Maureen's death and gave herself permission to live, love and be loved. What a beautiful, powerful statement about the power of forgiveness.
Sloan, who of late has been rewarded with more screen time than she's had over most of the past decade, was stellar throughout the entire episode, but her magnificent scenes at the gravesite were some of the veteran actresses' best work ever.
The double-wedding was a beautiful, joyous ceremony punctuated by the welcome returns of Dylan (Morgan England), Mindy (Krista Tesreau), Bridget (Melissa Hayden) and Nola Reardon (Lisa Brown), whose nod to the infamous incident where she and Vanessa wore the same dress to the country club brought a smile to my face, and tears to my eyes.
There are four episodes left and more resolutions to come: Phillip & Beth (Beth Chamberlin); Edmund (David Andrew Macdonald) and Jeffrey's (Bradley Cole) silly cat & mouse game; Cyrus & Mel (Yvonna Wright) and — of course — Josh (Robert Newman) & Reva (Kim Zimmer).
Stay tuned because the end is near...
RELATED: Requiem for a Daytime Drama, Part One | Requiem for a Daytime Drama, Part Two | Requiem for a Daytime Drama, Part Three