New York Times Profiles The End of Guiding Light
By J Bernard Jones on September 05, 2009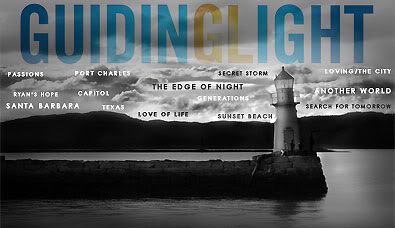 As promised,
The New York Times
ran
a lengthy and bittersweet article
on the demise of
Guiding Light
on September 3rd. The final episode is slated to air on September 18th on CBS. The article's introduction could not have been more in sync with what many of GL's fans are feeling as that dreaded airdate approaches:
EMOTIONS are an actor's currency, but on this day in early August,

Robert Newman

was coming up empty. He sat slumped in a chair in his nearly vacant dressing room at the CBS Broadcast Center on West 57th Street in Manhattan. Cartons with his name scrawled on them were stacked in the corridor. His colleagues, some of whom he had worked with for decades, were all packing up as well. "I shot my last scene in the studio an hour ago," he said, then paused and studied his hands, clasped in his lap. "I don't know how I feel."
You can read the entire article filled with interesting info about GL's history and final days — along with a few statements attributed to Ellen Wheeler sure to raise the eyebrows of many fans — here.