Guiding Light Daily Recap: Marina Admits the Truth to Mallet
By Mike Jubinville on June 29, 2009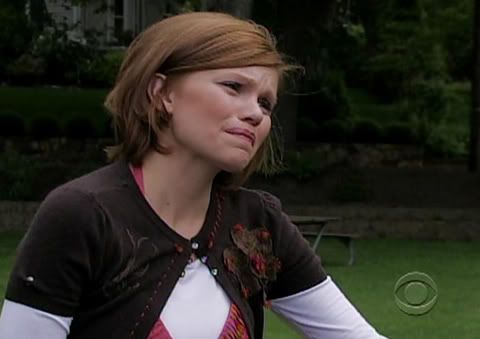 Josh the Stalker was right were Reva left him the night before; in the car and keeping watch on her home. She went out and put a coffee cup and a note on the driveway. After she went into the house, he found that the note read "Where's my husband Jackass?" She talked to herself and wondered aloud what his car smelled like, but I thought that she'd been married to him enough times to know the answer to that!
Mallet, Shayne and Marina shared an uncomfortable moment when Mallet overheard them discussing their son. Mallet was enroute from the hospital where he saw a list of blood donors and realized that Shayne donated the blood that saved Henry. Marina revealed that Dinah was in Bosnia and assumed that Shayne already knew. Mallet accused Shayne and his family of lying and threatened to haul the entire clan into court to prove it. Mallet told them that Dinah and Jeffrey were photographed at a train station (I thought it was the cemetery, oh well) and that shots were reportedly fired. He told Shayne not to leave town and Shayne retorted, "Okay Sheriff." Shayne wanted to know why Dinah went with Jeffrey and he replied, "Because she's Dinah." The men got heated and Shayne told Mallet that Jeffrey might be innocent and told him he doesn't even know what is going on with his own family. Marina, panic-stricken, intervened and told them to calm down and separate. She begged Shayne, as a friend who has known her for years, to just back off. He did and left the two of them in more uncomfortable silence.
Rafe and Frank talked about Natalia and Olivia. Rafe could not understand for the life of him how Frank could not be mad at Olivia for taking Natalia away from him. Rafe admitted that he doesn't like Olivia and wondered how Frank could be in love with his mother and not fight for her. Frank couldn't give him an answer because he probably doesn't know himself.
Natalia went home to box up some cookies and got help from Father Ray. He told her she looked pale and she said that she was tired from working with Blake. She mentioned that she was under stress and was having problems with Rafe. He went straight to the point and said that Rafe was unaccepting of her lifestyle choice and that would continue to be a stress point in their relationship. Natalia did not want to talk about it and told him she refuses to believe that God would want her to choose between Rafe and Olivia just because it's easier on Rafe.
Buzz and Lillian picked up Reva she told them that Josh was outside in the car watching after her because Jeffrey thought that Edmund might still be alive. They were alarmed at first, but Reva assured them she was fine. When they left her house, Reva waved at Josh in the car and told him they were going to Towers for lunch. While there, Josh was at a nearby table watching them. Lillian was very uncomfortable and asked Reva to invite Josh to join them. She refused stating that he was only trying to get close to her while Jeffrey was gone.
Olivia found Rafe at the convenience store and wanted to know why he was avoiding his mother. He told her that he didn't like her and doesn't want to be friends with her. She accepted his words, but told him that she did everything for him when he was in prison and wants nothing more than to be his mother. He claimed he spent his life doing things for her as well, but he cannot get past this. Olivia told him he would have to. Rafe explained about their connection to the Church and told her he can't just pick and choose what parts of religion to accept or reject. He didn't care that if he came off as immature and Olivia told him that Rafe makes them stronger and no matter what he says he will have to come to terms with their relationship.
Olivia later found Doris after she fought with Ashlee and asked her advice and talking to Emma. Doris told her that in all the years she was with Ashlee, there was one time when she wanted to bring the subject up, but she chickened out. Olivia listened to her and realized she cannot wait. She phoned Phillip and left a message that they need to talk about Emma. Ashlee made up with her mom and she was ready to tell her, but Ashlee said she understood and abruptly ran off.
Mallet questioned Marina harder than a murder suspect. She rambled incessant nonsense for a short time before he told her to stop. Mallet told her that he knows about Shayne and Henry. He has been piecing things together for weeks and can't believe he didn't figure it out sooner. Marina cracked and told him that how Shayne promised to stay out of their lives. She explained that Mallet had nothing to worry about and he was Henry's father. She wanted Mallet to understand that Shayne came forward as a go-to-man in case Henry ever needed medical attention. Mallet said he wasn't upset with her, but it wasn't until later that he accepted what Marina told him.
Shayne confronted Josh about his involvement with Jeffrey and Dinah. Josh claimed he did not know that Dinah went to Bosnia. He wanted to know where the lies would stop. Josh said he didn't know and Shayne told him, "That answer sucks." Angered, Shayne went to his mother where he told Reva that her husband was a dumbass. Reva replied that when he has children of his own he will understand. Later, Josh told him the same thing, as if we didn't know that Shayne really has a child of his own.