Murders Most Foul
By J Bernard Jones on May 20, 2009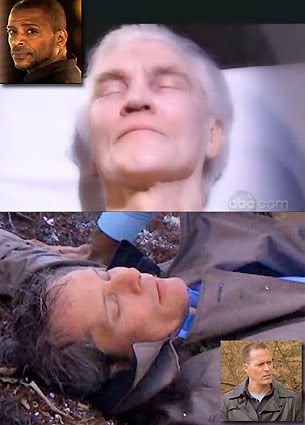 Hot on the heels of my admittedly scathing review of Friday's ultra-campy, Scooby Doo meets The Munsters inspired episode of All My Children which culminated in the murder of Stuart (Not Adam) Chandler, I finally had the opportunity to catch up with Guiding Light, which had its own less heralded "Who Killed Edmund Winslow?" whodunit kick off.
Since I received a little bit of blow back for my harsh (and well-deserved) criticism of AMC, I'd like to take the opportunity to explain why Springfield's simultaneous murder mystery is infinitely superior to Pine Valley's.
First, let's get some semantics out of the way. While most people think a "whodunit" and a "mystery" are synonymous, within the confines of the mystery genre there are distinct differences. In a mystery, the audience is presented with all the suspects, clues, and motives necessary to (eventually) unravel the case, sometimes ahead of the fictional investigating authority. Think Agatha Christie. On the other hand, a whodunit is more of a guessing game in which the above mentioned elements of a mystery are revealed over time, as the audience is often asked to go along for the ride as the investigators themselves uncover the clues. Think Law & Order. Mysteries are not superior to whodunits and vice versa. All that matters is the quality of the story being told, whether all the pieces line up in the end without too many plot-holes upon which the whole shebang might fall apart and one's personal taste. Sue Grafton, Jeffrey Archer, Walter Mosely, Ellery Queen, Mickey Spillane, or Elizabeth Gunn. Pick your poison.
So how do daytime's newest murder mysteries add up?
AMC's "Who Killed Stuart (Not Adam) Chandler?" is in many ways a mystery in the classic mold of the genre. Despite that awful Friday show, the murder of Stuart (Not Adam) is a throwback to the sprawling tales of Agatha Christie. It is a touch of Murder on the Orient Express meets Death on the Nile with a dash of Evil Under the Sun: a baker's dozen of suspects with multiple motives, multiple opportunities and multiple weapons. Standing in stark contrast to Freaky Friday, the subsequent use of a 24-style scrolling multi-screen to show what happened that fateful night as various participants recount their whereabouts and actions has been both original for daytime and a brilliant visual flourish. This would all be high praise in the story so far if it were not marred by a liberal sprinkling of the worst by-the-numbers excesses of Murder, She Wrote and a bit of narrative clumsiness borrowed from the Keystone Cops.
From chief of police Jesse Hubbard (the usually dependable Darnell Williams occasionally tripping over his lines) accidentally shooting best friend Tad (Michael E. Knight) in the head resulting in prime suspect Dr. David Hayward (Vincent Irizarry) having to perform a risky surgery that conveniently may affect parts of potential witness Tad's memory to Ryan (Cameron Mathison) leading insta-police officer Natalia (Shannon Kane) around like chickens with their heads cut off in the passageways of the Chandler mansion...well, a lot of the elements feel like unnecessary overkill (pun intended) in an already dense plot.
Making matters so much worse, there is little to zero subtext or nuance anywhere in AMC's heavily hyped story. Suspects have things to hide, secrets to keep and alibis to nurture but that's about it. While the mystery itself is turning out to be better than I expected, much of it in its short story life is mired in cliche and is far too heavy handed to give the story the kind of gravitas the death of beloved Stuart Chandler deserves.