It Was a Dark & Stormy Night...
By J Bernard Jones on May 15, 2009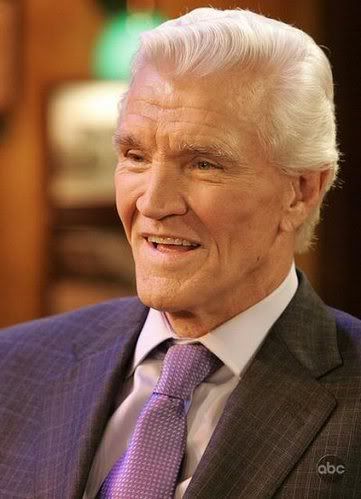 Even if you do not follow literature, you are no doubt aware that the title of this post is a phrase associated with the worst kind of lazy, pedestrian, obvious writing imaginable. "It was a dark and stormy night..." is, to put it bluntly, synonymous with the word "bad."
Bad in and of itself isn't always a bad thing, as there are varying degrees of badness from which to choose. For example, there are things that are "so bad they are good," like The Pussycat Dolls and RuPaul's Drag Race. There are other things that are really bad, like white people dancing to "Push It" and Julie Chen hosting Big Brother. Then you have things that are so atrocious, inspiring more WTF moments than a Samantha Harris post-performance interview on Dancing with the Stars that you question your sanity for sitting through it without clubbing a baby seal.
By "you" I mean "me," and it might not take too much of a stretch of the imagination to guess how I felt about Friday's abominable, lobotomized episode of All My Children that climaxed with the shooting of "a legendary character."
There is no end of suspects: Miss Scarlett in the study with the gun, Mr. Peabody in the kitchen with the candlestick, and Waddsworth in the study with the fireplace poker. In fact I was laughing so much at the manic goings on that it didn't dawn on me until about 30 minutes in that I was watching the soap opera version of Clue. I half expected Eileen Brennan and Tim Curry to pop up in cameos as Little A and Emma's mysterious caretakers.
When I say the episode reminded me of Clue, I also mean it reminded me of Micheal Jackson's Thriller or Michael Jackson's Ghosts, whichever Michael Jackson horror show outside of his plastic surgery that has the most unnecessary and cliched thunder & lightning, only more so than or just as much. It was a dark and stormy night...minus the storm, as it seems the rain effects budget was cut along with other actors' salaries. CGI, where are you when we need you? This state of affairs did not stop the editors and director from shoving every bad horror movie/murder mystery cliche (there's that word again) down our collective throats. Odd camera angles to evoke scary atmosphere? Check. Dark shadows (ha!) to evoke danger? Check. Lots of "boo!" moments? Check. Perhaps I would be more forgiving if there also were not shots of stone gargoyles (yes gargoyles!), that cringe inducing moment when the lights of the Chandler mansion went out with the cut to Little Adam whimpering "What happened?," topped off with the gasp-inducing hilarious shot of a woman's legs running in the dark that evoked memories of the Zuni doll in 1973's Trilogy of Terror starring Karen Black. All that was missing was a Vincent Price voice-over and zombies. Speaking of the latter...