An Open Letter to Christopher Goutman
By J Bernard Jones on May 22, 2009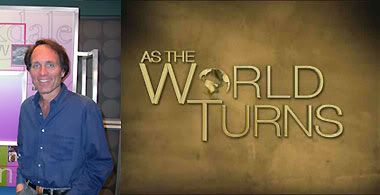 Dear Mr. Goutman,
If ever I was convinced there is a real world application of the phrase "an exercise in futility", this letter might qualify as proof of that concept. After all, you have been quoted in at least one now infamous interview that you do not listen to what fans have to say and that you follow your gut instincts about what you feel is best for As the World Turns as its executive producer. In many respects I applaud you for it. Vision, however forward thinking or flawed, indicates what might be called passion, which itself implies a belief in something. I think, in your own way, you really do believe in your show.
Savvy viewers (including those of moderate intelligence like myself) more than appreciate the fact that Procter & Gamble/TeleNext soap executive producers like yourself arguably have tougher rows to hoe than their counterparts. You have your corporate bosses at P&G to answer to, as well as another set of head honchos at CBS. Reports from the war front regarding the recent cancellation of ATWT's sister show Guiding Light exposed that often these two factions have differing agendas, which can only make your job that much harder to do in a climate of increasingly draconian budget cuts and free falling ratings amidst an ever shrinking — some openly say dying — genre with roots that can be traced back to Charles Dickens and beyond. No wonder you tune out the noise, if I may, to concentrate on one of the hardest jobs in all of television: producing 350+ hours of television every year.
So why write this letter though you may never read it? Partly because while fans and critics alike often offer criticism form the sidelines, I feel somewhat compelled to make a more direct appeal. The other answer is that I have a feeling someone on staff at ATWT, TeleNext, or CBS reads Daytime Confidential and other soap blogs and against all odds someone there will take some of what I may inarticulately say here and pull your coattails to let you know that whatever your accomplishments with this grand show in the past, your current vision for As the World Turns is not working now.
We fans tend to discount the pressures associated with producing a daily dramatic serial. There are viewers who often proclaim that they don't care about budgets, ratings and contracts; they merely want their favorites on screen everyday or that nebulous thing known as a good show. History; characters we love; don't insult our intelligence, etc. all regardless of cost. Sometimes it seems to me that some of my fellow fans are using the same kind of logic that says if they themselves only have $100 per week to spend on groceries, they would eat at five-star restaurants every night because they want their favorite food served by their favorite waiters and tip them 30% all the time. So, Mr. Goutman, to paraphrase one of our most recent presidents, I kind of feel your pain.
With all of that in mind, it is not my intention to discount or dismiss the hundreds of challenges you face every day in order to bring fictional Oakdale, Illinois to life in these difficult times. It is also not my intention to define for you or anyone else what makes a good show. After all, for all of the widespread praise that One Life to Live's Ron Carlivati receives, there are many who do not like his intricate, chess-like manipulation of intersecting plots and narrative hopscotch. For all of the bellyaching about how horrible Chuck Pratt at All My Children or Dena Higley at Days of Our Lives have been writing, ratings for both shows are — marginally — up.
That, sir, is part of my point in writing to you in this open forum: you don't listen to the fans, but you do pay attention to the ratings. Even moderately intelligent fans like me understand that much. Unfortunately, As the World Turns has neither critical praise to counter its floundering ratings nor rising ratings to mitigate its floundering writing as I compose this letter. Despite all the pressures you face as an executive producer, you are ultimately the captain of that ship, and you are grievously piloting it toward the rocks.