What's Wrong With As The World Turns
By J Bernard Jones on February 20, 2009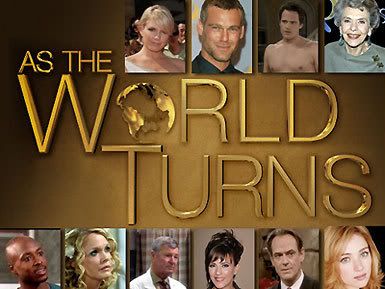 As the World Turns is something of a mystery to me these days. I haven't been blogging regularly about the show because, honestly, I am kind of flummoxed about what to actually write about from day to day.
I love ATWT. The show is blessed with some of daytime's strongest actors. In this age of massive cost cutting, ATWT found an arguably better production alternative than Procter & Gamble sister show Guiding Light. Speaking for myself, I find most days, most characters, most stories and most events to be sufficiently captivating to keep me coming back.
Nonetheless, something is badly amiss in Oakdale. The usual criticisms of ATWT are all-too-familiar: far too many recasts, underused vets, storylines that turn on a dime, compressed storytelling and ever shrinking production values to name a few. While those issues are real and important, they are only symptons of several larger problems that encapsulate the issues that I, other Daytime Confidential bloggers and commentators all over the internet have found themselves dismayed about over the last several months. After trying to put a finger on these issues while attempting to "figure out" what's going on at ATWT from a larger perspective, several things have jumped out as serious structural flaws, like a cracked foundation in a beloved old home.
A MATTER OF CHARACTER: Everyone knows about the recast mania that afflicts ATWT, coupled with newly introduced but ill-defined characters. In the last few months alone the show recast Jade (Davida Williams), Craig (Jon Lindstrom), and Lucy (Sarah Glendening), all of whom debuted within roughly two weeks of each other! In the middle of this and since, a brand new character named Josie (Kristin Connolly) was introduced; Matt (Eric William Morris), Elwood (Alex Charak), and Kevin (Karl Girolamo) were reintroduced; and new romance kicked off between newcomer Derek (Benton Greene) and recast Bonnie (Chaunteé Shuler).
I want to focus on recasts for a moment. Whether the edict to recast comes from CBS Vice President of Daytime Barbara Bloom, Procter & Gamble/Telenext, Executive Producer Chris Goutman or all of them in concert, the fact is that the sheer number of recasts can be overwhelming. While obvious arguments can be made about the supposed detrimental effects of recasting roles on viewers, something else jumps out about how recasting almost every role is specifically detrimental to ATWT.
First, there may be more method to the madness than simply recasting a role because the talent might be less expensive than the actor who previously played the role. While that's the obvious answer, recasting ultimately allows the show to have it both ways: soaps need new faces to keep things fresh, but viewers are more unforgiving than ever of new characters. Also, actors leave or are fired for any number of reasons. The solution ATWT has settled upon is to pluck names of old characters from a hat and often recast them with new and, presumably, less expensive talent. The show has been gambling for a couple of years now that viewers are more invested in the characters than they are the actors who portray them, or as Days of Our Lives Executive Producer Ken Corday has called them, "spokes in a wheel."
A number of recasts actually do work! Lindstrom is doing great work as Craig and Williams is doing an admirable job of interpreting the troublemaking Jade as we remember her when Elena Goode played the role. In fact, some of daytime's most iconic, popular and enduring roles are recasts. In short, there are some roles that should be recast for many reasons, but ATWT's wholesale solution is to recast every role it wants to bring back to the canvas.
Here is why that thinking is wrong when implemented on such a large scale. Soap viewers today are not just generally hostile to new characters, they are also generally hostile to new actors. Making matters worse, not every character that ATWT brings back was popular during their first (or second or third) go round on the show. Therefore, ATWT shoots itself in the foot more often than not by plopping new actors in familiar roles in which they have to fight harder than might be necessary for acceptance, especially when the recast character has few interactions with family or connections that they naturally would have like the recently departed Dani Andropolous (Deirdre Skiles).
Finally, most of the time there seems to be no real plan when recast characters are brought back or whatever story they were involved in abruptly changes for no discernable reason. Complicating things is the fact that many recast characters bear little resemblance to how they were portrayed or written previously; in short, they often come across as new characters with old names. Most grievously, even when new characters or recasts actually do start clicking with audiences, they are abruptly written off. Consider Dani: why introduce the potentially juicy plot twist that Dani is a villainess with a twisted daddy complex and then ditch the character not two or three weeks later? This kind of thing happens all too often. The upshot is there is far too much turnover in the cast and on the canvas, and viewers are left scratching their heads wondering what, if anything, was the point.
I do not want these new actors fired or their characters written off! I just want their characters defined, their actions to have motivation, and the stories they are involved in to play out instead of switching on a dime because somebody among ATWT's brass gets bored. This is no way to keep one's audience invested in a show, indicating that ATWT's brass suffers from....