The Great American Soap Opera
By J Bernard Jones on January 19, 2009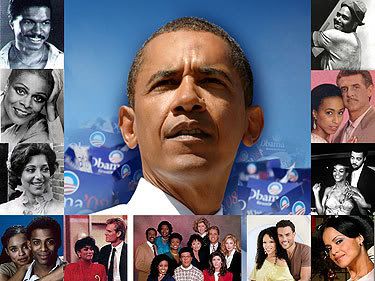 Every soap opera has one element in common: conflict.
Conflict, internal or external, is the engine that drives all great dramas, all great rivalries, all great love stories, indeed all great passions from affairs of the heart to affairs of state. The great dramatic conflict that has threaded the entire fabric of the history of the United States has been the relationship between this great country and it's citizens of African descent.
This is not to belittle the struggles and triumphs of any other groups who have felt the sting of discrimination or oppression throughout the course of American history. Obviously, people of various ethnic and religious backgrounds have their own tales to tell. Women have unique testimonies to share. Japanese Americans were unfairly and unjustly treated by the American government during World War II, having since been granted reparations. No one can dispute with any shred of credibility the shameful horrors visited upon Native Americans, casino revenues notwithstanding.
If you think this is the part where I go into a lengthy explanation of how and why African Americans are unique as an aggrieved class, think again. Intellects far superior to mine and history itself makes a far more compelling argument than I can. Besides, Daytime Confidential is not the appropriate forum for such a discussion to take place either. As an African American man on the cusp of middle age who has loved soaps for the bulk of my life however, I feel there are a few salient considerations to be made of the importance between soaps and the inauguration of the first African American president in this nation's history. In order to look forward, I must first look back.
The small town I grew up in southern Arkansas had a population smaller than many apartment buildings. Although my community was close, it was also segregated with a large pond (in)conveniently separating whites from blacks. For as far back as I could remember, "racial incidents" were few and far between, and the few that did pop up in between were extinguished almost as quickly as they began. For the most part in our daily lives, we truly lived separate but equal; even our only diner was literally divided in half with different entrances for blacks and whites and not too many people openly questioned much of it.
As it so happens, the more things stayed the same, the more they changed. Our separate school districts merged in 1971 and my class was the first to be fully integrated from first grade through graduation. I grew up with friends on both sides of the racial equation. My household, though traditional in many respects, was an open and hospitable environment where everyone was welcome and treated with respect and dignity. My parents, themselves products of Jim Crow and the civil rights movement, encouraged those qualities in me and I have carried within me those principles ever since. Nonetheless, a small town is a small town no matter it's racial makeup. Sometimes a large city can feel like a small town too, depending on what and who you do and do not know. Although it is less true today than in years and decades past, many people never get to know people much different from themselves and/or cling to stereotypes despite the changing world around them. It's not that hard to live in a self-imposed bubble whether you grew up then or now. Therefore, if you haven't always known or socialized with people who didn't look like you or lived like you it might be a bit easier to not see a wider world beyond your own.
Soaps, among other influences, helped me imagine a world beyond my small town existence. Entertainment can offer a broader perspective on the human experience; how other people live (however unrealistic the portrayal might be) and, at their most successful if they are of noble intent, alter preconceptions that are based on lies, half truths and prejudices. Soaps, for all of their melodrama and stereotypical silliness, have always provided audiences wider windows to the world and fictional acquaintances with people we may never ever meet, but whom we feel we intimately know. (continued)