Primetime Spoiler Round Up!
By Regan Cellura on January 06, 2009
Primetime Spoiler Round-Up… Sorry this has been MIA but with shows going on a winter hiatus of sorts, there wasn't much to dish on. Now that our favorites are returning with all new episodes, here's a Round-Up!
The gossip on Gossip Girl… So much going on in the lives of the rich and famous. Georgina is making her return to the Upper East Side and it looks like Ms. Sparks will be back for a handful of episodes towards the end of the season. Will Lily and Rufus kiss and make up? Not sure on that one but Lily will be the victim of an attack. Who's her assailant? Someone she MAY know. Luke asked our opinion of Uncle Jack. He's surely pretty to look at but are we fans of the newest Bass to enter our GG orbit? You'll have more time to judge as Uncle Jack will be around when Bart's will is read. What about Rufus' quest to find the son he never knew about? Dan knows something is not right with dear old dad and after some digging, he finds out just what Rufus is hiding.
Speaking of adopted sons… What's happening on the West Coast? 90210 returns tonight! There's not much dirt out there on the kids of West Bev but there is a newbie coming and according to reports his name is Liam and he's for Naomi. But let's talk about Harry's son; he'll take a paternity test to prove he's who he claims to be. Remember, we already mentioned this MAY not be Harry's kid. Enough of the new kids? Want more about Kelly and Brenda? The ladies are back to their usual cat fighting ways and Adriana reaches out to Brenda to help her through a support group. Why would Brenda turn her down? Something is definitely up with Brenda Walsh.
Grey's Anatomy also returns this week with Eric Stoltz as a serial killer needing medical treatment after he is beaten in prison. A new pediatric surgeon joins the staff at Seattle Grace. McDreamy's Momma is making a visit to Seattle. Will she approve of Meredith? Cristina is going on a date with Major McHottie.
The One Tree Hill gang is up to their old tricks. Brooke will date Julian; Lucas' movie producer and Peyton's ex. Millie confides in Brooke about her tryst with Owen.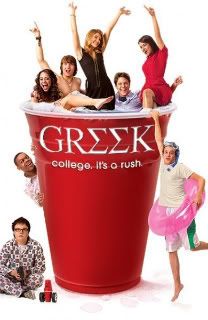 GREEK
!
The Cyprus Rhodes kids are back in school! New episodes will start airing on March 25th. We'll see how Rusty spent his summer as a camp counselor and Casey is finishing up her internship with the congresswoman. How will Ashleigh handle the sisters leaving for Frannie's new house? Remember how the sisters at ZBZ hated Lizzi (
Senta Moses
who now is on
General Hospital
as Winifred) watching their every move? How will the onetime ZBZ's, now Alpha Omega's, like a 70 year old house mother?
Is Violet pregnant on Private Practice? It looks like the shrink is with child but who's the daddy? Pete or someone else?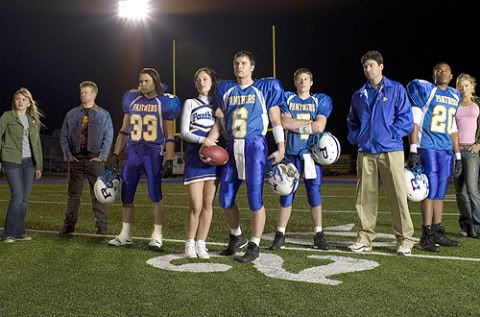 Don't let the lights go out on Friday Night Lights! This is by far my favorite show on TV and it returns to NBC on Friday, January 16, 2009. Plenty of time for those of you who haven't seen FNL to buy the DVD's or catch up online. Seasons one and two are shorter than most primetime seasons so like I said, plenty of time to catch up. Season one is incredible, season two was great and what I have seen so far of season three is hands down the best thing on TV! This show is about so much more than football.