Stranger in a Strange Land
By J Bernard Jones on December 15, 2008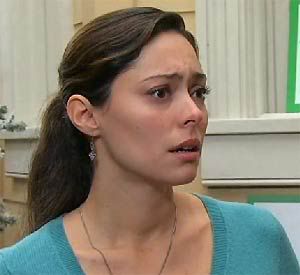 In my opinion, the most unfairly maligned character currently featured on soaps is Natalia Rivera, played by Jessica Leccia on Guiding Light.
Natalia was introduced as the never-before-mentioned love of young Gus Aitoro's life, arriving in Springfield — with an assist from Our Lady of Perpetual Stupidity, Daisy — with both Gus' unknown son Rafe in tow and a torch hot enough to ignite a spark to the President Elect's new energy plans.
Natalia was immediately tarred and feathered by fans with all of the familiar, predictable criticisms. In short order, Natalia was an annoying newbie forced upon us, taking valuable air time from little used vets in a story that nobody cared about. On top of that, she was labeled hypocritical and holier-than-thou. Of course, Natalia's greatest sin was that she ostensibly broke up supercouple Gus and Harley. Contrary to many fans, I've always seen Natalia as the last example of a dying breed: soaps' working class.
I do understand the criticisms and even agree with a few of them. For the most part, both Natalia and her portrayer Ms. Leccia had to contend with David Kreizman's erratic, barely coherent writing, which unnecessarily used the character as one of many catalysts to break up Gus and Harley. In all honesty, almost everyone in Springfield was similarly afflicted by Kreizman's head scratching plotting, so it is what it is. Beyond those considerations however, Natalia was then and is now perhaps the most unique character on all of daytime.
Natalia Rivera is the last vestige of the working poor on soaps, once a cornerstone of all soap operas at one time or another. She gets up and goes to work at several jobs but can barely make ends meet. She sacrifices her own needs for her goodhearted but wayward child's. She longs for a better life and makes foolish choices in the name of pride. She tries to live a moral life through her faith, but sometimes yields to temptation against her better judgment. She attempts to be a good friend to her friends and do the right thing, even for those who might not be hers.
In an earlier soap age Natalia would have been what is now longer in vogue, the classic heroine, and she would have shared good company, too. She could have been a sexier version of Joanne from Search for Tomorrow, Nancy Karr from Edge of Night or Ruby Wright from Texas. She could have been a member of the families Cooney or Chandler when they were poor, or fit into the Martin clan on All My Children. She could have been related to the Fosters on The Young and the Restless, the Woleks on One Life to Live, the working class Ryans on Ryan's Hope, a member of the Snyder nation on As the World Turns, or a part of the Reardon brood on GL itself.
Of course, the parallels are not exact with many of these past characters nor need they be; Natalia simply fits the template of the classic heroine upon which soap operas were created and built. Her antecedents are so deeply ingrained into the very foundation of serials that many of their very names were built around the idea of a woman of modest means fighting through and emerging over adversity: A Woman to Remember, Kitty Foyle and Portia Faces Life.
Before Dallas and Dynasty in prime time ushered in the era of Rich People Doing Deliciously Nasty Things To Each Other that eventually overtook daytime, soaps always featured poor and working class people. It was through their struggles the audience could identify and have entree into the debauchery and wickedness of the wealthy. Current viewers who cut their teeth on soaps in the 80's & 90's have embraced the Rich People Doing Etcetera paradigm, but even they have forgotten or not taken into account that poor Pamela Barnes and farmhand Ray Krebbs were integral to the doings at Southfork during Dallas' first few seasons, while scrappy, hard scrabble Sammy Jo was almost as entertaining as hard-core über beoytch Alexis Morell Carrington Colby Dexter Rowan. (continued