Daytime Confidential's Top 10 Returns of 2008
By Daytime Confidential on December 18, 2008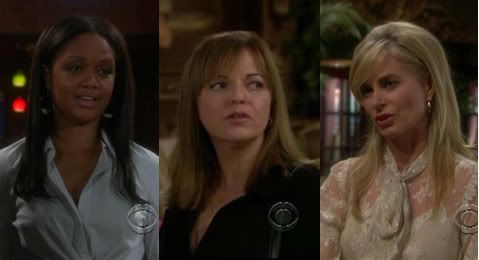 No. 4: Eileen Davidson, Tricia Cast and Tonya Lee Williams - The Young and the Restless
While most new head writers bring in a slew of newbies the fans could care less about when they come to a new show,
Maria Arena Bell
set about writing several wrongs when she took over the helm of
The Young and the Restless
.
Bell smartly brought back the hugely popular Eileen Davidson in her signature role of Ashley Abbott. We're still scratching our heads as to why the brass ever got rid of one of the most beloved stars in the show's history. Thank the Soap Gods Brad Bell kept Davidson in the family by bringing Ashley and Davidson over to The Bold and the Beautiful, where his sister-in-law could quickly pluck her back from once she took over the Bell's flagship soap. Here's to hoping Bell does the same with Heather Tom as the only Victoria Newman, period. Davidson's return wasn't the only reappearance that had fans buzzing this year.
Tonya Lee Williams reprised her role as Ashley's BFF/Soror Dr. Olivia Barber Winters and the phenomenal Tricia Cast made a brief, but mega watt appearance as perennial bad girl Nina Webster Chancellor for the faux funeral of her former stepmother-in-law Katherine. I predict a more permanent return for Cast is at the top of a lot of Y&R fans' Christmas lists this year.