Daytime Confidential's Top 10 Most Improved of 2008
By Daytime Confidential on December 19, 2008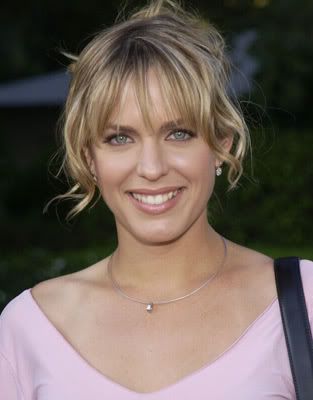 No. 4: Arianne Zucker -
Days of Our Lives
It's hard to believe Arianne Zucker is the same actress who came onto the Days of Our Lives canvas as a dead-on-arrival love interest for Eric Brady (Jensen Ackles) some 10 years ago. Nicole was basically a blonder version of the popular Billie Reed character, right down to her porn star back story, her pervy daddy and her sexy, heroic brother who caused a stir in Sami Brady's (Alison Sweeney) va jay jay. Somewhere along the way Zucker rose above the archetypical writing and created a fierce vixen/heroine hybrid all her own.
While Zucker has grown leaps with each passing year, 2008 was definitely her breakout year, as a boozy Nicole showed back up in Salem, announcing to anyone who would listen that she was very much still Mrs. Victor Kiriakis (John Aniston). Too bad Terrible Tom, er Terrible Trent (Roscoe Born) also arrived in town proving the trophy wife was still married to him. Luckily Nicole had her trusty (and hunky) British lawyer EJ DiMera (James Scott) to lean on. Zucker's chemistry with Scott has been positively electric (Sorry Ejami fans.) Zucker is also bringing the heat with Nu Brady (Eric Martsolf) who has been supporting the neurotic troublemaker through the miscarriage of her miracle tot with EJ. Speaking of Nicole's loss, Zucker as a grieving mother, has given the most heartbreakingly-authentic performance we've seen on Days of Our Lives since Hope (Kristian Alfonso) grieved for Zack.
Post Deidre and Drake, Arianne Zucker just may prove to be this show's biggest draw. Oh and did we mention she's a web star too? That's Zucker doing a hilariously, yet poignant turn as Winnie, the frustrated head writer of Greenville General in the pilot episode of Strike TV's Life in General (add link). We can't wait to see what's next for this multitasking thespian in 2009.